In the last 12 months, the telecommunication market has been performing solidly as the biggest of the world's economies have returned to growth. This trend should continue in 2015 and 2016. Moreover, in recent weeks investors have sought the relative safety of telecoms as money leaves the energy sector.
As always, the companies poised to reap the biggest rewards are the big players.
The company's position in the market
Deutsche Telekom (OTCQX:DTEGY) is one of the leading telecommunication companies in the world, with activities in 50 countries, 131 million mobile customers, 31 million fixed-network lines, more than 17 million broadband lines and a revenue of about 60 billion Euros ($73.95 billion). It is also number one in many European countries in terms of market share.
Because of its current position, the company is well situated to take full advantage of future opportunities in the market. For example, the company received a contract from the German government in the wake of the NSA scandal. The company's data encryption and re-routing of data traffic so that it would remain within Europe territory served as an example for all Europeans keen on privacy (some of which turned to Deutsche Telekom's services).
Growth potential
Expected earnings growth from now until 2016 is 14.2%. This is a very conservative estimate which takes into account only the core business.
Other revenue streams that should fuel further earnings growth are:
The 50-50% Joint venture with China Mobile (this involves the Chinese automotive market and the Connected Car platform)
EE (Everything Everywhere) - a 50-50% joint venture in Great Britain with Orange
An IPO for Scout 24 where Deutsche Telekom still has a 30% stake
Due to the deregulation of fixed lines in the EU, the company should be able to charge higher transmission/connection fees for the local loop ('last mile'). This should lead to increased earnings in both a direct and indirect manner.
Furthermore, actual consolidation across the European Union (see the units in Czech Republic, Romania, Slovenia, etc.) is already complete. This in turn translates into enhanced brand recognition and reduced overhead costs. According to the company, indirect costs were cut by approximately $2.46 billion (comparing 2012 with expected 2015). This should increase the company's profitability, which is still one of its weak points.
The dividend
The current dividend is about $0.61, translating into a dividend yield of 3.78% (at the current price of 13.67 euro, or $16.84), which is in line with other companies in Germany and in the telecommunications sector.
Furthermore, the dividend is completely covered with the estimated earnings per share of around $0.77 - it takes only 64% of the estimated profit, which means the company can continue to grow.
For 2016, I expect the dividend for the fiscal year 2015 to be even higher, perhaps even returning to a level of about $0.86 (which was the dividend paid in May 2013).
The current price and the next price
Although the price just hit a 52 week high of 13.71 euros, it is still slightly undervalued (by around 15%) when taking into account the dividend and estimated growth.
Furthermore, the latest price targets from analysts indicate a range of between $17.25 (Bernstein Research) and $18.48 (HSBC) in the short- to medium-term.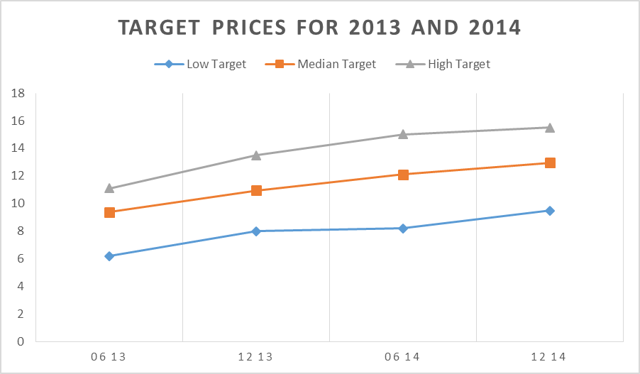 In the medium- to long-term, the prognosis from Diplom-Ökonom Reinhold Rombach (a well-known columnist in Germany) is around $24.65.
Although the 'rules' say that one should not buy at the highs, here I think one should make an exception.
'Inside' trades
Current board members bought shares in 2014 at prices between $13.85 and $15.53.
Other key data
Ratio net debt/adj. EBITDA: 2 - 2.5x
Equity ratio: 25-35%
Liquidity reserve covering maturities of coming 24 months
ROCE 3.8 %
Net revenue billions of € 60.1 ($70)
Profit (loss) from operations (EBIT) billions of € 4.9 ($6)
EBITDA (adjusted for special factors) billions of € 17.4 ($21.44)
Free cash flow (before dividend payment, spectrum investment) billions of € 4.6 ($5,66)
Cash capex billions of € (11.1) ($13,68)
Rating (Standard & Poor's, Fitch) BBB+
Rating (Moody's) Baa1
The data is taken from the company's website.
What I fear
The price just hit a 52 week high, and in the very short term, it could retrace. The bright side here is that one could use this as a good entry point.
On the short- to medium-term, the Market could view upcoming expenditures for the spectrum auction in USA in a bad light, although T-Mobile said it could secure its own funds without borrowing from the parent company.
One of the company's weaknesses is its relatively low profitability despite impressive revenues. This could drive the dividend yield down in the long term if not addressed.
Final Thoughts
I expect (and I stress again, this is just my opinion) that the price will stabilize around $17.25 in the short- to medium-term before continuing upwards to between $18.50 and $19.70. Meanwhile, the dividend will continue to be paid.
Because of these expectations, I am long Deutsche Telekom and I am in for the long run. As a dividend investor, it is important for me to have a stable yield. So far, this investment meets that criteria.
Disclosure: The author is long DTEGF.
The author wrote this article themselves, and it expresses their own opinions. The author is not receiving compensation for it (other than from Seeking Alpha). The author has no business relationship with any company whose stock is mentioned in this article.
Additional disclosure: This article only reflects my (author's) opinion. It is not designed, and should not be used as the basis of an investor's buy or sell decision. Investors should always conduct their own due diligence and make their own buy and sell decisions.
Editor's Note: This article discusses one or more securities that do not trade on a major U.S. exchange. Please be aware of the risks associated with these stocks.