(Editors' Note: Acacia Mining trades on the London Stock Exchange under the ticker symbol ACA.L, with ~2.4M GBP average daily volume).
The renaming of African Barrick Gold (OTC:ABGLF) into Acacia Mining was a highly symbolic act carried out on the eve of a much-anticipated investor day on November 27. The new name is meant to underscore the message that Acacia Mining has shed its past and is repositioning itself in the market with a strategy mapped out on the mentioned investor day to become a leading African company.
Its profligate past and proven inability to generate a profit even at the height of the market has earned this company a dubious reputation with investors; so much so that CEO Brad Gordon acknowledged the "credibility gap" at this year's Denver Gold Forum which the company had to overcome. Mr. Gordon had been brought in just a year earlier with a mandate to turn this sinking ship around; and contrary to the low expectations of many he has managed to do just that. Standing on the sidelines, but watching with growing interest we witnessed one performance metric after another improve until the business turned free cash flow positive again in Q2 this year, ahead of schedule.
When Mr. Gordon joined the old ABG he stated: "Let's forget about the future, we need to fix the business first." But as of late November the tune has changed to: "We are in a position now where we have earned a right to grow."
For most market participants this company is still the dog that has to bridge a mighty credibility gap. But for some, your humble scribe included, Acacia Mining has left its past behind and has morphed into a company with a solid balance sheet, a world class asset base, and finally a management team that deserves respect. Acacia Mining is a company which has taken care of its downside, which is grossly undervalued and which has a concrete plan to realize significant upside in coming years.
A Brief Overview
Acacia Mining operates three gold mines in Tanzania, has large and highly prospective exploration properties in Kenya and has just dipped its toe into Burkina Faso.
The Buzwagi mine, the North Mara mine and the Bulyanhulu mine in Tanzania form the foundation of the company. All three mines have been re-engineered substantially since Mr Gordon has taken the reigns and performance at all three mines has improved significantly as a result.
When we wrote about Acacia Mining a year and a bit ago we concluded that "Extrapolating the current cash burn the company has roughly two years left to accomplish the turn around." Since then costs have been slashed vigorously and at a greater rate than the gold price has been dropping, and in consequence Acacia Mining has turned free cash flow positive in Q2 this year and has followed up again in Q3. Consequently the company's cash position has increased again to $287M at the end of September; and dividend payments are ensured since the new policy links the dividend to the free cash flow.
Considering the amount of $142M which has been drawn from the debt facility in order to fund the CIL expansion at Bulyanhulu we note net cash of $145M, working capital of more than $500M and a current ratio of close to 5. These are all indicators of a strong balance sheet, which is likely to get stronger in coming quarters considering the improved (and improving) operational and financial performance.
The 5 Year Plan
On November 27 Acacia Mining held an investor day and for the first time since taking over the company, the CEO Mr. Gordon was prepared to look ahead and map out a way into the future, synthesized into a detailed 5 year plan which was presented to the audience at the occasion. It was this plan that tipped the scales for us, since it finally provided a vision for the company going forward.
The plan included a detailed strategy for each of the three operating mines, tailored to the individual strengths and weaknesses of each asset and optimizing the expected cash flows. We will go into more detail when discussing the three mines below, but suffice to say that if the plan comes to fruition then Acacia Mining will roughly generate its current market capitalization in free cash flow over the next five years as documented by the chart below (source: investor day presentation). According to the new dividend policy 15% to 30% of this money will be returned to shareholders by way of dividends.
This cash flow generation will be driven by continued cost reductions, and by a steady increase in production. According to the presented plan, two of the three mines will still be operating by 2019 and well beyond, and these two mines (Bulyanhulu and North Mara) will produce more gold than the company's original four mines did in 2012 - at about half the all-in sustaining cost, or AISC.
After applying considerable scrutiny to the presented details of the 5 year plan, we have come to conclude that these targets are all achievable, even with some contingency built into the assumptions.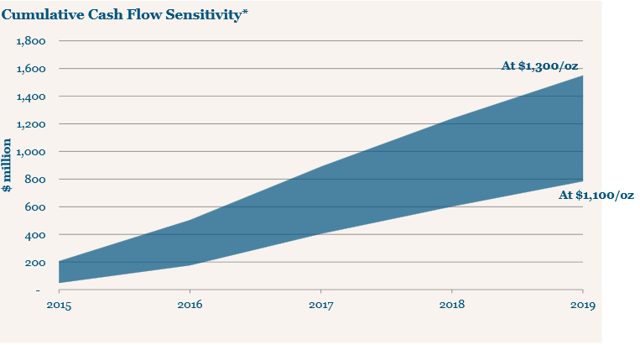 The Bulyanhulu Mine
"Bulyanhulu is one of the best gold deposits in the world; we are on our way to turning it into one of the best gold mines in the world." (CEO Brad Gordon)
Bringing out the value of the Bulyanhulu mine will be key, or as it was put at the investors' day: "It's all about Buly." The mine is being turned from an old-style labor-intensive operation into a modern mechanized mine and output is scheduled to double from currently 200,000 oz per year to nearly 400,000 oz per year within the next five years with potential for further growth thereafter.
The main concern with this mine has always been the bottleneck represented by the single shaft. This issue will be addressed by the construction of a new large diameter box cut decline that will allow for passage of 60t trucks. Additionally, X-ray ore sorting will be introduced, and one such facility will be located underground to separate out waste and increase the ore hoisting capacity of the shaft. Waste back-filling is being considered in the same context.
Ore development used to be another major problem under previous management and has been addressed decisively. Development rates have increased by a factor of 5 over the past 18 months, and costs have come down from $8,000/m to $5,000/m thanks to outsourcing to a contractor. Instead of living hand-to-mouth in terms of accessible ore the mine is finally being developed to offer operational flexibility -- and by end of 2016 twelve months worth of accessible ore reserves should become a reality.
Staff levels have been halved from 2012 levels and management levels have been cut from an absurd 14 to an adequate 4.
Many other initiatives have been implemented, or are in the process of being introduced. The sum of these improvements is illustrated by the chart below showing all-in sustaining costs at Bulyanhulu that have already started to come down despite significant capital spending in 2014, and which have a lot further to go once the benefits of the recent modernization push can be realized. By 2016, this mine should arrive in the first cost quartile and remain there for the foreseeable future.

The North-Mara and Buzwagi Mines
North Mara open pit operation has been plagued by allegations of pollution, tension with the surrounding communities, intrusions by artisanal miners, crime, and last but not least operational issues. Acacia Mining has been tackling these issues with a variety of measures, including local social initiatives, but also by drastically changing the operations at the mine.
The open pit mine is set to terminate and an underground mine will be developed to exploit the high-grade portions of the ore body. The new mine plan shows a 9-year mine life and will reduce the mine's footprint requirements substantially. Costs have already come down in 2014 to sub-$1000/oz levels and are projected to decline further once development of the underground mine is completed as shown by the diagram below.
This initiative will go a long way to address many social problems by reducing space requirements, minimizing noise and dust, and by eliminating many sources of security problems.

The Buzwagi mine is a low-grade bulk mining deposit that will be harvested for another five years and closed thereafter. Substantial resources will remain in the ground due to the shortened mine life but the ounces that will be mined in the next five years will be profitable.
Social License
Mr. Gordon has been quite outspoken and scathing with regards to the old African Barrick Gold's handling of social issues at the Tanzanian mines. Since taking the leadership, he has put an emphasis on improving relationships with the host country in general and the local neighbor communities in particular.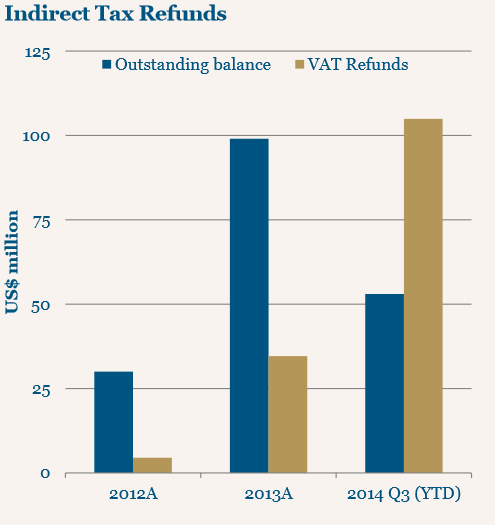 The mentioned change in mine plan at the North-Mara mine is only one example, but it shows the resolve with which this topic is approached nowadays. Greatly increasing the number of high-level jobs for locals, and shifting positions from Johannesburg to Tanzania has also improved the relationship greatly on a government level.
Outstanding VAT refunds owed to the company by Tanzania have been a long-standing issue and the improved relationship between the Acacia Mining and its host country has already led to a much improved VAT balance as shown in the attached chart, serving as one of several indicators to document the improvements.
The Credibility Gap
Only a couple of months ago we echoed a comment by Mr. Gordon and noted that Acacia Mining still had to bridge a credibility gap in order to regain recognition by investors. We believe that this task has been achieved by over-delivering in the past 18 month, and by setting out an ambitious yet achievable way forward.
The chart below compares the share price of Acacia Mining with the general sector (NYSEARCA:GDX) since the company's IPO. It illustrates the mentioned gap that has opened steadily from the time of the IPO in 2010 and which has been reversing in recent months. We had commented on this recent counter trend in our latest article on the company, but had wanted to learn about the company's intentions going into the future before considering an entry.
The strategy mapped out in the course of the investor day provided that last puzzle piece for us and we are finally ready to go long Acacia Mining with great conviction. We believe that management has proven that it is serious about breaking with this company's past and bringing out the immense value of the company's assets for the benefit of all stakeholders. Much work remains to be done, but extrapolating the performance of the past 18 months, and adding the newly presented vision for the mid-term future we cannot help but conclude that Acacia is set to not only close the gap, but also to outperform its peers by a significant margin over the course of the next few years.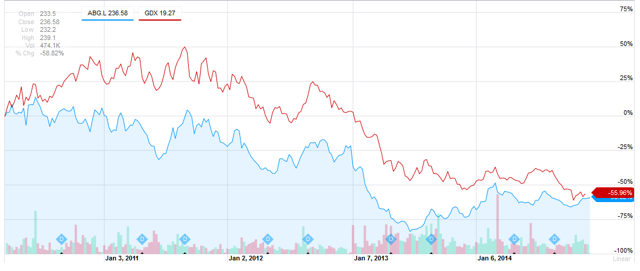 Valuation - Peer Comparison
There are only a few gold miners with multiple operations and a declared focus on Africa to serve as peers in a comparison of valuation metrics. Endeavour Mining (OTCQX:EDVMF) comes to mind, or perhaps South African miners such as Sibanye Gold (NYSE:SBGL) or Harmony Gold (NYSE:HMY). However, these companies all have certain characteristics that make them unsuitable for a direct comparison in our opinion, and therefore we decided to use Randgold (NASDAQ:GOLD) as a sole yard stick to measure Acacia Mining against.
Like Acacia Mining, Randgold has multiple operating mines in African countries, has a strong balance sheet and has been focusing on growth. Unlike Acacia Mining, Randgold has demonstrated stellar performance, and has been one of the best performing gold miners world wide throughout the ongoing gold price correction. This company enjoys high standing with investors, and rightly so. And in some way this company could be considered the antithesis of the old African Barrick Gold. The valuation metrics listed in the table below reflect this situation.
Both companies control a reserve base that is quite comparable in size and grade. However, each ounce produced by Randgold is worth 2.6 times an ounce produced by Acacia Mining; and each attributable reserve ounce controlled by Randgold is worth 4.8 times a reserve ounce controlled by Acacia Mining. The gap gets even wider when looking at financial metrics. Each dollar of Randgold's EBITDA is valued 7.3 times a dollar earned by Acacia Mining. And revenue is valued 3.5 times higher with Randgold than with Acacia Mining. The respective enterprise values reflect a gap of a similar magnitude.

Randgold has been growing aggressively in past years and will produce more gold than Acacia Mining in 2014, at lower cost. However, by 2016 costs will be in the same ball park and the difference in output will decline due to the greater organic growth potential of Acacia Mining.
We like Randgold a lot, and we believe that its valuation is well earned and fully warranted. We also believe that the valuation discrepancy between Randgold and Acacia Mining is justified only when looking into the rear view mirror, but does not yet reflect the massive improvements already accomplished by Acacia Mining, and the future that Acacia Mining has mapped out.
On average, Randgold is valued about 4 times higher than Acacia Mining. We fully expect this valuation gap to narrow as investors start to acknowledge Acacia Mining's progress. Arguably this closure process has already started, and we expect this closure process to accelerate now that the company has finally laid out its plans for the future.
Valuation - DCF Model
To get a different angle on valuation, we performed a sum-of-parts analysis using discounted cash flow models for Acacia Mining's operations, based on current reserves and published cost projections and capex needs. The attached diagram illustrates the after-tax NAVs for gold price assumptions of $1,100/oz, $1,250/oz and $1,400/oz, a discount rate of 5% and a flat 20% tax rate. We only used known reserves to compute the respective mine lives, which is very conservative especially for North Mara.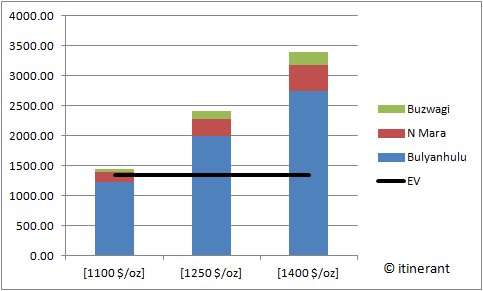 Using a base case long-term gold price of $1,250/oz, we computed a combined net asset value $2.4B. Using a multiple of 1.2 indicates an upside of 112%.
Testing the downside, we note that each mine remains NPV positive at a gold price of $1,000/oz; and we note that it would take a gold price of $1,075/oz and a multiple of 1.0 to justify the current enterprise value. All these considerations ignore the substantial resource base which can be expected to add mine life and value, and it ignores the substantial near mine and greenfields exploration potential.
These numbers speak of severe undervaluation, and illustrate the robustness of the business. Putting a concrete number on Acacia Mining's upside depends on one's view of the gold price, and expectations of the market's willingness to account for the new company direction. We observe that momentum has started to build in recent months, and a re-rating may already have commenced. Our numbers indicate that double the current share price is a very realistic target; and incidentally, this is very much in line with sell-side analysts who have revised their targets upwards as well in the wake of the investors' day. We also believe that the downside has very much been taken care of by the market on one hand, and by numerous operational improvements on the other.
Catalysts
This is not a near-term story, and rather than a quick pop we expect a grinding re-rate over the next year or two. Each quarterly report will help to convince additional investors; continued free cash flow will further strengthen the balance sheet and support a growing dividend; and delivering on operational promises will reinforce the turn around with investors.
This company has been sent to the sin bin, and it is still languishing there. As investors realize that the new Acacia Mining is different from its previous incarnation, it will be released on probation, and over time achieve a valuation befitting of its world class asset base and its new world class management team. Acacia Mining is a proposition for value investors with enough patience to let the described re-rating unfold over the next couple of years.
Exploration and M&A
Brownfield exploration around Bulyanhulu and North Mara will quite likely continue to add to the resource base, and eventually lead to mine life extensions and expansion potential at both mines. In terms of our valuation, this represents blue sky that has not been taken into account.
The same goes to say with regards to the vast exploration landholdings in Kenya, and the newly established exploration JV in the South Hounde belt in Burkina Faso. Acacia Mining maintains a $20M exploration budget which is substantial in times of cost cutting and which underpins the company's resolve to build its project pipeline. The exploration portfolio is among the largest of any company active in Africa and investors are not only buying into a solid production story, but also into several speculative development stories when investing in Acacia Mining.
In addition to advancing its development pipeline with these exploration activities, the company is also looking to add a producing asset to its portfolio. Considering the company's balance sheet, we would not be surprised at all to see an acquisition before too long.
Risks
Our thesis hinges on management continuing to deliver. We have decided that the old African Barrick Gold is gone for good, and the new Acacia Mining is different. There is a certain risk that we are overly positive on our assessment of the new management team despite the growing track record.
Acacia Mining is an African story and country risk needs to be considered before making an investment. The company has greatly improved its relationship with Tanzania but also has exposure to Kenya which is a wild card in terms of mining jurisdictions.
And last but not least, mining gold under ground has its typical inherent risks that every investor in this sector should be aware of.
Wrap & Takeaway
One has to be a contrarian to invest in gold mining these days, and if this is the general inclination of readers having read this far then Acacia Mining should be worthy of consideration. The stock has been beaten down much more than others during the gold price correction, and justifiably so. However, we believe that the ongoing turn-around is for real, and that this company is set to outperform the sector in coming years.
At this point in time, the case for Acacia Mining boils down to whether or not one is inclined to trust management that it can continue to deliver on its plan. Since taking control, management has over-achieved on just about every target it has set, and ambitious targets they were. We are finally bowing to this performance and we are ready to come on board for the growth part of this journey. In our view, Acacia Mining offers a growth perspective even if the gold price continues to misbehave; and represents a powerful vehicle should the gold price turn North again which it surely will in its own time.
Disclosure: The author has no positions in any stocks mentioned, and no plans to initiate any positions within the next 72 hours.
The author wrote this article themselves, and it expresses their own opinions. The author is not receiving compensation for it (other than from Seeking Alpha). The author has no business relationship with any company whose stock is mentioned in this article.
Editor's Note: This article discusses one or more securities that do not trade on a major U.S. exchange. Please be aware of the risks associated with these stocks.