The euro has fallen as comments by European Central Bank officials in recent days pushed up expectations for more stimulus in 2015. CurrencyShares Euro Trust (NYSEARCA:FXE) has fallen nearly 12% since May, and could continue to fall as interest rates in the region remain low.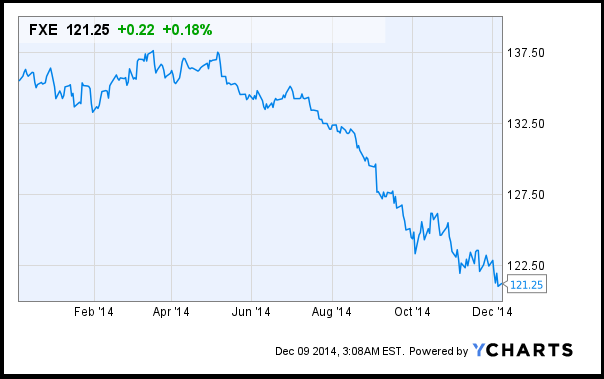 In recent days, both National Bank of Austria President Ewald Nowotny, and ECB President Mario Draghi have advocated for more monetary stimulus, pushing the euro lower. On Monday, Nowotny spoke in Germany about the need for "a more ambitious course" by the ECB, implying that quantitative easing could have its benefits.
"We see a massive weakening in the euro zone economy. And, [With Regards to quantitative easing], it's a supportive measure in the context of a comprehensive plan, and can certainly be valuable," Nowotny said to Reuters.
Meanwhile, the Austrian banker's comments come days after Draghi also reiterated the need for more stimulus in 2015. After the ECB lowered euro area growth and inflation projections for the next few years, Draghi stated that more asset purchases had its benefits.
"QE has been shown to be effective in the United States and UK. Do we need to have unanimity to proceed on QE or can we have a majority? I think we don't need unanimity," Draghi told Reuters.
As central bankers have moved towards favoring more stimulus in 2015, German bund prices spiked. Germany is the strongest economy in the euro area, and thus its government bonds are seen as a safe-haven asset, similar to U.S. Treasury bonds. The bund has spiked over 10% in 2014, with its most recent jolt happening on the recent comments mentioned above, as is seen in the chart below.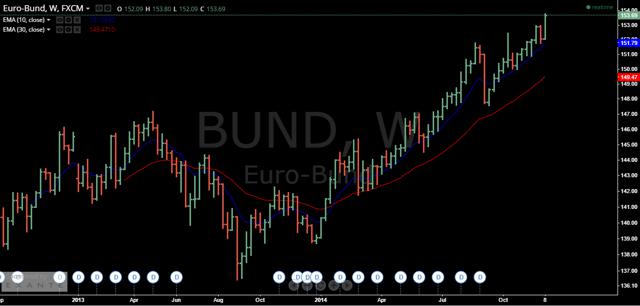 Data provided by Trading View
While the euro area economy has stabilized in 2014, economic growth remains tepid. Economic growth has risen from close to 0% to just under 2% on an annualized basis, as is seen in the chart below. With ECB downgrades to growth, however, the tepid pace may not be satisfying enough for policymakers, leading to further stimulus in the future as well.
With comments for more stimulus by euro area policymakers, accompanied by a tepid pace of economic growth, stimulus looks likely in 2015. Moreover, German bund yields continue to fall, which could pressure the euro lower in coming months.

Data provided by the European Central Bank
Disclosure: The author has no positions in any stocks mentioned, and no plans to initiate any positions within the next 72 hours.
The author wrote this article themselves, and it expresses their own opinions. The author is not receiving compensation for it (other than from Seeking Alpha). The author has no business relationship with any company whose stock is mentioned in this article.