Apple (AAPL)
is the one stock that didn't get down to the buying area I identified, so I raised my buying level to around $330-335. My reasoning was that the WWDC (Worldwide Developers Conference) announcements – and the analyst reports that followed – were so good that the stock would likely not sag. (
Here is
Fortune's
analyst summary.)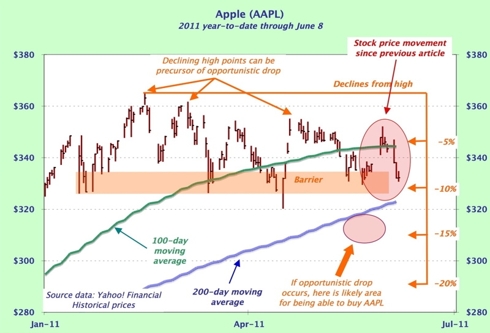 Boeing (BA)
:
The Wall Street Journal
discussed airlines' need to improve their fleets' fuel economy. With recent capital spending at a decade low, "The stage is set for a wave of replacing older planes in developed markets, to complement the continuing growth of fleets in developing markets."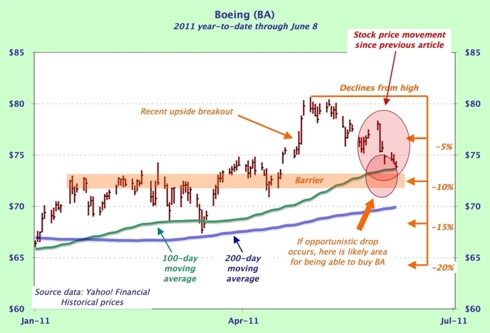 Caterpillar (CAT)
: The dividend was raised two cents per quarter (the same as last year), and there was no split announcement. The important news, however, was the CEO's annual meeting announcement that the company's positive outlook is being maintained.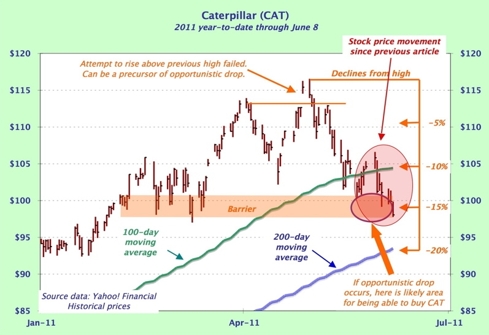 JPMorgan Chase competes hard but not recklessly, something that could not be said of Wamu, the failed Seattle thrift company it took over in 2008, they say. One point of agreement: JPMorgan Chase's California ambitions cannot be ignored. It lacked a retail presence in the state before buying Wamu. Now it is opening branches at a remarkable pace and recruiting new private, business and relationship bankers to staff them.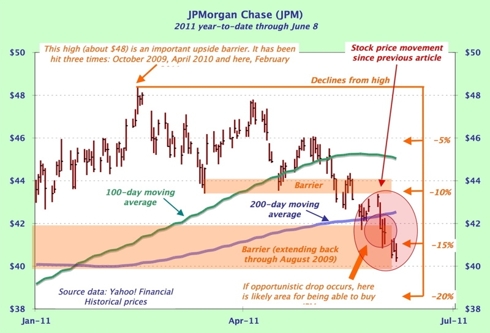 KKR & Co. (KKR)
: Searching the Internet for "KKR" news shows the firm is actively acquiring and managing. While there have been some comments about the IPO market
being hot, it's not. We have a long way to go before that label can be used. KKR's quality companies are just what investments bankers look for, so they should provide sizeable gains when that IPO time comes.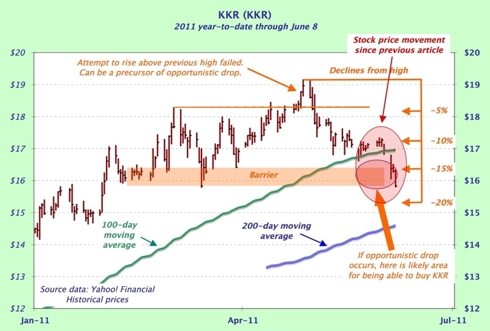 Only in investing does a price discount worry stock shoppers. Even though economic worries are producing the stock market's general slide (affecting most stocks), many individual companies have critics warning that its stock price decline must mean something is wrong. Hence, anxiety keeps investors from reaching for those bargains.
Remember: Emotions are the #1 killer of good returns.
Additional disclosure: Purchased all five stocks recently, increasing position sizes