As has been widely reported, retail sales for the 4-day Thanksgiving weekend period were down 11% from 2013, according to the National Retail Federation. This number includes online sales, which were said to be down 10.2% for the four day period year over year. While this large and unexpected decline in retail spending can perhaps be partially explained by the fact the many retailers began "Black Friday" discounting and promotional activity at the beginning of November, which might have "pulled forward some of the potential Thanksgiving weekend sales, I think there's no question that holiday sales are down so far year over year and I will show several correlated economic indicators which I believe are suggestive of a potential holiday retail sales disaster developing.
In my view, on average and in general, households have less disposable income to spend on holiday gifts this year. According to data from Sentier Research, average real median household income declined .6% in October. If average real household income is declining, or even just flat-lining, consumers are likely to be more cautious with discretionary spending. Even the monthly employment report from the Government, which has debatable legitimacy, showed a significant shift from full-time employment into lower wage part-time jobs, as explained in this analysis from CNBC. If, on average, the U.S. workforce is comprised of lower wage jobs, it will translate into lower disposable income, decreased discretionary spending and, therefore, disappointing retail sales.
This notion was reinforced by last Friday's (December 5th) consumer credit report, which showed a significant and unexpected decline in revolving credit growth for October from September and from October 2013. While Wall Street was expecting a $16.8 billion increase in total consumer credit for October, the actual number was $13.2 billion. Most of the $13.2 billion increase in credit growth was from non-revolving debt, primarily student and auto loans. In fact, revolving debt (credit cards) outstanding - which would primarily be used for discretionary purchases - was nearly flat vs. September and was below the August level.
This was the third month in a row that credit growth missed Wall Street's expectations. It is my view that consumer willingness to borrow money for discretionary purchases, which are funded either by disposable income by revolving/credit card debt, is based on confidence in future earnings and perceived strength of the economy. In this regard, the decline in real average household income and decelerating growth in credit card debt outstanding is signaling a high likelihood that holiday retail sales will fall well short of the National Retail Federation's forecast of 4.1% growth this year. In fact, I would argue there's a real possibility that retail sales will decline this year vs. last year.
In addition to a decreased willingness to take on credit card debt per the latest consumer credit report, Experian released a report last week which showed a 27% jump in the 60-day delinquency rate for auto loans for Q3 this year vs. Q3 2013. In my opinion this jump in delinquency rates for auto loans reflects flat to declining average real income and reinforces my view that household disposable income is getting squeezed. This source of financial stress surely indicates that, in general, consumers have less money with which to spend on gifts this year. It thus further supports my thesis that holiday retail sales will fall short of expectations.
Perhaps the best window into the potential for highly disappointing retail sales is the collapsing price of oil accompanied by declining motor vehicle gasoline sales. I believe one of the best indicators for the relative health of both the domestic and global economy is the relative price of oil. Since the end of June the price of West Texas Intermediate crude oil has plunged 41%.

In my view, the collapsing oil price reflects structural economic weakness not necessarily measured by most other recent economic reports, which tend to be adjusted by non-objective, discretionary seasonal factors and then annualized. The price of oil is what it is and a declining price of oil reflects a decline in the demand for energy from a broad range of economic segments, especially the consumer. The decline in demand from the consumer would most directly show up in a decline in demand for gasoline.(source: dvisorperspectives.com)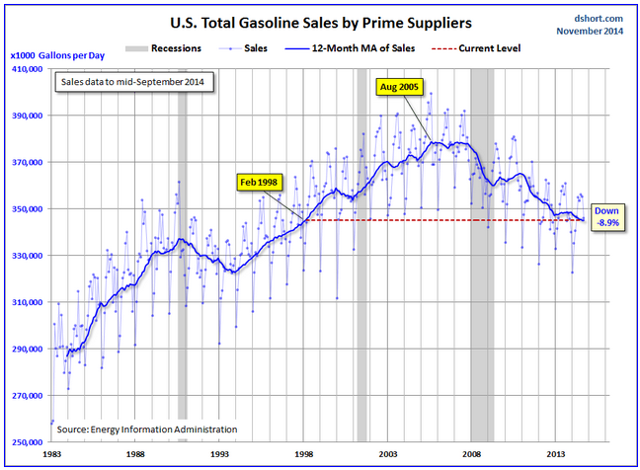 As you can see, the volume of gasoline sales since the 2007/2008 recession has been in general decline. However, as you can see from this table published by the U.S. Energy Information Administration, the volume of motor and aviation gasoline delivered since April has plunged. (source: EIA)

The data in the table above are not seasonally adjusted or annualized. It is the daily amount of supplier volume measured in gallons. I believe the big decline in both motor and aviation gasoline volume reflects a big decline in consumer demand for automobile gasoline and airline travel. This in turn would reflect a big decline in discretionary income spending. Thus, in my view, the plunge in the price of oil accompanied by the decline in demand for gasoline is the biggest indicator that retail spending this holiday season is going to be a potential disaster.
I thus believe that the 11% plunge in retail sales over the four day Thanksgiving holiday shopping period, while partially attributable to the pulling some holiday gift sales into the first three weeks of November, is indicative of structural economic weakness and a marked decline in consumer disposable income/discretionary spending. In light of this view, I believe that retail stocks are currently extremely overvalued. One way to express a bearish view on holiday retail sales is by shorting or buying puts on the Market Vectors Retail ETF (NYSEARCA:RTH).
However, the absence of a leveraged inverse retailer ETF, shorting Amazon.com (NASDAQ:AMZN) offers the best "leveraged" method of taking a bearish view on holiday sales. AMZN's beta is 1.65, which means it's 65% more volatile than the S&P 500. It currently trades at 1.9x trailing twelve month sales. Its P/E ratio is non-existent because, on TTM basis, it lost $1.09 per share. Perhaps the biggest red flag is that it recently had to issue $6 billion in debt in order to fund its operations. The stock has significantly underperformed the S&P 500 since February this year. (graph created from Yahoo.com)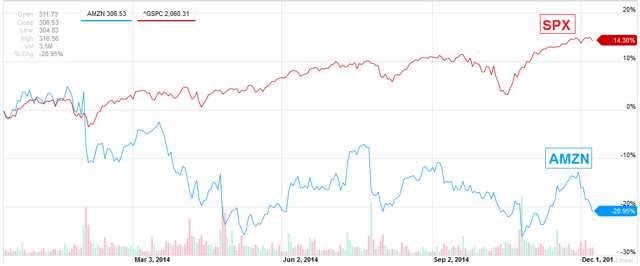 If I'm right on my view of retail holiday spending this year, I think AMZN has the potential to lose $50-100 from this level in the first quarter of 2015. For this reason, I think outright shorting the stock or buying out of the money puts are a great way to express a bearish view on holiday retail sales and the market in general.
Disclosure: The author has no positions in any stocks mentioned, and no plans to initiate any positions within the next 72 hours.
The author wrote this article themselves, and it expresses their own opinions. The author is not receiving compensation for it (other than from Seeking Alpha). The author has no business relationship with any company whose stock is mentioned in this article.