As economic numbers fall short of expectations, unemployment claims remain stubbornly high, and economic growth slows the possibility of a double dip recession has crept back into investors' minds.
The recent sell-off is leaving investors confused, wondering what happened and if a new bear market is about to start.
There are a couple of factors behind the sell-off. First, the effects of the disaster in Japan have been filtering through global supply chains.
The loss of nuclear power plants has brought rolling blackouts to many areas of Japan severely affecting manufacturing production.
Parts inventories are becoming scarce, especially in the technology and automotive sectors which in certain cases depend on specific parts from Japan. On page 37 of April 2011's U.S. International Trade in Goods and Services report, imports from Japan fell from $11.847 billion in March to $8.828 billion in April. No doubt, this drop was caused in large part from the after-effects of the natural disaster in March as global supply chains were disrupted.
The loss of parts has been made up through the drawdown of existing inventories and a slowdown in production. Factories have cut shifts and temporarily laid off workers. When production resumes it is expected that the laid off workers will return to their jobs and manufacturing will ramp up to replenish lost inventories.
This will result in faster than expected growth in the second half of this year.
A second reason is related to the sell-off's commencing at 2:15 p.m. on Monday and Tuesday of this week which appear to be the result of forced selling through margin calls.
The lack of a spike in the VIX indicates the sel-off is not the beginning of a bear market but a localized reaction to the quantification of effects related to the Japanese disaster on global supply chains worldwide and margin calls.
Click to enlarge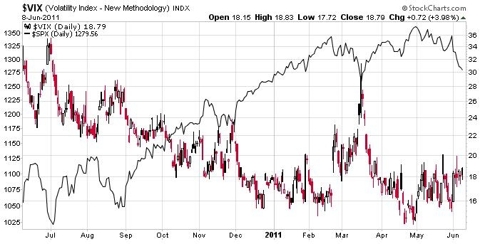 A major spike above 20 would indicate that there is a significant amount of selling ahead of us.
According to the June 6, 2011, Barron's, the Dow Jones Industrial Average is printing a PE ratio of 13.82 and 15.96 for the S&P 500. This implies a market that is not overvalued and limited downside risk from current levels.
Investors should be ready to go long, looking for values amid the sell-off of major indices ahead of quarter close and second quarter earnings season.
The market has spent the past few weeks pricing in the effects of supply chain disruptions, unfairly punishing some stocks, and investors would be well advised to look for values amid the carnage as this is a tradable buying opportunity over the next few weeks.
Disclosure: I have no positions in any stocks mentioned, and no plans to initiate any positions within the next 72 hours.