Last week, my ETF Pullback strategy (see Appendix below for details and performance information) went defensive with funds that focused on income and consumer-oriented ETFs. There's one such fund in the new list, but on the whole, for this group to work, the market will need a bit of a bounce this week. Here's the current list:
First Trust Cnsumer Staples AlphaDEX (NYSEARCA:FXG)
PowerShares Dynamic Energy E&P (NYSEARCA:PXE)
PowerShares Dynamic Energy (NASDAQ:PXI)
PowerShares Dynamic Sm. Cap Growth

(PWT)

Rydex S&P MidCap 400 Pure Growth (NYSEARCA:RFG)
This was last week's selections:
I'm not sure I'm prepared to make a fundamental case for the end of the ongoing downtrend, which brought the S&P 500 and Russell 2000 down 6.2% and 8.9% respectively from the beginning of May through June 8. Those are pretty significant declines considering we're only talking about a little more than a month.
Don't even think of trying to annualize figures like that. (Mathematically, you can, of course, do it easily. The question is whether your stomach would be able to cope with seeing the results.) Suffice it to say they're dreadful. More promisingly, even if we remain bearish, it's hard to imagine the market maintaining the steady down-pace we've seen. Just as bull markets pause and correct a bit from time to time and chart zig-zag rather than straight-line patterns, so, too, do bear markets.
If you're a long-term investor (however you define long term), this is irrelevant. You need to position your portfolio for your broad view of the market. But for a weekly strategy, such considerations can be quite important.
So for the moment, I'm going to recall the iconic PBS classic Wall Street Week, hosted by the late but much revered Louis Rukeyser and pay homage to the Elves, the name given by Rukeyser to a group of technical analysts whose forecasts were given each week on one segment of the show.
At heart, I'm a fundamentals guy, not an elf, but I probably have more respect for technical analysis than many of my cohorts. So in that spirit, I'd like to show you how the one elf-type indicator, the stochastic. For those who care about formulas, here it is:
100 * [(C – L14)/(H14 - L14)]
C = latest closing price
H = highest price in last 14 trading days
L = Lowest price in last 14 trading days
In English, we're computing the gap between the latest close and the low as a percent of the total high-low range. Suppose, for example, the high-low range over the past 14 days is 10 – 12, a two-point distance. Suppose the latest close was 10.65, meaning the close-low gap is $0.65. The close-low gap, $0.65, is 32.5% of the total $2.00 high-low gap (i.e. 0.65 is 32.5% of 2). So the stochastic stands at 32.5.
Stochastic values of 80 or over suggest overbought conditions; i.e. the price is very close to the upper end of the range. Values below 20 suggest oversold conditions.
There's more to it than this. The formula I gave you is referred to as %K (I have no idea who came up with that label, but you can definitely impress, or repulse, your fundamentals-oriented friends if you start talking about %K) and a three-day moving average of %K is known as %D. Buy and sell signals can be drawn from %D crossing %K. Actually, I'm not into that. Like I said, I'm not a full-fledged elf. I'm just a respectful visitor and am usually happy just to get a sense of how extreme a recent price movement has been.
Figure 1 is a Yahoo! Finance screenshot showing how the stochastic looked for the Russell 2000 as of yesterday's close. (The S&P 500 looks very similar.)
Figure 1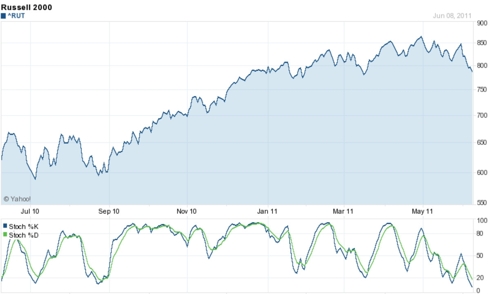 That's low, very low. More to the point, it suggests an oversold condition.
To help you assess how meaningful it is, or isn't, Figure 2 presents a five-year picture.
Figure 2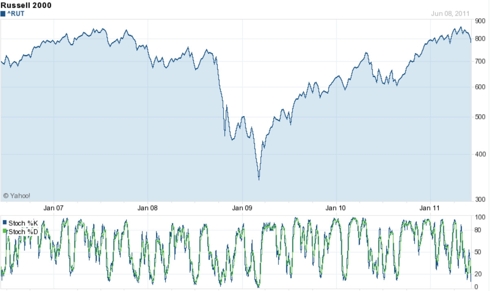 As noted, I'm not inclined to fuss about %K-%D crossovers. I'm content to observe that it does seem to have been much easier for the market to bounce than continue falling when the stochastic has been down near 20. Perhaps that's why the market rallied on the open today, even though the fundamental news is no less grim than it was in recent weeks.
This is clearly not a good long-term or even intermediate-term tool. We see the stochastic can go from oversold to overbought and back again very rapidly. But for a one-week horizon, it can at least help me make peace with the more aggressive ETF list my model is showing me this week.

APPENDIX
To create this model, I started with a very broad-based ETF screen I created in StockScreen123.com.
Eliminate ETFs for which volume averaged less than 10,000 shares over the past five trading days

Eliminate HOLDRs (I don't want to be bothered with the need to trade in multiples of 100 shares)

Eliminate leveraged and short ETFs (I think of these as hedging tools rather than standard ETF investments of even trading vehicles)
Then I sorted the results and select the top 5 ETFs based on the StockScreen123 ETF Rotation - Basic ranking system, which is based on the following factors:
120-day share price percent change - higher is better (15%)

1-Year Sharpe Ratio - higher is better (15%)

5-day share price percent change - lower is better (70%)
The idea of using weakness as a bullish indicator is certainly not new. But often, it's an add-on to other factors that, on the whole, emphasize strength. Here, the weakness factor is dominant, with a 70 percent weighting.
This model is designed to be re-run every week with the list being refreshed accordingly. I trade through FolioInvesting.com, where I pay a flat annual fee rather than a per-trade commission, so I don't care about the fact that turnover form week to week is often 80%-100%. If you want to follow an approach like this but do have to worry about commissions, the strategy tests reasonably well with three ETFs, or even with one. (Cutting the number of ETFs is far preferable to extending the holding period.)
Figure 3 shows the result of a StockScreen123 backtest of the strategy from 3/31/01 through 12/30/10.

Figure 3
Figure 4 covers the past five years, a very challenging market environment that witnessed the fizzling of many strategies that had succeeded for a long time.
Figure 4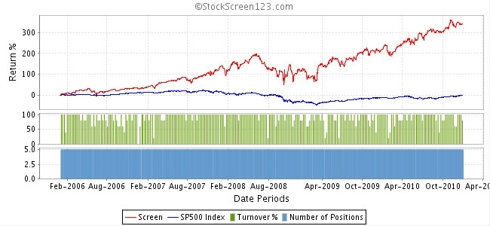 Figure 5, a screen shot from the FolioInvesting.com account I use to trade the strategy.
Figure 5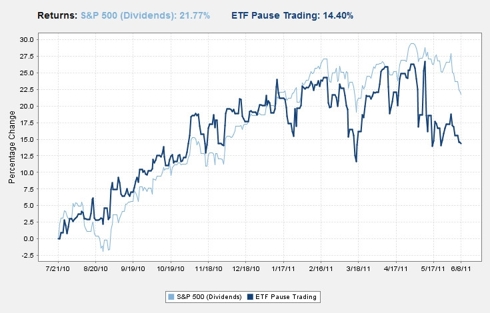 As noted in recent weeks, the model has been on a cold streak as trends have come and gone with unusual rapidity. Volatility, noteworthy for being low early on, has really picked up of late as the model wrestled with commodity-related gyrations, the most recent of which has had an especially deleterious impact on performance. It may be hard to see in this graph, but when I zero in on the last three weeks, the model has actually been modestly ahead of the market. But that last big slide was a whopper, and at some point, the model will need something comparable on the upside, at last on a relative, if not absolute basis.