Wheeler Real Estate Investment Trust Inc. (NASDAQ:WHLR) is an odd duckling, but there's real potential for it to turn into a swan. The problem is that the dividend isn't sustainable if management doesn't keep growing the company. But, and this is a big but, the company is essentially a way for CEO and founder Jon Wheeler to bring his private real estate interests into the public markets. And that means by owning shares in Wheeler you are investing along with the CEO.
Building wealth
Many famous investors have built their wealth with real estate. Sam Zell and Donald Trump are two that come to mind. However, smaller, but still sizable, fortunes are made every day in real estate in private markets. That's exactly what Jon Wheeler had going-a nice private portfolio of investments. There are problems with this, however, most notably a lack of liquidity and access to capital for growth. That's where bringing private real estate holdings public via a real estate investment trust (REIT) comes in.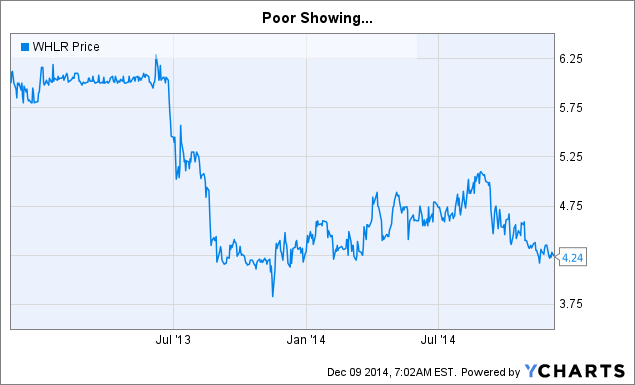 WHLR data by YCharts
Wheeler REIT didn't hide this. From the 2012 prospectus: "Each property that will be owned by us through our Operating Partnership upon the completion of this offering and the formation transactions is currently owned directly or indirectly by limited liability companies in which Jon S. Wheeler and his affiliates, certain of our other directors and executive officers and their affiliates and/or other third parties own a direct or indirect interest..."
And since that time, the company has continued to buy more properties from Wheeler affiliated business. The most recent purchase being the $2.4 million acquisition of a development parcel in Oklahoma that is set to be turned into a strip mall. The news release states that the deal was with an affiliated entity, but the SEC filing on the matter explains that the only affiliation is Jon Wheeler.
Now, clearly, these types of transactions bring with them the risk of deals made at the expense of shareholders. In fact, the prospectus even states that there were no third-party appraisals of the properties being bought with the IPO proceeds. That's not a comforting admission. So, this is an issue to watch. But, in this case, Jon Wheeler also happens to be one of the largest shareholders. As of an October 24th Securities and Exchange (SEC) filing, Wheeler directly or indirectly controlled roughly 700,000 shares of Wheeler REIT. And he has nearly two million "common units" that can be exchanged for common stock.
The half full glass
Because of Jon Wheeler's significant holdings, what happens to you is what happens to him. That, of course, is taking the positive view of things. But the CEO made this point particularly clear during the company's third quarter conference call when he was asked about the dividend's sustainability. While admitting that it isn't currently sustainable and there's no specific time line for it to be fully covered, he noted that when it comes to covering the dividend he has, "...a vested interest in sooner than the later..."
And with every transaction between his personal holdings and the company he runs, Jon Wheeler's vested interest grows. For example, Wheeler REIT paid the $6.75 million price tag to buy its external manager (run by, you may have guessed, Jon Wheeler) using common units. This is the transaction that led to the SEC filing noted above. So when you buy Wheeler REIT you are buying along with the company's CEO and founder. And that gives you the opportunity to benefit along with him as he transitions his private real estate business into a public one.
That said, this is not an appropriate investment for conservative investors. The REIT's operations don't cover the dividend and that means there is a clear possibility of a dividend cut if Jon Wheeler's plans don't pan out. So Wheeler REIT is a "special situation" that should only interest aggressive income investors. If everything plays out as the CEO plans, the $0.035 monthly dividend will be covered by operations "sooner rather than later" and you'll get a nifty 10% yield while you wait. In addition, once the dividend is covered, conservative investors are likely to be more interested in Wheeler REIT and its high yield, which should lead to capital appreciation.
Disclosure: The author has no positions in any stocks mentioned, and no plans to initiate any positions within the next 72 hours.
The author wrote this article themselves, and it expresses their own opinions. The author is not receiving compensation for it (other than from Seeking Alpha). The author has no business relationship with any company whose stock is mentioned in this article.
Editor's Note: This article covers one or more stocks trading at less than $1 per share and/or with less than a $100 million market cap. Please be aware of the risks associated with these stocks.