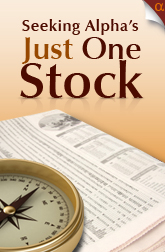 Several times a week, Seeking Alpha's Jason Aycock asks money managers about their single highest-conviction position - what they would own (or short) if they could choose just one stock.
---
Matthew Pixa is founder and president of My Portfolio Guide, an independent RIA based in Seal Beach, Calif. Previously, he worked in various capacities for Prudential Securities, Charles Schwab & Co., and Deloitte.
If you could only hold one stock position in your portfolio (long or short), what would it be?
While it's obviously not sound advice to only own just one stock, from both a consumer and an investor standpoint, I would have to buy Costco Wholesale (NASDAQ:COST). This opinion is based on a number of fundamental reasons as well as the old "eyeball test" of buying what you know/see.
Tell us more about the company behind the stock.
Costco is a leading Consumer Staples company and one of the largest membership and warehouse club operators in the United States. The company has 581 stores in the U.S., Puerto Rico, Canada, the U.K., Taiwan, Japan, Korea, Australia, and Mexico. The company has its roots in San Diego when it was a pioneer in the membership warehouse concept back in 1976. COST is now headquartered in Issaquah, Wash., and along with its global locations it operates an e-commerce arm via www.costco.com.
COST offers two main types of membership to individuals and businesses. As of last year, individual memberships cost $50 and there were approximately 22.5 million of them. Business owners can hold Executive memberships for $100 and as of last count those totaled 5.8 million. Approximately 33% of Costco's sales come from food, 23% from sundries (alcohol, candy and tobacco), 16% from ancillary businesses such as pharmacy, optical, hearing aid centers and printing services, and 10% from its soft lines (apparel and jewelry). For the third quarter, ended May 8, 2011, COST reported net income of $324 million, which equates to $0.73 earnings per share. This past April Costco's board approved a plan to repurchase up to $4 billion worth of shares over the next four years, and also increased the quarterly dividend from $0.205 to $0.24 per share.
How does your choice of COST reflect your investment approach?
Some important factors in how we select individual stocks can be summarized in a threefold approach:
We look for fairly valued companies in sectors we believe have potential over the next 12-18 months.

We aim to further narrow down the choice by focusing on those companies that are either industry leaders or emerging as ones to watch in the future.

We buy fundamentally sound businesses that we understand and know.
It is without question that buying a retail stock in a weak economy is challenging to do. That being said, however, COST fits the bill on several counts. Traditional retailers have struggled in this economic environment but COST has an operating model and strategy that allows them to shine relative to many of their peers during times like these. They offer a no-frills and self-service model which enables them to compete and still be profitable at considerably lower margins compared to most of their competitors.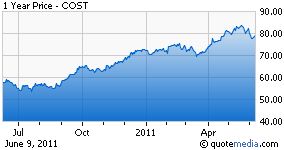 With regard to factor No. 3 mentioned above: It only takes a few visits to a Costco store to understand that they are doing something right! For us, it simply passes the "eyeball test" on several fronts. I've also read that in several stores overseas, such as in Japan, there are literally 10- to 15-minute lines with shoppers just waiting to get in. At our local store here in Southern California, it's very typical to see every area of the store fully humming with activity.
You'll see folks doing their weekly bulk buying for food but the pharmacy is busy, the gas lines outside are packed, people are getting their tires changed while they shop, their photos are being developed as they browse the wide aisles, they're trying on clothes or buying camping equipment that they didn't expect to find, and they're trying samples of food that they also didn't intend on buying but after hitting an empty stomach… you get the picture! When our kids were younger, my wife and I would joke about what Costco puts in the air to make us buy stuff we didn't plan on. We would go to buy diapers in bulk, and $300 later we had groceries, books, batteries for electronics, party trays for an upcoming gathering, and enough toothpaste to last 12 months. The list goes on - literally - but to say that these stores pass the proverbial "buy what you know" test is stating the obvious.
How much is your selection based on Costco's industry, as opposed to a pure bottom-up pick?
As I briefly mentioned before, this company is not necessarily in an industry or sector that we are overweight or extremely bullish on. It should be mentioned, however, that the general outlook for hypermarkets and supercenters is fairly positive. This sector/sub-industry should do decently well on higher volumes driven by price-sensitive consumers. That said, the selection of adding COST to our portfolios is much more of a bottom-up pick.
It's without question that we are still battling some economic challenges and consumers still lack major confidence. COST is not recession-proof, but in our opinion it is truly one of the strongest retailers and can weather these choppy waters much better than most. While I still see the long lines at the checkout stands, it's obvious that consumers in general may not be splurging on discretionary items. As the economy hopefully finds more solid ground, however, I believe this trend will reverse. When this happens, COST is likely to benefit from higher sales on discretionary items which have considerably higher margins.
How is Costco set up with regard to competitors?
Competition is fierce in this space, but ironically I believe management needs to be (and is) aware of a double-edged sword that is emerging. The main external competition COST faces is from Sam's Club - which is a division of Wal-Mart (WMT) - and from BJ's Wholesale Club (BJ). Both of these companies follow a very similar business model and one can quickly look to Wal-Mart as an example of a formidable competitor that has struggled through eight consecutive quarters of negative comparable-store sales growth. COST, on the other hand, just reported a 12% increase in same-store sales growth last quarter. Part of this result was bolstered by success from its international locations coupled with the impacts of a weaker dollar. Both BJ's and Sam's Club operate on slim margins as does COST. Therefore, a major differentiator is management having to execute close to perfection and aggressively control expenses.
Where I see COST being superiorly positioned relative to these two competitors is in the area of their continued reputation for providing solid healthcare and compensation relative to their peers. Thus far, management has delivered here and that should bode well going forward, both in external perception and with internal employee retention/morale, etc.
The competition COST must also address is partly due to potential cannibalization. While expansion and added revenue is perhaps a silver lining, management will have to adjust and expect the possibility of lower margins. Lower margins from expansion into existing territories could be somewhat mitigated by increased logistical efficiencies and lower marketing costs. COST also benefits from far better press than other big-box retailers.
How does COST's valuation compare to its competitors?
COST is still a very decent value even after a 38% increase over the past 12 months. The stock trades at about 24 times earnings and at a premium to the S&P 500. The same can be said with regard to trading at a premium relative to its competitors, but one needs to really look at the health and fundamentals of the company to make an "apples to apples" comparison.
With expansion plans into more lucrative and higher-margin foreign markets and a huge cash position on their books, there is reason for a higher valuation relative to that of BJ's or especially Wal-Mart. From just a pure P/E standpoint, COST indeed sports a higher multiple at around 24 versus some of its big-box peers like Wal-Mart at 12.50, BJ's Wholesale at 19.62, Target (TGT) at 11.55, Dollar General (DG) at 17.15, PriceSmart (PSMT) at 22.23, Walgreen (WAG) at 16.5, and Family Dollar Stores (FDO) at 18.03.
Again, where COST shareholders can help justify owning a higher-multiple type company is with regard to their stronger balance sheet and growth prospects. This is especially true looking at some metrics like Price/Sales and Debt/Capital ratios. In a very competitive arena, COST manages to maintain an A+ credit rating and boasts about 9% total debt to capital. COST's cash and investments exceed total debt by just about $5 billion. They have considerable real estate assets with an ownership of 78% of their warehouses, which is much higher than almost any retailer.
Does your view differ from the consensus sentiment here?
Analysts overall may not be as high on COST as I am and quite frankly, that's partly why I'm beginning to add positions. This is not to sound contrarian, but I often would like to begin building a position in a leading company before the entire herd stamps it with their final approval. The mean recommendation as of this past week was a 2.3 based on a scale of 1.0 being a Strong Buy and 5.0 a Sell. Of the 22 major brokers covering COST the median price target is $82.50 with a high of $97 and a low of $55. (COST currently trades at around $77 per share.)
Again, without intending to buck the trend, I certainly feel comfortable buying a stock that is weathering the storm better than most, has much stronger growth prospects, and an incredibly healthy balance sheet. I've read just about every analyst opinion there is on this company and while I'm not a huge fan of locking down some mythical price target on a long-term holding or core position, I can see this stock at least $10 higher 12-18 months out. So, as that relates to the crowd, I'm admittedly a tad more bullish on the company's prospects; especially so as the economy continues to slowly recover.
Does Costco's management play a role in your selection?
I'm always interested in management, but do not let it take a front seat in all cases. I've kicked the tires of plenty of companies before and felt reassured that the management teams were top-shelf, cutting-edge visionaries, and planned to execute business plans like never before. Without naming companies or situations where this extra level of due diligence has failed me, allow me to simply state that I believe management is much like a special teams squad in a football game. They are a key piece to the team and can certainly botch a few games and also pull out some miracles. In my opinion, you just want to make certain that they are consistent and don't lose you games after the team has been hitting on all other cylinders.
In the specific case of COST, I will say I believe management is an added bonus for owning the stock. One major point in COST's corner is the general candor and respect their management team garners. From the top down, they appear to have a very hands-on approach to communicating potential issues as well as day-to-day operations with in-store visits and the like. They also seem to have reasonable executive compensation packages which again yields to good press and an overall admirable image. As an aside, Berkshire Hathaway's (BRK.A) Charles Munger is on the COST board and Berkshire is also one of their largest shareholders. I don't buy everything that Buffett (Berkshire) sells… but one thing I will attest to is that he doesn't fiddle with companies that aren't solid or ones that he doesn't believe in.
Lastly, with regard to the current management team, they do have a continued and major challenge in dealing with workers compensation and healthcare costs. I alluded to this earlier but in order for them to continue executing well in a low-margin business, they will need to keep a close eye on skillfully controlling these costs.
What catalysts, near-term or long-term, could move COST significantly?
In both the near and long terms, I believe this stock will perform better than any other company in the sector. While I'm making comments on just this one stock, I wouldn't say that it will hit a "home run," but look to it as one that will execute better than most in a rough economic environment.
The most important catalyst that could move COST to considerably higher levels is due to their expansion plans. In my opinion, this will especially prove to be important with their planned locations outside of the U.S. As the economy eventually stabilizes, this trend will continue to pick up steam. Discretionary spending will eventually increase and in the meantime COST still enjoys a high-volume business with fairly low operating costs. COST is a very attractive stock to buy on market dips. My firm has been rather defensive over the last four to six weeks and there are only a handful of carefully selected stocks on our "shopping list." COST is simply one of those rare stocks that is hard not to own, and with less volatility than the S&P 500, you can also expect it to continue outperforming the broad market.
What could go wrong with your pick?
The million dollar question! I always say it's typically easy to find reasons to buy a stock but much more difficult to sell one or foresee potential snags. I'm generally the definition of someone who looks for the silver lining or the bright side in any story.
In sum, COST needs to execute close to perfection on their expansion plans and be mindful of higher start-up costs in newer markets overseas. Although they have stores in eight countries outside the U.S., the majority of their revenues are domestically based. Margins are trending higher overseas and management understands the huge opportunity. With that comes an increased need to deliver and control costs.
With increased market share overseas, factors such as cannibalization and foreign currency risks must be accounted for. International expansion could also result in more volatile earnings compared to recent years. Costco Wholesale's biggest challenge, outside of an anemic economy, is managing their growth into the next phase of international expansion. Thus far, management has done a superb job and assuming they continue executing as they have, I see this stock as one that will enjoy far more upside than down, especially when compared to their peers and the broad markets.
As you alluded to, some three-quarters of Costco's business is domestic, but they're opening four more stores in Japan, for example, and looking to grow. A lot of the people I've talked to in Just One Stock this past year are bullish on emerging-market consumers. Despite the high start-up costs overseas, what effect do you think the emergence of an emerging-market middle class has on Costco's business?
Great question... and this is actually one of the primary reasons I think COST is poised to outperform. As history will show, management has been able to execute almost flawlessly in a challenging and ultra-competitive environment from a domestic standpoint. I have confidence that this management team is keenly aware that there is a huge opportunity to tap into new markets. If existing demand overseas is any indication, I firmly believe that we'll see COST take advantage of this and not only gain more market share but capitalize on increased and healthier margins.
As the global economy stabilizes, COST will be able to mitigate some start-up costs by benefiting from much higher volumes, especially when compared to their competition. Lastly, while expansion always presents risks, I again have confidence that management will do so at a calculated and prudent pace.
Thanks, Matthew, for sharing your choice with us.
Disclosure: No positions, but may take a position in COST at any time.
Read more Just One Stock interviews »
If you are a fund manager and interested in doing an interview with us on just one stock position you'd hold, please email us at Just One Stock.