It's interesting how family vacations evolve.
When you are first married you usually start out as DINKs (Double Income, No Kids). You take advantage of your childlessness to indulge in romantic, adventurous getaways. Eventually the kids come along, and while they are little you scale down your adventures to trips to Grandma's and play dates in the local park.
Something magical happens when your children turn about age six. No longer do play dates seem all that fun. Hot concrete parks full of giant wavy steel contraptions suddenly hold immense appeal.
It looks like a lot of fun…for everyone else. Mom can't stand it. I'll do everything else in the amusement park but the giant rollercoaster!
If you are in the stock market, you understand what the boy in the video is feeling. Since June 2010 we have been on a steady climb up. But as they say, what goes up must come down.
Are you prepared? Or do you feel like the boy in the video at about the 1:09 minute mark?
We're Heading Down…
From both a fundamental and technical standpoint, there is no debating we are in the midst of a summer slump. From a fundamental standpoint, there is an abundance of bad news worldwide: China is attempting to curb inflation; Europe's debt crisis is ongoing. Here at home, employment is stagnant, housing is entering a double dip, and political wrangling keeps us from coming up with real solutions to America's crushing debt burden.
A sampling of articles by the top 5 contributors on Seeking Alpha's category designations "Market Outlook" and "Economy" present a bearish summer:
From a technical standpoint, the charts for (NYSEARCA:DIA) and (NYSEARCA:SPY) - indices ETFs -show a clear break in market trend upward. Click to enlarge: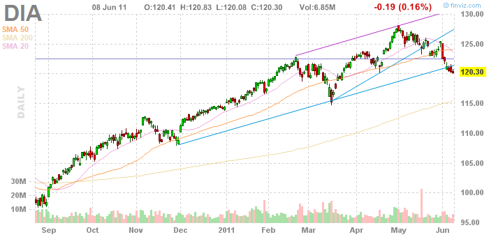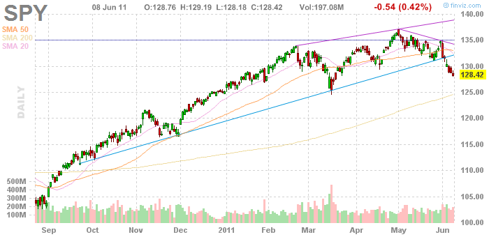 There is really no way around it. Unless you prepare, your portfolio will experience some level of depreciation this summer.
Riding Down Successfully…
You don't have to ride white-knuckled and wide-eyed through the downturn. Now is the time to determine how you will handle the summer market doldrums. There are several strategies to employ, and each is dependent on the type of investor you want to be.
Traders: Go All Cash
Those who are growing capital, but not necessarily dividends, may choose this option. Sell everything. Sit in cash. Wait until the market settles down and delivers the next upward trend.
This isn't a practical option for the dividend investor. If you are living off dividend income, going all cash is a non-starter. If you are a long-time dividend investor, it makes no sense to sell your winners, even if they go into a period of deflation.
Bottom line - unless you employ a pure trading strategy, this isn't the option for you.
Dividend Growth Investor: Carry On
Many dividend growth investors truly don't care about the dollar value of their portfolio. Their primary focus is growing the income stream. Some may hold the majority of their stocks in DRIPS; others reinvest regularly without heed to market prices or fluctuations.
For these investors, a tanking market is no big deal. If anything, market deflation represents the opportunity to dollar-cost-average down and increase the yield.
In other words, they don't sell a thing. They just carry on like normal.
The "carry on" mode works best if one has purchased high quality issues at very good prices. Market fluctuations are easier to bear if your stocks are still in the green while the market goes down. Market fluctuations are also easier to bear if you bought high quality companies that withstand the tests of market pressure and time.
The "carry on" mode also only works when you determine NOT to sell the more your portfolio declines. Selling at a market bottom is THE primary mistake of nervous investors. Never sell on fear. If you are truly going to "carry on", then stay the course.
If "carrying on" sounds like too much for your nervous stomach, don't worry. There are other strategies you can employ which blend the two extremes into something that may work for you.
Blended Approach Investor: Sell a Little / Buy a Little
A blended approach investor does not get pigeonholed in either a trading or an income strategy. They will look at how their portfolio is performing, determine what they want to accomplish, then employ "whatever works". We neither sell off our whole portfolio in a downturn, nor do we sit by and let our portfolios depreciate. Instead, we will let the market help us determine what our strategy should be. Choices can include:
Increase Cash Position

– This option may simply happen organically. Some of us have stop-loss orders in place. Some may only allow a negative percentage on our stocks (typically up to 10%). Some investors rotate into and out of sectors. Some may not allow their entire portfolio value to shrink beyond a certain percentage point. Some investors look at the technical aspects of their stocks to determine the sell.

Whatever the case, a market downturn will always shake out what is weakest in your portfolio. Knowing fundamentally and technically how each position is performing is key to understanding what positions should be considered for a sale. Once sold, the cash simply sits in your account. The cash acts as a cushion to a fluctuating market and a hedge on your long positions. When the market reverses its trend, the extra cash allows you to reinvest and take new positions.

Add Some Shorts – I can't recommend this for new investors. However, if you are comfortable with your trading acumen, this may be a good way to hedge your portfolio. The best traders among us will feel comfortable shorting individual stocks. Most of us will do better sticking with shorting ETFs. The most "bang for buck" ETFs employ leverage to double or triple the shorting effect. I'll be honest – every time I have used a 2x or 3x short ETF, I've never gotten the trade right. These "ultra short" ETFs are extremely volatile, and should not be held for more than a few days. If you would rather hold a short ETF for weeks or months during the downturn, take a look at DOG, the one-to-one ratio Dow shorting ETF, or SH, the S&P one-to-one ratio short.
Rotate Sectors –

During a downturn, 70% of stocks go south. That leaves about 30% of stocks going north. Rotating sectors means getting out of some sectors that are part of the 70%, and getting aboard sectors that are part of the 30%.
Rotate Stocks –This is as simple as keeping a "watch" list of stocks you are interested in, and jumping in when it's clear that one of your watch list stocks is on an uptrend. For information on how to spot sectors and stocks on an uptrend, and how to enter a position, see: How to Buy the Right Dividend Stock – At the Right Price.
These articles, especially the last one on municipal bonds, lay out the pros and cons of investing in fixed income instruments at this time. A market decline is generally not the best time to invest in fixed income. However, if the goal is obtaining a stable income stream through the market turmoil, these are decent choices (especially for retirees). Look for issues that are below their call / redemption price and have short maturities.
Disclosure: 15% cash position, up from 1% just a few weeks ago
Disclaimer: Five Plus Investor is written for the retail investor, from a retail investor's experience and point of view. The articles presented by the author are for informational purposes only. Five Plus Investor is not a professional investment counselor. Before investing one should conduct their own due diligence or seek the advice of a professional as needed.