Last week, Arizona's major utility, Salt River Project Agricultural Improvement And Power District, also known by its initials SRP, unveiled a new proposed rate sheet for customers starting from April 2015 billing cycle.
SRP is located in the sunbelt and the abundant solar resources in the region have made the region a prime target for solar lease companies like Solar City (SCTY) and Vivint Solar (NYSE:VSLR). The territory for SRP is large (see image) and has been an attractive target for solar installations. The solar leasing companies have been aggressively targeting this geographic area for customers and solar deployment in SRP territory has been rising rapidly in the recent past.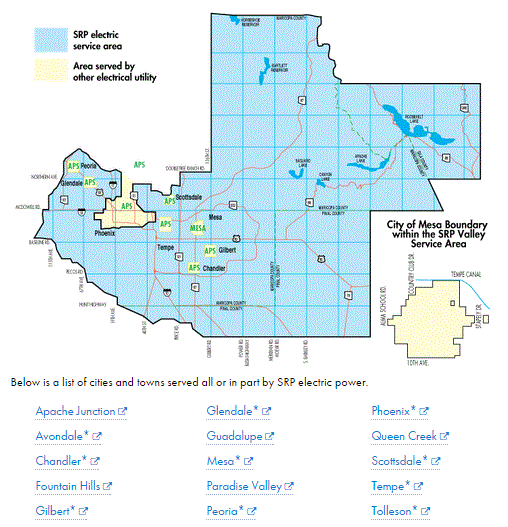 The new price plan is designed to address the rapid growth in solar installations in SRP territory. Since solar customers reduce their kWh purchases from SRP, these customers payments do not sufficiently offset the grid costs of SRP and over time will get passed on to customers without solar installations. SRP wants to ensure that non-solar customers are not burdened by the upward spiral in costs as solar penetration increases.
As part of the new rate structure, SRP initiated a new "Customer Generation Price Plan". This plan applies to customers installing residential solar energy systems and has several new components:
- A monthly service charge associated with connecting a home to the grid. This charge is differentiated based on the amperage of the service connection. Homes with 200 amp service or less pay Distribution charge of $12.44, while homes with service greater than 200 amps will be charged at a rate of $25.44
- An on-peak per-kW demand charge. This demand charge is calculated only during the on-peak period, and is tiered and assessed per-kW. The demand charge measures the maximum power the customer is using in any 15-minute interval during the on-peak period. While the calculations are complex, these can add to significant additional charges depending on the solar customer's energy use patterns.
- A variable per-kWh charge based on SRP's marginal cost of energy. This, pay-per-energy-used charge is similar to what most energy customers are used to paying.
- Freezing of the net metering plans and compensating for excess power generation at wholesale rates instead of retail rates. Prior to this change, customers were being net metering credit for excess generation based on retail rates. This change dramatically reduces the attractiveness of any solar generation in excess of consumption.
This new price plan is expected to become official starting April 2015. As a concession to current solar system owners, SRP proposes that customers with installed solar panel systems or with contracts for solar systems signed and submitted to SRP by December 8, 2014, will be grandfathered for 10 years. In other words, approved current and past solar customers before December 8th 2014, will not be subject to the Customer Generation Price Plan at their current premises through March 31, 2025. However, this grandfathering will expire if there is a substantive change in the customer of record after December 8, 2014. The Customer Generation Price Plan will be required for a premises when SRP receives notification of a change in the customer of record.
These changes, when approved, essentially mean that:
- Solar systems, especially the leasing variety, will not make economic sense in the SRP territory
- Customers who already have long term leases will be moved to the highly disadvantageous Customer Generation Price plan in 10 years or when there is a change of customer of record.
In other words, all the SolarCity, Vivint Solar and other third party leases will become toxic in 10 years at the latest. Or, they become toxic if the property is sold and likely when the property is rented out.
Unfortunately, the hapless customers of these leasing companies will suffer for buying the solar lease snake oil. Leasing companies like SolarCity, on the other hand, will likely close shop in SRP territory and find uninformed customers in other markets.
We have been predicting these developments in our missives in the past and are flabbergasted that the investment community cannot see through the house-of-cards business plan of these solar leasing companies.
We expect this type of rate revisions to be commonplace in the next 2 to 5 years and, combined with the other headwinds, expect the leasing companies business plans to collapse under their own weight.
Our sentiment on SCTY & VSLR: Avoid
Disclosure: The author has no positions in any stocks mentioned, and no plans to initiate any positions within the next 72 hours.
The author wrote this article themselves, and it expresses their own opinions. The author is not receiving compensation for it (other than from Seeking Alpha). The author has no business relationship with any company whose stock is mentioned in this article.