I'm beginning coverage of Seattle Genetics (NASDAQ:SGEN) with the expectation it will outperform the broad market. The company's share price took a hit following positive data presented at a recent conference. I expect label expansion opportunities for the company's commercial stage asset, Adcetris to drive growth in the near term. Looking further ahead the company has several promising candidates in early-stage development, and a slew of collaboration agreements.
Seattle Genetics has the industry's leading antibody drug conjugate platform. This technology improves patient outcomes through the targeted delivery cytotoxic agents to the interior of tumor cells. Because the company's ADC technology is so widely applicable, industry heavyweights have beaten a path to the company's door. As the company transitions to the next phase of its growth story, it should enjoy a significant stream of milestone and royalty revenues from an enviable number of partnerships with industry giants.
Adcetris expansion
Currently Adcetris is approved for the treatment of advanced Hodgkin Lymphoma patients that did not respond to, or can not receive stem cell transplants. Sales for the first nine months of 2014 rose 25% on year to $132 million, and management is forecasting about $175 million for the year. If Adcetris is to reach blockbuster status, clearly the company must expand it's patient base.
Over the weekend at the American Society of Hematology annual meeting Seattle Genetics took a few steps towards label expansion. First the company presented data from the 327 patient Aethera trial. During the phase 3 study, patients received Adcetris, or placebo, as a maintenance therapy following stem-cell transplant.
Data presented from the Aethera trial was highly encouraging, but contained one important snag. Progression free survival improved significantly for patients in the Adcetris arm with a median of 43 months versus 24 months in the placebo arm. Unfortunately the data does not show an improvement in overall survival, the gold standard for measuring efficacy. Management blames the lack of OS benefit on the fact that the trial is still ongoing, and a tendency for placebo arm patients crossing over to Adcetris following progression. While those excuses seem reasonable to me, regulators are not as accommodating. If the trial completes without showing a significant OS benefit, the likelihood of approval would fall significantly.
Of course, post stem-cell transplant maintenance isn't Adcetris' only expansion opportunity. At ASH the company also presented encouraging long-term outcome data from the phase 1 trial. Three year overall survival for newly diagnosed, advanced-stage HL patients treated with Adcetris in combination with driamycin, vinblastine, and dacarbazine reached 100%.
On the strength of these stellar results, the company began the phase 3 Echelon-1 trial. This international study will compare progression-free survival in patients receiving Adcetris and AVD, to patients receiving AVD plus bleomycin. Given the outstanding three year OS data seen in the phase 1 trial, I'd say its chances of reaching the primary endpoint are much better than average.
Beyond Echelon-1, Seattle Genetics and partner Takeda have two additional phase 3 trials underway. The Alcanza trial in relapsed cutaneous T-cell lymphoma, and Echelon-2 in front-line, mature T-cell lymphoma. All three late-stage trials are being conducted under special protocol assignment agreements with the FDA.
Billions in biobucks
Beyond Adcetris, the company has collaboration agreements in place with heavyweights like AbbVie (NYSE:ABBV), Roche (OTCQX:RHHBY), Bayer, GlaxoSmithKline (NYSE:GSK), and Pfizer (NYSE:PFE). During the first nine months of 2014 Seattle Genetics recorded a combined $23 million from these five, nearly 11% of total revenues for the period.
Given the imprecise timing of reaching developmental and commercial milestones, this stream is highly variable. While the collaborations are a great way to mitigate risk, the company has little control over the actions of its partners. Should their interest in ADC's weaken, or results simply aren't exciting enough to move forward, this revenue stream could slow to a trickle.
Luckily the sum of all potential milestone revenue available through the company's collaborations is about $4.8 billion. Given the number of collaborations, and variety of compounds under development, I think it's safe to assume significant annual milestone revenue going forward. While it isn't enough to drive growth, it is helping the company transition to profitability without taking on debt, or heavily diluting shares.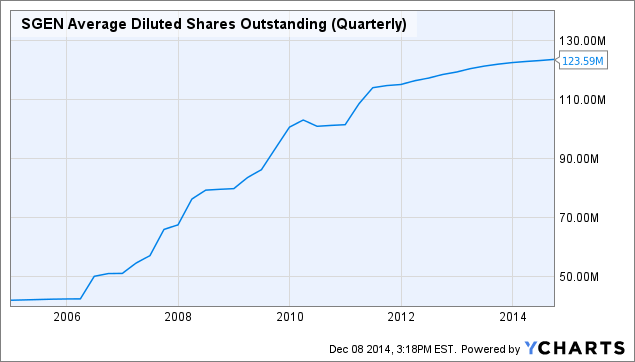 SGEN Average Diluted Shares Outstanding (Quarterly) data by YCharts
Mr. Market says...
With a recent share price above $33, the market has priced in some serious growth in the next several years. Over the past five years operating costs at Seattle Genetics have risen at a compound annual growth rate of about 17%. Assuming the trend continues, the company needs to reach a 20% top-line consensus growth estimate for 2015, then maintain topline growth near 40% for four years before tapering off in order to support it's recent price.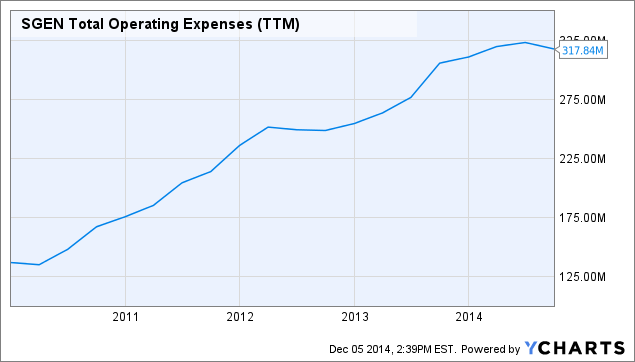 SGEN Total Operating Expenses (NYSE:TTM) data by YCharts
If Adcetris can win the expansions listed above, I feel it can exceed those targets. Peak sales estimates for Adcetris hover between $1-1.5 billion in annual sales. Hitting the $1 billion mark by 2018, and maintaining steady collaboration revenue, would result in a top-line CAGR of about 50%.
Other Considerations
Unlike small-molecule pharmaceuticals, antibodies are nearly impossible to accurately replicate outside of a living organism. This drives up manufacturing costs in the shorter term, but it can also mitigate losses to competition following key patent expirations.
Seattle Genetics has a unique advantage over its competition, its antibodies are synthetically manufactured. This is boosting gross margins considerably. Synthetic antibodies are cheaper to manufacture. This drives down manufacturing costs considerably. It could also lowers barriers for competition post-exclusivity.
Lower manufacturing costs aside, Seattle Genetics' size and marketing experience is a concern. The company is commercializing Adcetris on its own in North America, likely its largest market. The drug's efficacy should spark attention, but it wouldn't be the first small biotech to watch its first commercial stage asset underperform in a field of better connected competitors.
Besides Adcetris, the rest of the company's pipeline and partnered products are relatively early-stage opportunities. Factoring in developmental risks and time to market seriously reduces their contribution to the company's present value. Unfortunately the long-case for Seattle Genetics relies on another big winner adding to Adcetris sales in the years ahead.
A presentation at ASH suggests it may have something in its stable of early stage-compounds. The company presented interim data from a phase 1 trial with SGN-CD19A in advanced non-Hodgkin lymphoma. Although the trial is designed to asses tolerable dosage and safety, the compound also showed anti-tumor activity. Of the 51 patients available for response, just 20 had disease progression. With necessary safety data in hand, the company intends to begin a phase 2 trial for SGN-CD19A in diffuse large B-cell lymphoma next year.
Seattle Genetics' may be the ADC leader, but it is not alone. Less than two years following FDA approval of Adcetris, Massachusetts biotech, ImmunoGen (NASDAQ:IMGN) and its partner Roche won approval for Kadcyla. The breast cancer drug is essentially Herceptin attached to Immunogen's proprietary linker and cytotoxin.
In terms of biobucks, ImmunoGen is far behind Seattle Genetics. In addition to Roche, ImmunoGen has collaboration agreements to develop ADCs with Sanofi (NYSE:SNY) and Eli Lilly (NYSE:LLY). The company ended October eligible to receive about $200 million from Lilly, about $30 million from Sanofi, and about $44 million from Roche. While ImmunoGen isn't threatening Seattle Genetics' top spot in ADC development, a viable alternative to the company's synthetic antibodies puts a big dent in its competitive advantage.
Final Thoughts
The long-case for Seattle genetics rests squarely on the company's ability to expand Adcetris to a wider patient base. If it can't, investors can expect losses. A lack of debt, and some milestone revenue would protect investors somewhat, but the market has already priced in exceptional growth for this not-yet-profitable biotech. While I do feel the company is undervalued, betting on better-than-great performance is not for the faint of heart.
Disclosure: The author has no positions in any stocks mentioned, and no plans to initiate any positions within the next 72 hours.
The author wrote this article themselves, and it expresses their own opinions. The author is not receiving compensation for it (other than from Seeking Alpha). The author has no business relationship with any company whose stock is mentioned in this article.