The economic numbers over the last three weeks have been poor overall. The market seems willing to fall further and slide in to the summer months. I am not convinced the economy is heading into a double-dip scenario. I also believe the end of QE2 will help over the summer months. Let's take a look at what happened last year in the beginning of June. Below is a comparison of numbers released in late May and early June from 2010 and 2011.
Comparison of 2010 and 2011
Report
Actual '10
Exp. '10
Actual '11
Exp. '11
ADP Non-farm Employment Change 6/1/10 and 6/3/11
55K
68K
38K
177K
ISM Manufacturing PMI 6/1/10 and 6/1/11
59.7
59.3
53.5
58.1
Unemployment Claims 6/3/10 and 6/2/11
453K
451K
422K
416K
Factory Order m/m 6/2/10 and 6/3/11
1.2%
1.7%
-1.2%
-0.7%
Non-farm Employment Change 6/4/10 and 6/3/11
431K
521K
54K
161K
All numbers can be on ForexFactory.com
From viewing the table you can see that all of these major number missed analysts forecasts in 2011 as well as 2010. The only exception is the Manufacturing data released on 6/1/10 showed a slightly positive increase. This shows weakness appeared in the economy in early spring over the last years.
While most news outlets are calling for a double-dip recession, which may occur, I tend to think the economy is slipping into a summer lull much like it did last year.
The Quantitative Easing programs both need to be factored into this observation. The programs force the USD to be artificially weak. In recent months, the Dollar has fallen to extreme lows. Although it isn't supported in the above numbers, the weak dollar has benefits for the American economy.
As QE2 ends the USD is expected to strengthen against its peers while the Fed tightens its policy. However, the negative effects could be irrelavent because a stronger dollar will help consumers battle historically high commodity prices. Suddenly the prices at the pump will seem lower; it doesn't hurt that oil is traded in USD either. So over the summer Americans should actually benefit from a stronger dollar in a sputtering economy.
In addition to a stronger Dollar helping consumers, lets take a look at how the markets performed after the poor data last year.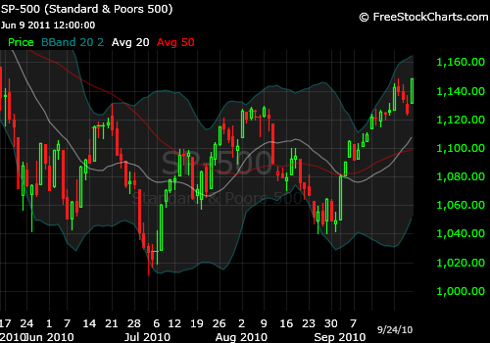 The S&P 500 mainly range traded between June and September 2010, showing the poor economic data didn't cause a significant prolonged drop in the equity market. This bodes well for Americans who have their savings in equities. Their purchasing power will rise while their wealth may be able to flatten before moving higher.
Disclosure: I have no positions in any stocks mentioned, and no plans to initiate any positions within the next 72 hours.