Despite evidence that the domestic wireless market is in the middle of a serious pricing war, Verizon Communications (NYSE:VZ) recently traded near all-time highs. Some investors thought the wireless data leader could avoid the pricing war, but the recent data from the company suggests the issue is finally impacting Verizon.
Investors need to consider whether now is the time to jump ship as this could be the tip of the iceberg of a long trend down for the industry.
Margins Under Pressure
In a news release, Verizon stated that Q4 margins would be under pressure due to an overly promotional and competitive environment. The company suggests it's a short-term impact, but Sprint (NYSE:S) and T-Mobile (NASDAQ:TMUS) have no intentions of slowing down the pricing wars. In fact, Sprint recently ramped up the attack directly on Verizon with a plan to cut service rates in half.
Verizon suggests that 75% of customer upgrades are strategic in nature, meaning a move from a basic or 3G phone to 4G. In addition, customers are moving aggressively toward the equipment installment plan. For Q4, 24% of customers chose this plan, up from only 12% in the previous quarter.
Even prior to this release, wireless EBITDA margins were under pressure. Q3 2014 service margins had already declined to 49.5% from 51.1% in the prior year. The pricing pressure from Sprint suggests it continues getting worse.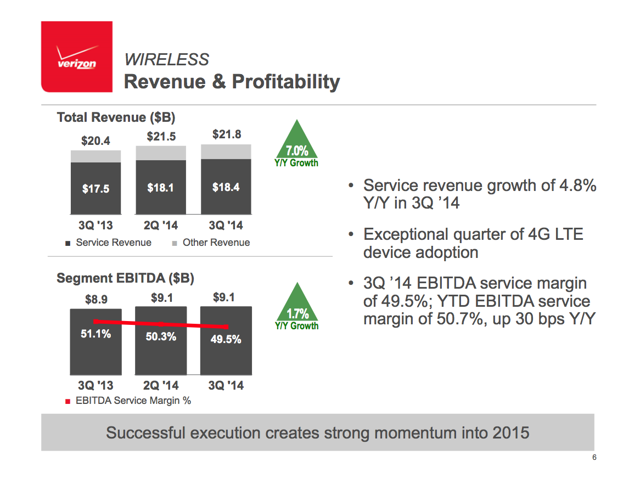 Source: Verizon Q3 2014 Presentation
Not Cheap Based On Debt
Earnings expectations for Q4 were already under pressure with analysts forecasting $0.81, down from $0.85 around 60 days ago. The stock though only trades at less than 13x 2015 earnings forecasts. The real issue is the high debt in the wireless sector, especially at a time of pricing and margin pressures. With over $100 billion in net debt, Verizon actually trades closer to 20x 2015 earnings forecasts based on enterprise valuation.
The recent AWS-3 wireless auctions probably added more debt to the balance sheet as well.
Though analysts now forecast solid earnings growth in 2015, one has to expect that the pricing moves by Sprint and T-Mobile make that very unlikely. With the warning likely reducing 2014 earnings below $3.45, it seems that the current analyst estimates of $3.81 will need to come down. Investors should expect flat earnings at best for 2015.
Takeaway
The pricing wars at domestic wireless market are finally taking a toll on Verizon. While the company suggests short-term margin pressures in Q4, investors should avoid the stock as no signs exist of a short-term move by Sprint and T-Mobile. With a substantial debt load and a high-cost spectrum auction, Verizon is not a stock to own in this environment.
Disclosure: The author has no positions in any stocks mentioned, and no plans to initiate any positions within the next 72 hours.
The author wrote this article themselves, and it expresses their own opinions. The author is not receiving compensation for it (other than from Seeking Alpha). The author has no business relationship with any company whose stock is mentioned in this article.
Additional disclosure: The information contained herein is for informational purposes only. Nothing in this article should be taken as a solicitation to purchase or sell securities. Before buying or selling any stock you should do your own research and reach your own conclusion or consult a financial advisor. Investing includes risks, including loss of principal.