Black Box Intelligence is a financial performance benchmarking company for the restaurant industry and provides metrics covering sales, traffic, expense, revenue and consumer data. The company recently reported same-store sales trends for November. The following is my assessment of the current trends.
Despite the industry registering its fifth consecutive quarter of same-store sales growth, Black Box results for November were relatively disappointing. Some of the companies impacted by these trends are Darden (NYSE:DRI), Brinker (NYSE:EAT), Bloomin Brands (NASDAQ:BLMN), McDonald's (NYSE:MCD), Wendy's (NYSE:WEN), Del Frisco's (NASDAQ:DFRG), Chuy's (NASDAQ:CHUY) Ruth Chris (NASDAQ:RUTH) and YUM Brands (NYSE:YUM).
This disappointment comes after a very strong October, during which same-store sales and same-restaurant traffic increased sequentially on both an absolute and two-year basis.
Restaurant same-store sales increased +1.5%, while same-restaurant traffic decreased -1.1%, during the month. These numbers were down 130 bps and 150 bps, respectively, on an absolute sequential basis and down 70 bps and 50 bps, respectively, on a two-year sequential basis.

Black Box estimates 4Q14 same-store sales to fall within the +1.5-2.0% range, which would imply December comps of +0.3-1.8%. Given the easy lap, this appears to be a fairly conservative estimate.
The widening gap between sales and traffic suggests an increase in average check during the month, which could be the result of: higher prices, less promotions, or a shift in sales mix.
Importantly, Novembers drop in traffic is consistent with the recent dip in consumer sentiment (Conference Board Consumer Confidence Index). Black Box noted that the NY/NJ region has been the worst performing for the past six months, while CA has been the best performing region for the past two.
In short, the sales environment for the restaurant industry has improved, but we still have a long road to declare victory.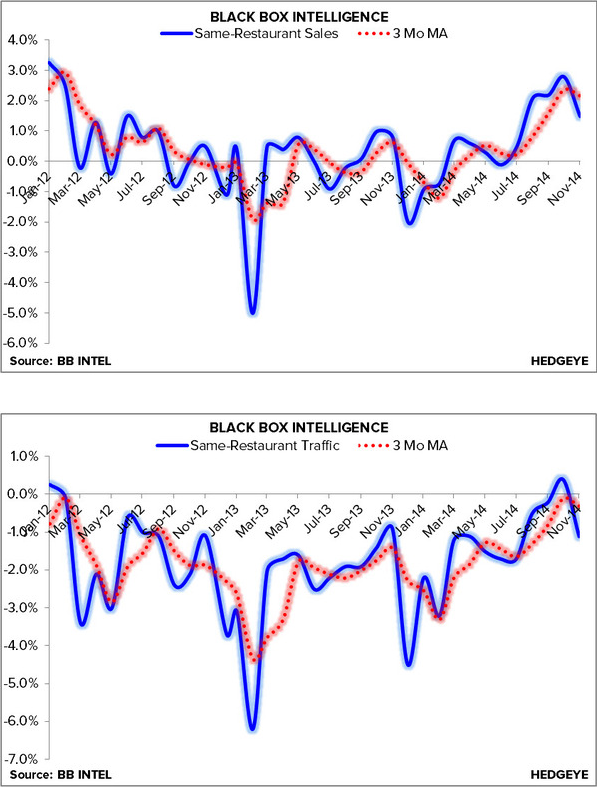 Disclosure: The author has no positions in any stocks mentioned, and no plans to initiate any positions within the next 72 hours.
The author wrote this article themselves, and it expresses their own opinions. The author is not receiving compensation for it (other than from Seeking Alpha). The author has no business relationship with any company whose stock is mentioned in this article.