The water utility, Aqua America (NYSE:WTR), operates as a holding company for utilities that provides water and wastewater services to approximately 3 million customers in eight states. The company's subsidiary, Aqua Infrastructure, provides non-utility raw water supply services to companies in the natural gas drilling industry.
Aqua America has a strategy of growing via acquisition. This strategy should provide steady growth going forward. Aqua achieved 1% customer growth from 15 small utility acquisitions in 2013. The company completed 13 acquisitions so far this year with an expectation to exceed 1% customer growth. With an approximate base of 3 million customers, 1% growth equates to about 30,000 new customers. Overall, Aqua is expected to increase revenue by 4.5% in 2015 to $823 million. This includes acquisitions, residential & commercial consumption, and increased water consumption for shale drilling.
I think the biggest value to an investment in Aqua in addition to the 2.5% dividend is the downside protection. If you live in the company's territory and you want to use running water, you are an Aqua America customer for water services. Because Aqua is a monopoly, investors are protected from the downside. There would be little reason for the company to fail or to even come close to bankruptcy. Furthermore, there would be little risk of losing the dividend. This gives the stock an important characteristic in my opinion. On the other hand, the stock will experience sharp drops along with most other companies during recessions. The important thing to remember is that the business remains largely intact during recessionary periods and the stock eventually recovers.
Valuation
Aqua is trading at 20.5X next year's expected earnings. This is a bit higher than the S&P 500's forward PE of 17. This is a reasonable valuation for a consistent, reliable dividend-paying water utility with low overall risk. Therefore, I would expect the stock to be valued slightly higher than the market. I think that the multiple can continue to expand as revenue and earnings increase going forward. Revenue is expected to increase 4.5% and earnings are expected to increase by 5.8% in 2015. The stock tends to appreciate in-line with earnings growth over time. I think that the current valuation will allow the stock to continue appreciating approximately in-line with earnings growth. Investors typically buy Aqua as a steady dividend paying investment. So, investors can expect moderate stock appreciation along with the dividend payments.
Aqua looks fairly valued in terms of its balance sheet. The company is trading with a price to book ratio of 2.86. This is only slightly higher than the S&P 500's price to book ratio of 2.75. The company has 1.4X more total assets than total liabilities. Aqua has 1.13X more current liabilities than current assets. However, the company should have no issues handling its short-term debt due to its positive operating cash flow. Aqua has spent less in CapEx than it generates in operating cash flow since 2011, so the free cash flow generation has been healthy. This makes it likely for dividends to continue and to be increased if the free cash flow increases year-over-year.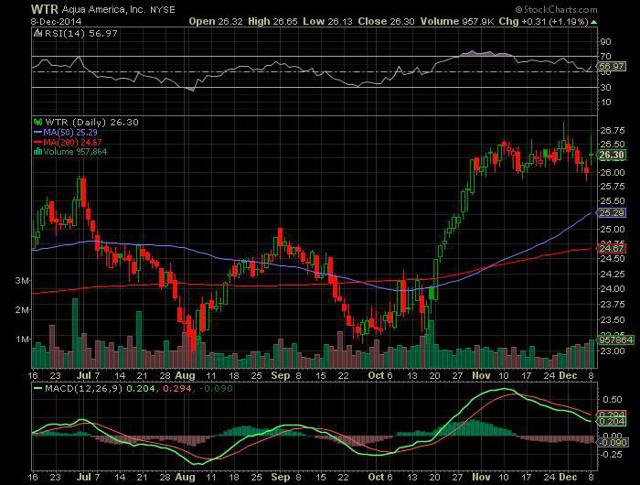 Outlook
Look for Aqua to continue growing through value-added acquisitions. The company's strategy is dedicated to growth from acquisitions, so this should provide steady revenue increases going forward. In addition to that, Aqua should also benefit from the growth of natural gas drilling in the Marcellus Shale. While oil drilling has been challenged with lower prices, natural gas drilling is still going strong as NG prices have not fallen to unprofitable levels. Aqua is likely to continue to benefit from the continued growth of natural gas drilling in the Marcellus. Aqua provides the water that is necessary to do this fracking. The shale drilling should account for at least 25% of Aqua's revenue or about $206 million in 2015.
Overall, I would expect the underlying stock to increase annually at about 4%-6% in addition to the steady dividend payments. This appreciation is based on projected earnings growth. Protection from the downside is a key factor for an investment in Aqua. The stock will experience corrections along with the market, but the underlying business is solid. There is little to no competition for the company's water utility business. Therefore, the risk of bankruptcy is very low even during recessionary times. By participating in Aqua's dividend reinvestment plan, investors can get a 5% discount on the reinvested dividends.
Disclosure: The author has no positions in any stocks mentioned, and no plans to initiate any positions within the next 72 hours.
Business relationship disclosure: I am a current Aqua America water utility customer.