The biotech sector has been a strong performer recently. Yesterday, we took a look at a couple of large cap biotech stocks that should be a part of every investors' well-diversified biotech portfolio. Today, I would like to do a deep dive on a smaller biotech play that offers a higher risk/higher reward profile. It will be our small cap focus biotech stock of the week.
Small cap biotech stocks have been screaming lately. I have been fortunate to catch quite a few of the big movers like Avanir Pharmaceuticals (NASDAQ:AVNR) which recently received a buyout offer valuing the stock at $17 a share, up nearly 300% since I profiled the stock at $4.50 a share right here on SeekingAlpha in May.
The strong recent performance in the small biotech space has helped mitigate the carnage in the small cap energy sector which has been decimated on the huge recent plunge in oil prices. In March, the exact opposite occurred as energy was ascendant as the small biotech sector was taken out to the woodshed and shot by investors.
This shows the importance of diversification when building a Small Cap Gems portfolio. This is especially true in small biotech and commodity plays as they are notoriously volatile sectors of the market that can swing wildly.
With that being said, let's take a deeper look at DynaVax Technologies (NASDAQ:DVAX).
Company Overview:
Dynavax is a small biotech (just over a $400 market capitalization) that is focusing on pioneering a new approach to therapies for multiple autoimmune and inflammatory diseases including lupus, psoriasis, and rheumatoid arthritis. Their technology looks to inhibit Toll-like Receptors (TLRs). TLRs are key receptors of the innate immune system that can induce strong inflammatory responses. The company recently initiated a reverse 10 for 1 stock split and the stock goes for approximately $16 a share.
The commercial opportunity is quite large. Over 20 million individuals just in the U.S. and Europe have autoimmune diseases such as lupus, psoriasis, and rheumatoid arthritis. Key biologic drugs used to treat these conditions generate over $15 billion in worldwide sales each year.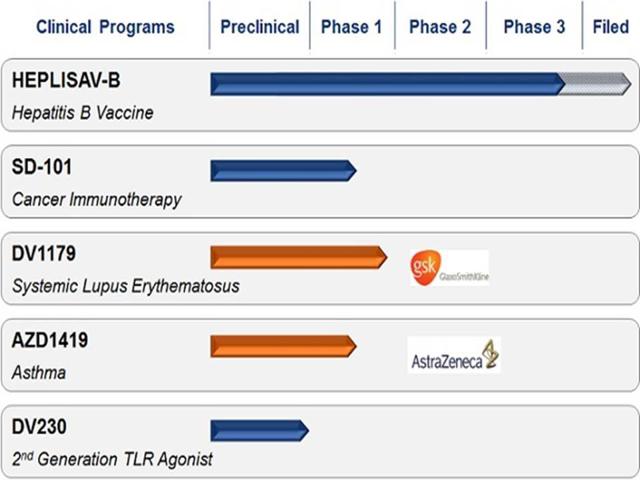 The company has several compounds in development. However, the company's near term prospects will be driven by the development of Heplisav-B which is a vaccine in Phase III trials that is targeted at hepatitis B. Hepatitis B is the most common serious liver infection in the world. It comes in two varieties; acute and chronic. Most individuals have the acute version of this disease which affects the individual for 1-4 months presenting symptoms like fatigue, appetite loss, nausea, as well as itching, jaundice and aches in the liver region. This version of the disease is usually defeated without drugs over a few months.
The chronic version of this type of hepatitis does not go away by itself and can cause a form of liver cancer and death. Children are particularly at risk if they are infected with this type of hepatitis.
The company's early stage development for treatment for Lupus is within a partnership with GlaxoSmithKline (NYSE:GSK) and its early stage asthma compound is being developed in conjunction with AstraZeneca (NYSE:AZN). Dynavax will receive milestone payments as both compounds reach successive successful endpoints as well as royalty payments should attain approval and market distribution and the asthma drug co-development could bring as much as $100 million in milestone payments if successful.
A Do Over
The stock ran up to almost $5 a share (pre-split) in late 2012 on the anticipation of the approval of Heplisav-B. Unfortunately that is where the company ran into a roadblock. Even though results from its Phase III trials were encouraging, neither the FDA nor its European equivalent would grant approval of the compound. Both agencies stated there were not enough test subjects in these studies to provide confidence in the efficiency and safety needed to approve Heplisav - B.
The market was not kind to the stock of Dynavax on the back of these disappointments and the shares plunged to around $1 a share (again pre-split) over the next few months. It is important to note that the FDA did not say this compound was ineffective, just that it needed a larger sample size for Phase III trials to be approved. Dynavax has spent the better part of a year enrolling more than 8,000 patients in a new Phase III study for Heplisav-B. That enrollment was just completed recently and the stock has behaved more strongly as a result. Also helping the shares recently is that Arrowhead Research Corporation (NASDAQ:ARWR) recently posted disappointing results with that company's experimental hepatitis B drug in Phase II trials.
I believe that it is a good possibility that Heplisav-B will be approved soon after this huge study is completed probably sometime in the second half of 2015. I am also encouraged that the company has almost $150 million in net cash on the balance sheet and should not to have to access the capital markets in the foreseeable future to raise additional funds for development.
Risk Mitigation Strategy:
As previously stated, small biotechs are a very volatile part of the market. This is why I take much smaller positions in a wider variety of promising stocks than any other sector. Second, although Heplisav will be the core value driver of the stock in 2015 due to is ongoing trials, it is not the only "shot on goal" DynaVax; another thing I look for when making an investment in this speculative area. Finally the stock shot up in front of trial results in 2012 more than doubling in the run up to the conclusion of the first phase III trial of Heplisav. If that happens again, I will cash in half my position and play on the house's money.
This risk mitigation strategy helps me confidently take a position in this high risk/high reward biotech stock. I like the potential for appreciation in 2015 due to the conclusion of critical trial results, important partnerships with major pharma players, a large cash balance and a variety of drugs under development. SPECULATIVE BUY
Disclosure: The author is long AVNR, DVAX.
The author wrote this article themselves, and it expresses their own opinions. The author is not receiving compensation for it (other than from Seeking Alpha). The author has no business relationship with any company whose stock is mentioned in this article.