There have been 36 Initial Public Offerings in the last 2 months and generally they have not performed well. 15 are below the IPO price, about what to be expected when a stock market has been drifting lower. But a few IPOs have gotten a lot of attention.
LinkedIn (LNKD) sold 7.8 million shares at $45 a share on May 18. The stock shot up to $120 on its first day and then settled back to the $90s. Now it's $72, still a very nice gain off the offering price. This prominent internet service allows people to contact each other (click charts to expand).
LinkedIn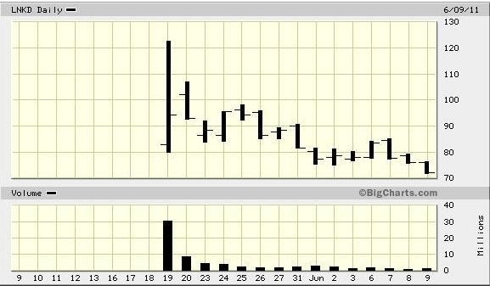 Yandex (NASDAQ:YNDX) sold 52 million shares at $25 a share on May 23. The stock is $32.79, producing another nice gain (one of 9 IPOs with at least a 20% gain). YNDX operates the leading internet search engine in Russia.
Spirit Airlines (NASDAQ:SAVE) sold 15.6 million shares at $12 a share on May 25. The stock is a few pennies above the offering price (which was scaled back before the offering was made). SAVE is a discount airline.
Freescale Semiconducter (NYSE:FSL) sold 43.5 million shares at $18 a share on May 25. FSL processes semiconductors for automotive, networking and consumer markets worldwide. The stock has slipped a fraction to $17.53.
Thursday (June 9), Fusion-io (NYSE:FIO) sold 12 million shares at $19 each. Strong demand caused the share price to be raised to $16-$19 and the offering sold at the top of the range. The stock went above $30, but closed at $22.50 for a gain of $3.50. FIO sells hardware and software that improves data center efficiency through a method it calls decentralization.
More IPOs are coming. A few of the more exciting ones are:
Pandora Media (NYSE:P), the leading internet radio provider in the US.
Groupon (NASDAQ:GRPN), offering discount tickets on the internet.
Prada, maker of designer shoes, expects to raise more than $2 billion selling stock in Hong Kong.
Despite the interest in internet and other sexy companies going public, the stock market has given them a lukewarm reception (if that). LNKD has had the most exciting IPO so far but all new investors are losers (except for those who bought at $45 on the offering). Overall IPO results are drab, only a few have gains above 20%. Much of this lackluster performance reflects a stock market.
These companies have common traits: they are young, with little or no profits and high expectations. When the stock market has lost its zest, untested companies carry an unusually large amount of risk. The table below shows profitable investing has been limited and erratic. Few who brought were rewarded, many saw stock prices slip and slide. IPOs are appropriate for those who want to flip stocks for profit in the short term because the risk of not earning profits over the long term in very high.
Recent IPOs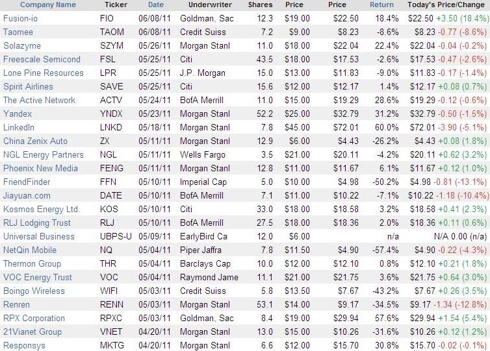 Source: renaissancecapital.com
Disclosure: I have no positions in any stocks mentioned, and no plans to initiate any positions within the next 72 hours.