Dividend Aristocrats are stocks worth their weight in gold for investors looking for dividends and nearing retirement. To belong to this class, a company has to have a history of increasing dividends for 25 years at a stretch. As such, we will take a look at Hormel Foods (NYSE:HRL), which has been increasing its dividend consistently as shown below, with the current payout ratio nowhere near its peak in the last 10 years.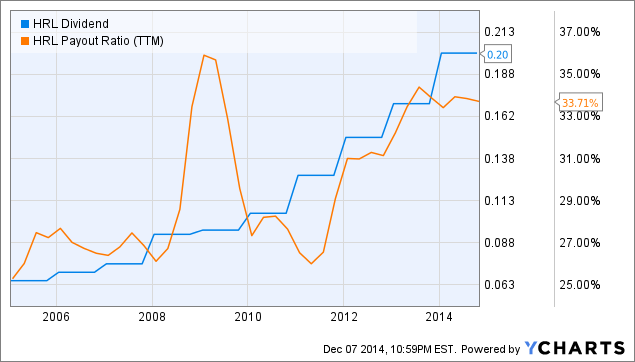 HRL Dividend data by YCharts
A closer look at the end-market prospects
Looking ahead, Hormel Foods' prospects seem bright on the back of a modest expansion in global beef, pork and broiler trade in 2015. The table below shows the history of global meat trade and 2015 projections, as per data in the USDA's official PSD database: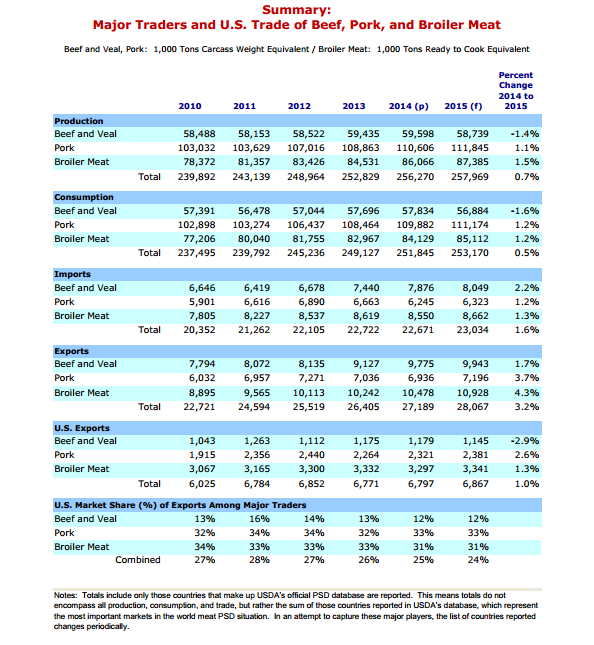 Source: USDA
The U.S. export of beef and veal is expected to decline 2.9% year-over-year, and pork will grow by 2.6% over the same period. Moreover, global pork export is projected to increase by 3.7% after witnessing a decline for two consecutive years in 2013 and 2014. The uptick will be driven by robust demand from China, which is projected to reach a record 1 million tons. Going forward, the U.S. production of pork is slated to increase 5% year-over-year in 2015, with exports increasing 2.6% year-over-year.
Trouble in Russia might be a headwind
However, Russia has banned the import of food from the U.S. and the European Union in a retaliatory move. This is going to negatively impact the U.S. food industry in general, which exported $1 billion worth of food items in 2013 to Russia as seen below.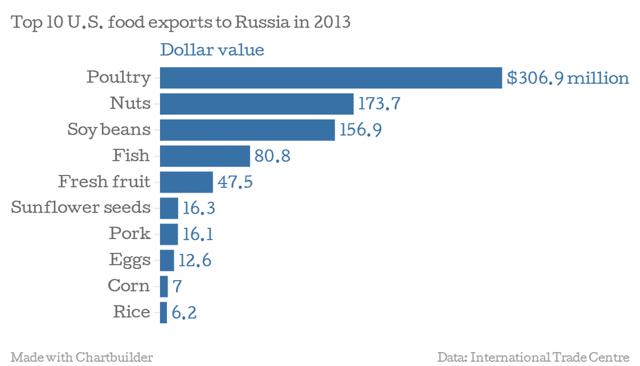 Source: Washington Post.
Russia accounts for nearly 7% of U.S. poultry exports. "Russia is not an insignificant market," Toby Moore, vice president of communications at the USA Poultry and Egg Export Council, said in an interview. "It was our second-biggest market in 2013, and our third as of this past June."
Tiding over the challenge by focusing on growth areas
But, to counter this headwind, Hormel is now trying to improve its position in the domestic market. The company is now pushing its brands more aggressively, and has increased advertising spending on Jennie-O Turkey through the Make The Switch campaign. The company plans to continue this advertising campaign in new U.S. markets in fiscal 2015. Jennie-O Turkey has been one of the primary growth drivers for Hormel in fiscal 2014, and the momentum is expected to continue going forward, despite the Russia ban. The operating profit of Jenny-O turkey increased 23% in fiscal 2014 and 45% in the fourth quarter on the back of a favorable turkey market.
Moreover, according to a report, Turkey production in the U.S. in 2015 is forecast at 5.9 billion pounds, representing a 3.2% year-over-year growth. Hormel is well positioned to make the most of this segment with the Jennie-O Turkey brand.
Also, according to a report from Packaged Foods, the U.S. market for refrigerated foods is slated to grow from its current level of $25 billion to $31 billion by 2018. Hormel Foods' operating profit for the full year in this segment jumped 45% and sales increased 9% year over year. "Pork operating margins were a significant driver to the higher results this quarter." Going forward, Hormel plans to increase pork production by 1% to 2% over fiscal 2014 numbers.
Internationally, Hormel is expanding its footprint in the refrigerated food market. The company is planning to build its third refrigerated foods plant in China, slated to be operational in 2016, to keep up with the growing demand in the Chinese market. Along with the expansion, the food company is shuttering underperforming assets in order to strengthen its growth trajectory, and thus be able to deliver value to investors.
For example, Hormel has closed a grocery products plant in Stockton, Calif., and is contemplating shuttering underperforming operations in Vietnam next year as well. This will free up cash that can be invested in more efficient plans in order to get the grocery segment back on track.
Given the company's focus on the protein market, Hormel has acquired CytoSport, a provider of premium protein products in the sports nutrition category. This is expected to serve as a growth driver in the company's specialty food segment. The sales of the specialty food segment, excluding the CytoSport proceeds, was down 4% year-over-year, but increased 31% year-over-year during the fourth quarter including CytoSport. According to an NPD report, about half of the consumers in the U.S. say that non-meat sources are the best sources of protein. With this acquisition, Hormel will be able to expand its addressable market among such consumers. So, going forward, this acquisition should be a growth driver.
A look at the dividend
Hormel has a dividend yield of 1.50%, which is slightly lower than its five-year average dividend yield of 1.70%. However, the company has a reasonable payout ratio of 36%, which means that it is capable of increasing the dividend as the business improves. Additionally, the company's balance sheet and cash flow appear to be in good shape. It has debt of $250 million, but the cash position is relatively better at $334 million. Also, in the past year, Hormel has generated $747 million in operating cash flow, along with $530 million of levered free cash flow.
Hence, the company is in a robust financial position and looks set to sustain its dividend. As its end-markets grow, Hormel should be able to continue increasing its dividend. Thus, despite appreciating close to 17% this year and trading to its 52-week high, Hormel Foods is still a stock worth investing in.
Disclosure: The author has no positions in any stocks mentioned, and no plans to initiate any positions within the next 72 hours.
The author wrote this article themselves, and it expresses their own opinions. The author is not receiving compensation for it (other than from Seeking Alpha). The author has no business relationship with any company whose stock is mentioned in this article.