Job growth is one of the most important macro indicators impacting the restaurant industry. While the overall trends continue to be positive, the recent jobs data showed some softening of current trends.
In the QSR space, we continue to favor select, mostly nimble operators in the space, including Jack In The Box (JACK), YUM! Brands (YUM), Chipotle (CMG), Krispy Kreme (KKD), Popeyes (PLKI), and Wendy's (WEN).
In the Casual Dining space, we continue to favor Bloomin' Brands (BLMN) and Bob Evans (BOBE) on the long-side as special situation plays in the space.
Employment Growth Slowing
This is the fifth consecutive month employment growth has been positive on a year-over-year basis across our five primary age cohorts. While one can argue we saw strength across the board, we saw a marked sequential slowdown in growth rates across all but one age cohort - suggesting the momentum in the jobs market may be fizzling.
November Employment Growth Data
20-24 YOA +1.48% YoY; -143 basis points sequentially
25-34 YOA +2.64% YoY; -59.6 basis points sequentially
35-44 YOA +1.12% YoY; -25.6 basis points sequentially
45-54 YOA +0.39% YoY; -65.4 basis points sequentially
55-64 YOA +3.78% YoY; +24.1 basis points sequentially
While widespread employment growth is positive for all restaurants, November's release screened stronger for casual diners as the 55-64 cohort showed unusual strength.
The release was undoubtedly a negative on the margin for quick service and fast casual restaurants highlighted by a sequential decline in employment growth rates in the 20-24, 25-34, and 35-44 YOA cohorts.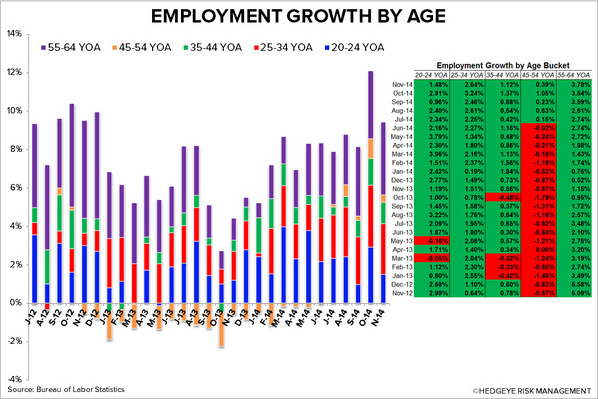 Disclosure: The author has no positions in any stocks mentioned, and no plans to initiate any positions within the next 72 hours.
The author wrote this article themselves, and it expresses their own opinions. The author is not receiving compensation for it (other than from Seeking Alpha). The author has no business relationship with any company whose stock is mentioned in this article.