No trade yesterday – the risk/reward is just too high at the moment. I would rather sit patiently on the sidelines for a better set-up to come my way. This is how to successfully play the options market or any market for that matter. Any trader with staying power will quickly tell you that patience is imperative when trading, particularly when trading options.
My true focus and the focus of my options strategy is to find extremes in the market. Lately the major benchmarks and the sectors I follow just want to sit in a neutral state. That is fine, extremes will hit the market as they always do and I will be waiting patiently to jump on those opportunities when the arise.
Remember, patience is the key for long-term success in options trading. I can't emphasize this enough.
Options Indicator – Overbought – Oversold
The Nasdaq 100 (NASDAQ:QQQ) and the Small-Cap Leveraged (NYSEARCA:TNA) are both in a short-term oversold state. However, neither of the ETFs are in an extreme state, so as I stated above I will continue to wait on the sidelines for a trade. I state that these type of lulls should be expected, so this should not be anything new to most of you.
I do find it interesting that over the years, when these lulls do occur that some flee. They want action. They are too short-sighted by the the excitement of trading options. Believe me, we have all been there. If they would just realize that patience coupled with sound risk-management is what makes an options strategy successful. Remember, cash is a position.
You can see all of the performance results for the High-Probability, Mean-Reversion strategy here.
Daily Options Links of Interest
Potential Direction of the Russell 2000 (NYSEARCA:IWM)
Summary
Not much has changed over the past few weeks - range-bound trading persists. It appears we could see the markets move sideways for a few more months. Are the summer doldrums already upon us? How long can SPY stay in this range of roughly $126 to $137? The question is, while I continue trading extremes in the HPMR strategy, how can I take advantage of the range bound movement at the same time. You guessed it – a credit spread. I will discuss this further in the Weekly Options Report.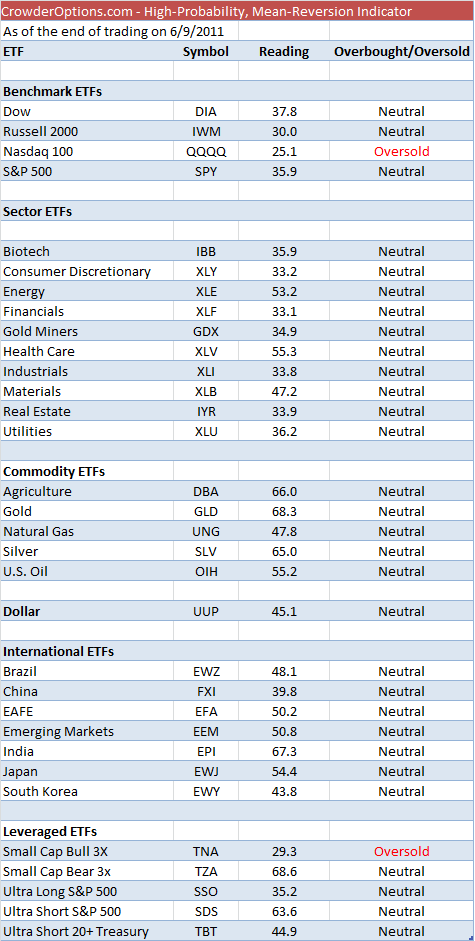 Disclosure: I have no positions in any stocks mentioned, and no plans to initiate any positions within the next 72 hours.