News stories are reporting views from oil producers that reflect a focus on fundamentals coupled with the reality that price uncertainty brings. One analyst from Raymond James suggested that determining oilfield services valuations in this collapsing pricing environment was an exercise in futility. ExxonMobil's (NYSE:XOM) annual outlook re-affirmed its view that global energy demand will grow 35% by 2040, due to significant global growth in the middle class, an additional 2 billion people in the world and increased strength in emerging economies, the Wall Street Journal reports. A chart from a couple of months back still reflects a consensus of where and how oil consumption grows.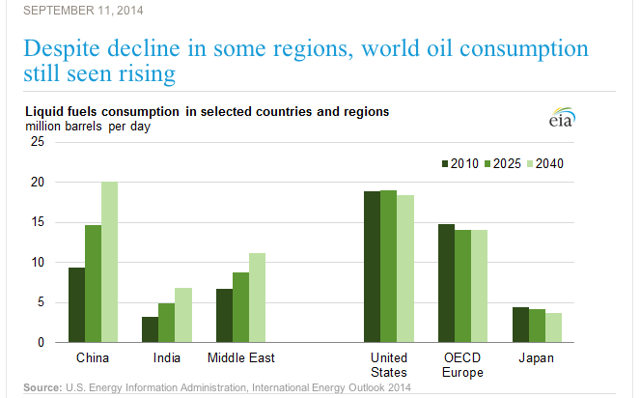 EIA projections
The U.S. Energy Information Administration delivered its short-term energy outlook today, December 9th. The most notable point is that price uncertainty is higher than at anytime since 2012, and it relates to supply uncertainty. The EIA notes in its December 9th short-term outlook an average price of $63 (rounded) in 2015 for WTI and $68 for Brent, the global benchmark.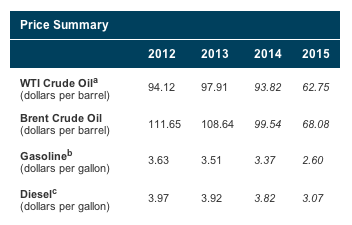 There is however a high degree of uncertainty of what the price of oil will be, as noted in my earlier article that prices will bounce around. The EIA notes that "WTI futures contracts for March 2015 delivery, traded during the five-day period ending December 4, averaged $67/bbl. Implied volatility averaged 32%, establishing the lower and upper limits of the 95% confidence interval for the market's expectations of monthly average WTI prices in March 2015 at $51/bbl and $89/bbl, respectively."
This time last year, WTI for March 2014 delivery averaged $96/bbl and implied volatility averaged 19%. The corresponding lower and upper limits of the 95% confidence interval were $82/bbl and $112/bbl.
Additionally, U.S. crude oil production averaged an estimated 9.0 million barrels per day (bbl/d) in November, and projected total crude oil production averages 9.3 million bbl/d in 2015, a reduction of 0.1 million bbl/d from last month's outlook. This production projection will likely inch down in their next January 13th release, after more firms announce capital spending reductions that reduce production. ConocoPhillips (NYSE:COP) announced a 20% reduction to capital spending for 2015. Apache (NYSE:APA) will cut capital spending in North America from $5.4 billion to $4 billion, but plans to be more efficient with it, as announced November 20th during its analyst day.
The EIA reports:
"Upstream capital expenditure averaged $107 billion from 2012 through third quarter 2014, based on 123 publicly traded oil and gas companies. Capital expenditures in the fourth quarter and in 2015 could be significantly less given the large decline in crude oil prices thus far, with some companies already announcing plans to reduce planned 2015 capital expenditure.
EIA pricing forecasts and volatility
The March 2015 WTI futures contract averaged $67.47/bbl for the five trading days ending December 4 and has a market-derived probability of exceeding $80/bbl at expiration of only 11%, down approximately 50% from a month ago, they note. "With recent price declines and increases in implied volatility, $66.50/bbl is the new price level that the market now assigns a 50% chance of exceeding at expiry."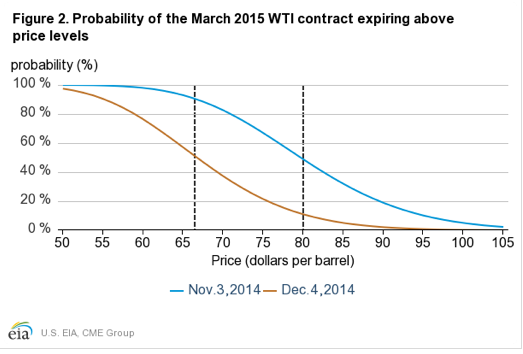 "The OVX (an index that measures WTI implied volatility) increased in November and remains near its highest level since 2012," says the EIA. "The OVX settled at 35.4% on December 4, an increase of 3.6 percentage points since November 3" (chart below). Market participants expect further large price moves in the near-term in the case of an elevated OVX. The spread between the OVX and the VIX, the S&P volatility index, is at its highest point since March 2011.
"The elevated expectations for future price movements in oil markets compared to other asset classes implies that uncertainty relating to future oil supply remains pronounced in the market." - EIA, Dec 9th, 2014.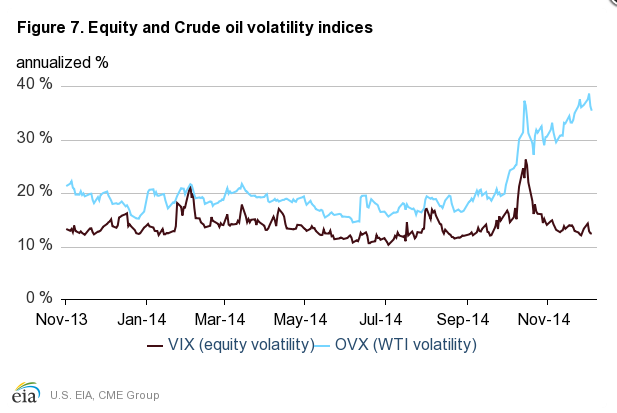 From reportings
Views from various analyst groups echo a focus on the fundamentals of continued demand for energy, in spite of the pricing environment. Though 2015 will look different than 2013-2014. In the Wall Street Journal today, John England, a top Deloitte executive who advises oil companies on development strategy, said that he expects the biggest companies to follow through with many of their projects. "They'll certainly cut back at the margins," he added, (but) "energy demand continues to go up and at the same time we do have decline curves on existing production."
"Spokesmen for Shell (NYSE:RDS.A) (NYSE:RDS.B) and BP (NYSE:BP) said the companies take long-term views when deciding whether to invest in a project and take into account oil-price volatility. Chevron's (NYSE:CVX) finance chief has said the No. 2 U.S. oil producer believes "global demand for oil and natural gas will grow while existing sources of supply will inevitably decline." - Wall Street Journal, Dec. 9, 2014
Analysts at Bernstein estimated that a 35% drop in oil prices would result in a 25% decrease in industry cash flow, says the Journal. The group forecast that crude prices would eventually rise as companies cut back on drilling.
The other wild card for oil prices is geopolitical factors, as discussed earlier. With this environment of price uncertainty, and upcoming supply reductions coming from stable regions like the U.S. given a projected lower price environment, volatility is on. However, as firms continue to elaborate on their plans for production and capital spending, one variable of price volatility may reduce - that of unknown supply.
Disclosure: The author is long APA. The author wrote this article themselves, and it expresses their own opinions. The author is not receiving compensation for it (other than from Seeking Alpha). The author has no business relationship with any company whose stock is mentioned in this article.