Overstock.com (NASDAQ:OSTK) has long been a controversial company. After an accounting nightmare in 2008 that caused the company to restate years of financial information, things have started to smooth out. Overstock is expected to generate a record $1.48 billion in 2014 revenue. Investors, however, need to dig deeper before buying into the Overstocked hype.
Overstock's recent press release touted record sales in the kickoff of the 2014 holiday shopping season. That news sent the stock up 8%. OSTK is currently almost 100% off its 2014 low of $13.82. The recent rally could be short lived if investors take a look at what is actually driving sales and consider the many problems Overstock may face in 2015.
Overstock has been shifting its business in recent years. Historically their core business has been competing with other discount online retailers like Amazon (NASDAQ:AMZN) and Ebay (NASDAQ:EBAY). That has not really worked. Overstock remains a small player next to the aforementioned behemoths, despite being in business nearly as long as those competitors. Recognizing that a shift in strategy was needed, Overstock management began altering the business model from direct sales to a fulfillment partner based model. In 2014 Overstock continued to switch from direct sales to sales through fulfillment partners. 91% of Q3 revenue came from fulfillment, compared to 88% in Q3 2013. The transition has positively affected Overstock's revenues and margins. However, currency writedowns, litigation and some temporary shifts in business metrics will cause trouble for Overstock in the upcoming quarters.
In the recent stock run up bulls have noted the strong Q3 earnings and record black Friday weekend sales, which were up 23%. It is important to note that these gains came at a significant cost to the bottom line. Overstock drastically cut prices over the Thanksgiving weekend in their recently announced attempt to create a price war with Amazon. A price war will undoubtedly contract margins going into Q4 without achieving their objective of gaining market share. Retailers that go into price wars with major players like Amazon and Walmart often do not fare well. Just ask Best Buy. While Bulls have a point that top line revenue is hitting record levels, they're losing sight of the increased SG&A and declining margins.
Unlike virtually every other retail company, Overstock has very little international exposure. Investors might think that limits the company's exposure to currency write downs from the strong dollar. That would be entirely true if it were not for the company's decision to get involved in cryptocurrency (Bitcoin). In 2014 Overstock announced it would begin accepting Bitcoin as a form of payment on its website. Here is a chart of Bitcoin values over the past few years: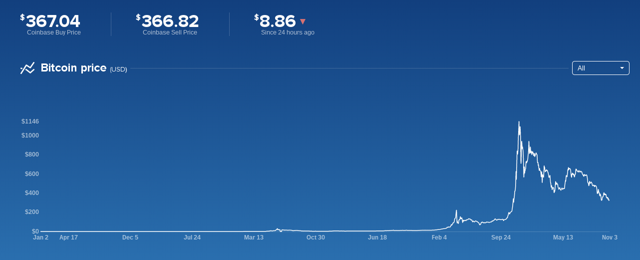 source: coinbase.com
Not great. If Bitcoin continues to lose value Overstock will be forced to take significant write downs. In 2014 Overstock CEO Patrick Bryne projected $8 million in Bitcoin revenue for the year. While that is less than 1% of revenue, it is 30% of estimated 2014 net income. In Q3 the company took a $50,000 impairment related to Bitcoin. Considering Bitcoin has lost more than half its value in 2014, investors should expect write downs of an additional $4 million in Q4 or Q1 2015, which could drag down net income.
Long term investors in Overstock (the few that are out there) are familiar with the company's litigation expenses. However, they seem to be higher than past years and could provide for unexpected expenses in 2015. In the most recent 10Q, Overstock highlights 13, yes 13, lawsuits it is currently litigating. Most notable are the lawsuits brought by various CA DA's which fine the company $2,000-$3,500 per pay for practices from March 2006 to September 2013. Additionally, CEO Bryne's personal blog and Twitter continue to be a legal headache as the company faces lawsuits for slander and defamation. Until Overstock relieves Mr. Bryne of his position, it's likely investors will have to keep paying for his bizarre personal behavior. The legal issues will likely take $0.02-0.05 from 2015 EPS.
On October 27th Overstock announced the purchase of $89 million in inventory from Bidz.com. As noted earlier, Overstock has been shifting its operations to a fulfillment partner model. The Bidz.com inventory acquisition reversed that trend. Direct sales margins are lower than fulfillment margins, so the 85% expansion of inventory, on a year to date basis, will negatively impact margins as the company liquidates those products. Direct sales gross margins averaged 12.7% in 2013, while fulfillment sales averaged margins of 19.8%, providing an overall average 19% gross margin for 2013.

source: OSTK 10Q
With the large Q4 increase in direct sales inventory, I estimate margins will contract by 100-300 basis points, the difference largely depending on the promotional activities needed to push the merchandise.
Overstock shares have been volatile in 2014. The stock is down 13% ytd, but 100% above 52 week lows experienced in July. Naturally they're due for some level of pullback after such a monstrous rally. As noted above, Overstock is facing major issues going into Q4. Analysts are expecting $0.25 in EPS for Q4 and 0.56 for 2014. When factoring in the increased promotional expenses, reduced margins and the currency writedown, I expect net income of $1.5 million ($0.06 per share), well below the $5.75 million currently anticipated. Applying that to full year expectations gives us $0.37 EPS. Even if Overstock does not take the currency writedown, maintains margins and produces $0.56 EPS, it still trades at 48x 2014 earnings and 32x expected 2015 earnings. For a company with stagnant income growth, as seen below, that is a rich premium. With $0.37 trailing EPS for 2014 and a more subdued P/E multiple of 40x we get a equity value of $14.80, 45% below current levels.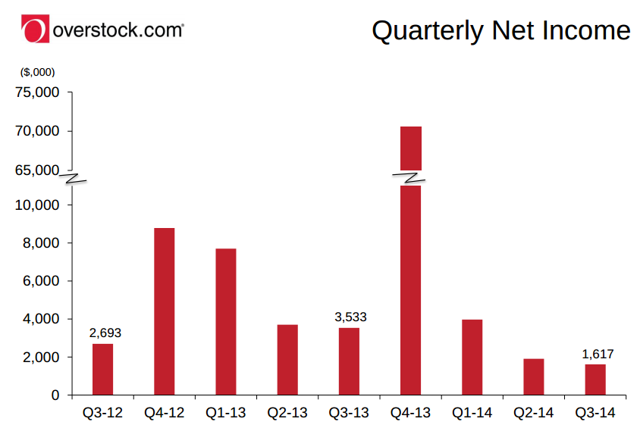 source: investors.overstock.com
Contracting margins, prolonged litigation and currency write downs will negatively impact Overstock's profitability in coming quarters. Investors should take the recent rally as a great exit point. I suspect the catalyst above will cause Overstock to re-test 52 lows in the first half of 2015.
Disclosure: The author has no positions in any stocks mentioned, and no plans to initiate any positions within the next 72 hours.
The author wrote this article themselves, and it expresses their own opinions. The author is not receiving compensation for it (other than from Seeking Alpha). The author has no business relationship with any company whose stock is mentioned in this article.