Verizon (NYSE:VZ) and AT&T (NYSE:T) are widely viewed as the two top choices for income investors in the American telecom industry. And while both of these companies offer above-average dividend yields, CenturyLink's (NYSE:CTL) current dividend represents a yield above 5% and its shares have outperformed these two larger competitors over the last 12 months. This article focuses on the dividend growth track records and outlooks of these firms to determine which represents the best opportunity for investors seeking income from their portfolios moving forward.
The below chart illustrates that over the previous five years, CenturyLink always offered the highest yield to its investors. However, following a dividend cut two years ago and strong share price gains in 2014, its yield advantage over AT&T has now completely disappeared. On the other hand, Verizon's shares have maintained a lower yield than AT&T's during this entire period and the gap has widened to approximately 1% in recent months.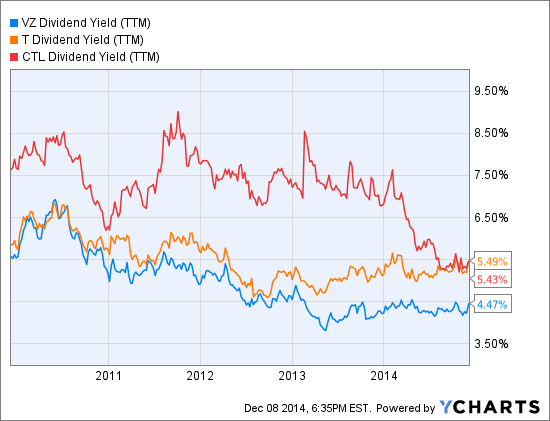 As mentioned, CenturyLink reduced its dividend by 25% two years ago, which is a stark contrast to the consistent dividend growth of Verizon and AT&T. In addition, CenturyLink's current payout ratio remains elevated, throwing its long-term dividend sustainability into question. While neither AT&T nor Verizon has increased its dividend by a significant margin in recent years, an investment that yields more than 4% with the potential for any level of payout increase should be viewed as attractive by individuals focused on generating income in their portfolios:

While Verizon offers a lower yield than AT&T, its payout ratio is meaningfully lower and its dividend growth profile is more impressive during the previous five years. Meanwhile, CenturyLink's elevated payout ratio and shrinking dividend suddenly make its above-average yield appear much less attractive. The contrast between CenturyLink and its two larger competitors is obvious in the following chart, which also demonstrates why both Verizon and AT&T are admired by dividend growth investors:
One further important consideration for dividend investors is the free cash flow generated by these telecom companies. This is one area where CenturyLink comes out on top, as the following chart indicates: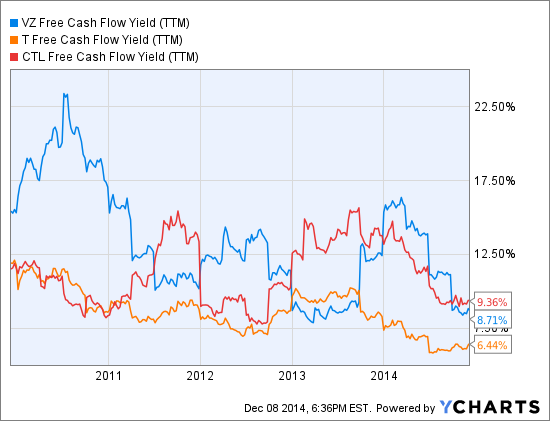 An interesting exercise for income investors is to estimate how many years it would take for Verizon's dividend yield to surpass AT&T's if both firms continue their historical level of dividend increases and their share prices remain unchanged. Obviously, this is a purely hypothetical calculation, but the results indicate that it would take more than 20 years for Verizon's payout to surpass AT&T's, if both firms maintain their current pace of dividend increases.
Another key factor to consider when estimating future dividend growth is projected earnings growth. While analysts anticipate that CenturyLink will generate no meaningful earnings growth over the next five years, AT&T's earnings per share are expected to grow by nearly 5% per year moving forward. If this estimate is accurate, AT&T should have no problem maintaining its history of dividend growth, given its payout ratio of less than 60%. Verizon has an even more impressive future earnings outlook, which suggests the firm will likely maintain its dividend growth edge over its competitors.
Therefore, although the difference in current yield may not seem particularly significant to some individuals, investors focused solely on achieving elevated and sustainable levels of cash flow from their portfolios should view AT&T as the best income opportunity in the telecom sector. While Verizon may offer slightly better projected earnings and dividend growth, AT&T's greater than 5% dividend yield, reasonable payout ratio and consistent dividend growth track record make it a compelling candidate for inclusion in income portfolios.
Disclosure: The author has no positions in any stocks mentioned, and no plans to initiate any positions within the next 72 hours. The author wrote this article themselves, and it expresses their own opinions. The author is not receiving compensation for it (other than from Seeking Alpha). The author has no business relationship with any company whose stock is mentioned in this article.