Agnico Eagle Mines Ltd. (NYSE:AEM) is engaged in the exploration, development, and production of mineral properties in Canada, Finland, and Mexico. It primarily explores for gold, as well as for silver, copper, zinc, and lead. The company was founded in 1953 and is headquartered in Toronto, Canada.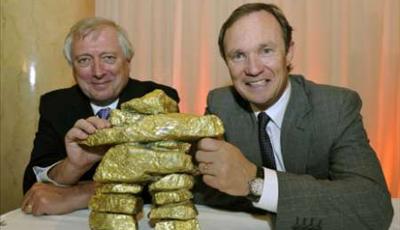 Agnico Eagle CEO Sean Boyd (right), showing off the "The Inukshuk," which weighs 50 kg; contains 1,303 ounces of gold and 311.75 ounces of silver. (Image taken from Reuters/Mike Cassese.)
The company's nine producing mines (from Agnico's last presentation):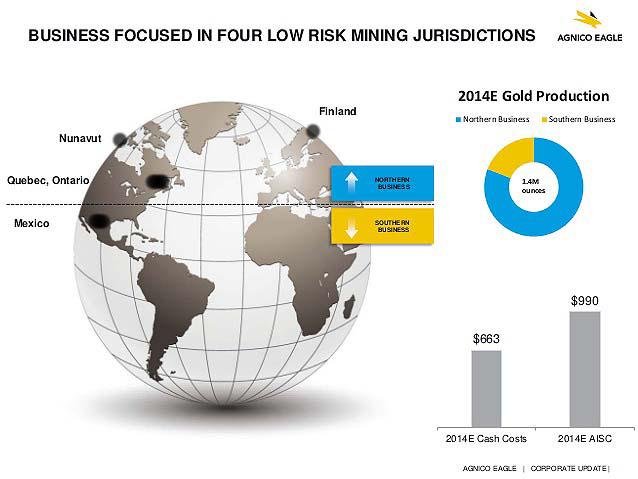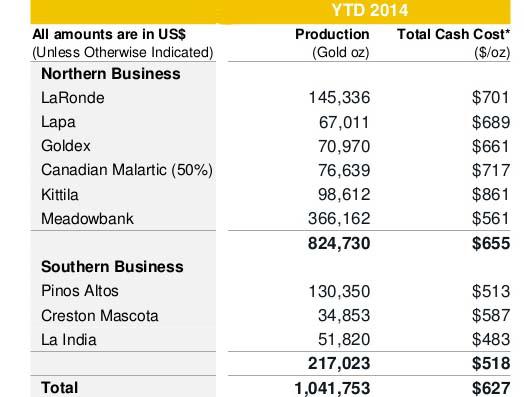 Note: YTD is the first nine months of 2014.
Event 1: On June 16, 2014, Agnico Eagle and Yamana Gold (NYSE:AUY) each acquired 50% of Osisko Mining and formed a 50-50 joint venture to operate the Canadian Malartic mine.
Event 2: There was a recent discovery at Amaruq, after completing its drill program in 2014 (located about 50 kms northwest of the Meadowbank mine in Nunavut):
'In just over a year, Amaruq has progressed from a new grassroots exploration discovery to one of the Company's most exciting exploration opportunities,' said Sean Boyd, President and CEO.
Event 3: There was the acquisition of Cayden Resources, Inc., on Nov. 28, 2014:
Agnico Eagle has acquired 100% of the issued and outstanding common shares of Cayden Resources, Inc. ("Cayden"), including common shares issuable on the exercise of outstanding options and warrants of Cayden. Cayden is now a wholly-owned subsidiary of Agnico Eagle.

The Arrangement

Under the Arrangement, each Cayden common share was exchanged for 0.09 of an Agnico Eagle share and C$0.01 in cash.
This deal will result in 4.86 million shares of AEM issued, or a 2.3% dilution.
Financial Snapshot
| | | | |
| --- | --- | --- | --- |
| | Q3 2014 | Q2 2014 | Q1 2014 |
| Revenue in $ Million | 463 | 438 | 491.8 |
| Gold Production in Oz | 349,273 | 326,059 | 366,421 |
| Realized gold price $ | 1,249 | 1,291 | 1,308 |
| Net income $ Million | (15) | 38 | 108.9 |
| Earning per share - basic | (0.07) | 0.20 | 0.63 |
| Cash and Cash equivalent $ Million | 166 | 241 | 206.8 |
| Outstanding Debt $ Million | 1,378 | 1,320 | 920 |
| Long-term debt $ Million (1) | 800 | - | - |
| Dividend per share $ | 0.08 | 0.08 | 0.08 |
| Shares outstanding in million | 208.8 | 185.7 | 174.3 |
(1) CEO, Sean Boyd said on the Q3 conference call:
I'll move on to the balance sheet and talk about the provisioning on the balance sheet. Our net debt position was about $1.2 billion. We've got $800 million in long-term debt. The first payment of principal is not due until 2017. It's a $150 million so very manageable balance sheet.
Payable production per quarter and per metal:
Gold

Oz

Silver

K Oz

Zinc

Tonne

Copper

Tonne

Q3 2014
349,273
820
2,230
989
Q2 2014
326,059
861
3,793
1,058
Q1 2014
366,421
880
2,060
1,554
Total 9-months
1,041,753
2,561
8,083
3,601
The company recently upgraded its gold production guidance to 1.4M oz. for 2014 and 1.6M oz. for 2015. AEM presents good production growth potential, with its recent acquisition of Cayden (El Barqueño,) and also with the recent positive results at Amaruq at Nunavut.
YTD Chart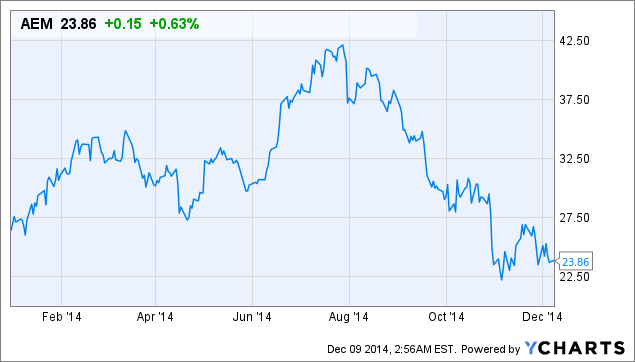 AEM data by YCharts
AEM compared with gold prices since Jan. 1, 2012: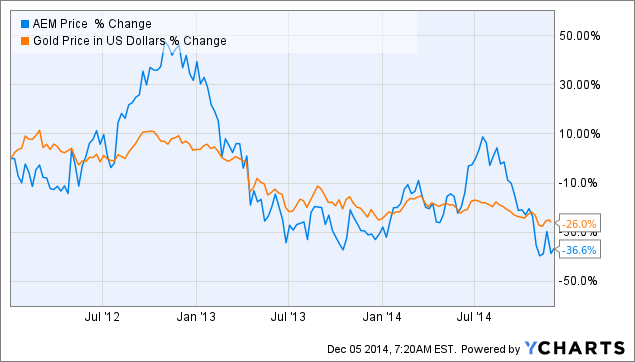 AEM data by YCharts
AEM has lost 36.6% of its value since Jan. 1, 2012, whereas gold prices went down 26%.
Commentary
Agnico Eagle Mines is a top-tier gold miner with an excellent track record, manageable long-term debt, future production growth potential, and a dividend of 1.3% per annum. It is a perfect candidate for a long investment. The company managed to weather relatively well the recent gold bearish cycle that has deeply affected the gold mine industry since 2012, which is about to bottom out in my opinion.
My personal forecast for gold prices in 2015 is as follows: My basic strategy regarding the gold sector is that we have probably experienced the worst in terms of price, and we will trade in a tight range next year, with a possible rebound in 2016/2017.
I agree with Citigroup's 2015 forecast of $1,220/oz. This Metal.com article reflects what I believe is a good assessment of the 2015 situation:
Investor attitudes in general appear to be turning a corner, which could mean a more stable market in 2015. The bank expects modest net exchange-traded-fund inflows as current investors have a more long-term focus.

'To the extent the gold prices wrap around a compressed $1,100-$1,300 range over the next year, we would expect significantly less hedge fund selling and limited to no producer hedging activity towards the lower end of that range suggesting a bottom in length might be near,' they said.
Assuming that this hypothesis is verified, it seems reasonable to look for an investment in the gold mining sector and see an opportunity.
Specifics Regarding the Company Fundamentals
1. The issue surrounding the third-quarter loss. The company had a change in accounting, from U.S. GAAP to IFRS, which caused an increase in amortization with asset writeups and higher tax expenses in the quarter. During the third quarter it was an increase in exploration expense, which led to the Amaruq discovery. This particular situation was aggravated by a 3% reduction in the realized gold price sold. Despite a loss for the third quarter, the company had a good quarter from a cash flow perspective.
2. Gold production and forecast for 2015. When we look at the production trend, we can see that AEM is producing about 350K oz. on average for 2014, or a total of 1.4M oz. in gold. For next year, the company is forecasting that the Abitibi region will be a very strong contributor going into production in 2015, including the three mines below:
Laronde: With an increase grade and more production coming online, the company is expecting an increase of 50% for the fourth quarter, after the recent hoisting issues at the mine were solved.
Goldex: Good performance with 5,800 TPD in the third quarter and with life extension potential.
Canadian Malartic: Had a record throughput in the third quarter. The guidance for 2014 is between 510K oz. to 530K oz.
Meadowbank is delivering a good production as well with 11.5K TPD for the third quarter, and a estimated 100K oz. to 110K oz. on average and per quarter in 2015. Furthermore, Finland (Kittila) and Mexico (La India ramp-up, Pinos Altos, and Creston Mascota) will contribute to a higher production for 2015 estimated at 1.6 M oz. or an increase of 14% year to year.
3. Strong balance sheet and flexibility.
The company has a solid balance sheet and a manageable debt level. The first payment of the long-term debt is due in 2017 ($150 million.) Furthermore, AEM has extended its credit facility to a five-year term, which gives the company an extra $300 million, with a low interest at about 1.9%. The company has drawn already $500 million.
4. The mines' location is a natural hedge against a strong dollar. It is important to notice that the worldwide locations of the company's producing mines are playing an important hedge against a drop in gold price triggered by a strong dollar. AEM has about 80% of its production coming from Canada and Finland, which is a natural hedge against the dollar.
5. El Barqueño property from Cayden Resources acquisition, and the Amaruq (Nunavut) prospect have interesting production potential. The company is expecting to spend $15 million next year on El Barqueño and expects a positive impact on production in 2017. The Meliadine/Amaruq potential at Nunavut offer a lot of room for production improvement down the road; a production plan will be unveiled in February 2015.
6. A very attractive AISC estimated in 2014 at around $990/oz., which is very low for the industry. For comparison purposes, Iamgold (NYSE:IAG) has an AISC at $1,125/oz. AEM, as well as IAG, which I covered recently, presents a compelling argument which should be seriously evaluated for a potential investment. Gold miners belong in your long portfolio, and AEM is certainly a good candidate for future profit and defined growth potential.
Disclosure: The author has no positions in any stocks mentioned, and no plans to initiate any positions within the next 72 hours.
The author wrote this article themselves, and it expresses their own opinions. The author is not receiving compensation for it (other than from Seeking Alpha). The author has no business relationship with any company whose stock is mentioned in this article.