Who is this Portfolio for?
The Buy the Sector Dips Portfolio is for investors who are in their accumulation stage. They are looking to accumulate shares in quality companies. Ideally, those shares are to be held for the long term, in terms of decades. Alternatively, some of those shares could also be sold for capital gains when the sector recovers, anticipating a wait of up to 3 to 5 years. (If we sell all the shares, then we wouldn't be building a portfolio.)
The Strategy of the Buy the Sector Dips Portfolio
Some investors have been waiting for a market drop of 20% to 50% before investing. Who doesn't want to buy at super bargain prices? However, there are opportunities today to accumulate shares of quality companies after a drop at a smaller scale -- 20% dip in a sector.
For the do-it-yourself investors who have been building a cash position, and itching to get some of the cash working for you, you can buy quality shares in the Energy Sector at more than 20% discount right now.
The Energy Select Sector SPDR ETF (NYSEARCA:XLE) consists of Energy companies primarily developing and producing crude oil and natural gas, and provide drilling and other energy-related services. Leaders in the index include Exxon Mobil (NYSE:XOM) and Chevron (NYSE:CVX).
Looking at the Energy Sector ETF's 1-year performance, it seems to have lost its gains for the year. Right now, it is priced around $80 per share.
That is, 26% off its 52-week high of $101.

Or, 3% above its 52-week low of $77.5.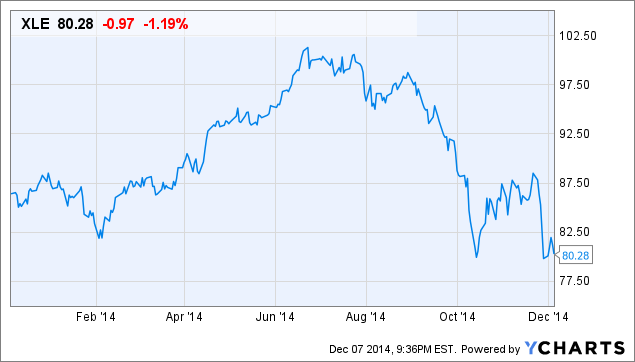 XLE data by YCharts
Seeing the 10-year chart, it doesn't look as catastrophic, and is obviously experiencing a dip right now.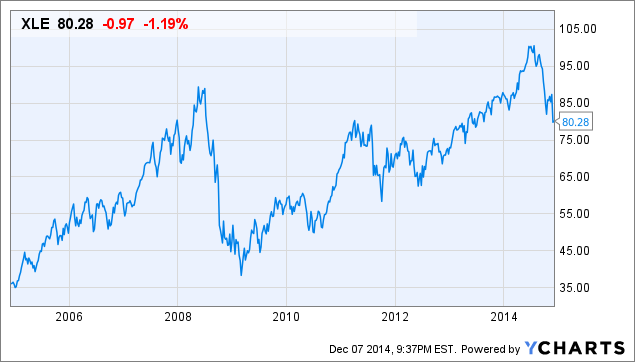 XLE data by YCharts
The Energy Select Sector SPDR Fund
From p13 of the Prospectus, the fund "seeks to provide investment results that, before expenses, correspond generally to the price and yield performance of publicly traded equity securities of companies in The Energy Select Sector Index."
So, when one buys the ETF, they're looking to mimic the performance of the index, and they receive immediate diversification in their portfolio. If an investor is looking for ultimate passive investing, and just want to buy and forget, then, they may wish to invest in the ETF. However, there are benefits in buying specific companies on the sector dip.
Benefits of the Buy the Sector Dips Portfolio over Investing in the ETF
Since this portfolio is starting off with the Energy Sector, I will talk only in terms of that right now.
If I used $15,000 to buy the ETF, I'd end up with 186 shares at Friday's closing price of $80.28. To be exact, $14,932 would be used. Its quarterly dividend is $0.48. That is an annual income of $357.12 ($1.92 per share), or a yield of 2.4%.
Alternatively, I could pick up shares in the top companies in the index and get a higher yield. With the approximate 15% allocation ($15,000) in the 4 top holdings of the ETF (as shown in the next section), the Buy the Sector Dips Portfolio ends up with over 3% yield with $14750 invested and receiving $453 in annual income. This is 27% higher income than investing in the ETF.
The Buy the Sector Dips Portfolio
The Buy the Sector Dips Portfolio starts with $100,000. It will start by buying shares in the top 4 holdings of the Energy ETF.
The ETF's current top 4 holdings and weightings are as follows.
| Company | Index Weight |
| --- | --- |
| Exxon Mobil | 16.8% |
| Chevron | 13.38% |
| Schlumberger (NYSE:SLB) | 7.34% |
| Kinder Morgan (NYSE:KMI) | 4.35% |
| Total: | 41.87% |
Exxon Mobil and Chevron pull the biggest weight, followed by Schlumberger. Here's an overview of the top 4 holdings.
Companies Overview

Learn about Morningstar's Fair Value Estimate.
Typically, Morningstar assigns a company with a moat rating of None, Narrow, or Wide. A company having multiple factors contributing to its economic moat is assigned a Wide rating by Morningstar. Generally, a company with wide moat is set for long-term profitability. Learn more about Morningstar's Economic Moat.
There are 2 ways to invest for the Buy the Sector Dips Portfolio.
If we're building the Buy the Sector Dips Portfolio with $100,000, aiming to allocate 10% of funds in each of the 10 sectors, then we would allocate $10,000 to the Energy sector, in these 4 quality companies.

If we have lots of cash on hand, and aim to take some profit off of the table when the sector recovers, then, we would allocate more than 10%. For this method, we're not just buying low, and partially selling high later. We're also getting a decent yield (regular income) from most of our holdings. The actual allocation percentage for your portfolio depends on your experience, risk tolerance, and your comfort level.
We do not know how low the oil price will drop, and we do not know when it may return to the norm. Some experts say it will touch the $30s, while others say, eventually, it will get back to $100. I think both are possibilities, as in the financial crisis not too long ago, the oil price hit the $30s. A safe way to invest is to dollar-cost average into quality companies on the dip. So for the purpose of this illustrative portfolio, to start, the Buy the Sector Dips Portfolio allocates 15% of its $100,000, that is $15,000, in the 4 companies.
Because Kinder Morgan is priced close to its 52-week high and slightly above Morningstar's fair value estimate, I will only allocate $1500 into it to start. The other companies are closer to their 52-week lows than their 52-week highs. Actually, according to Morningstar's fair value estimation, Exxon Mobil is priced at a 15% discount, Chevron at 12% discount, and Schlumberger is at 42% discount.
Although Schlumberger is the most undervalued, I'm still allocating a big portion into Exxon Mobil and Chevron because they have higher yields and are dividend champions, having raised dividends for over 25 years consecutively.
Buy the Sector Dips Portfolio Holdings

This is actually a good mix of companies from the Energy sector. Exxon Mobil and Chevron represent the oil and gas producers. Schlumberger represents the oil service industry, while Kinder Morgan is a pipeline player and one of the leaders in transporting energy.
To keep it simple, I'm ignoring commission fees for trading, and taxes because their situation is different for everyone.
If you like what you've just read, consider clicking the emboldened "Follow" link at the top of the page above the article title to receive an email notification when I publish a new article.
Note: This article is not advising to buy or sell any security. Please use this article as initial research.
Disclosure: The author is long CVX, XOM, SLB, KMI.
The author wrote this article themselves, and it expresses their own opinions. The author is not receiving compensation for it (other than from Seeking Alpha). The author has no business relationship with any company whose stock is mentioned in this article.