Located right next to the Marcellus play, the Utica formation is quickly becoming one of America's most prolific shale plays. From 2007 to 2012, gas production out of the Utica stayed flat at just below 200 MMcf/d. Once horizontal drilling began to truly unlock the immense value hidden within the Utica formation, everything began to change.
From January 2012 to the beginning of December 2014, Utica natural gas output surged from 155 MMcf/d to over 1.6 Bcf/d. Horizontal drilling technologies also boosted oil production, with output growing from a couple thousand barrels a day several years ago to 48,000 bo/d today.
Below are two graphs from the EIA showcasing the Utica's growth story.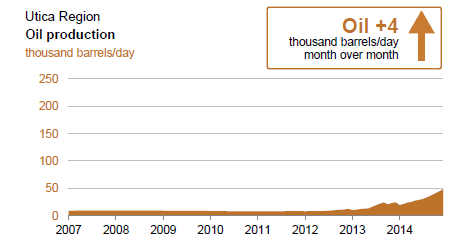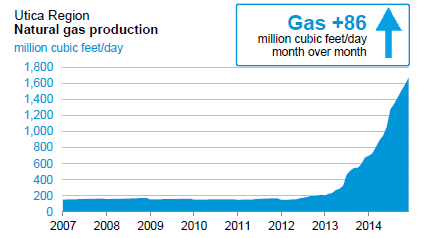 Source: EIA
As upstream operators deployed more rigs to the Utica, they were able to quickly make their drilling programs faster and more effective.
The industry becomes more efficient
From 2007 to now, "new-well oil and gas production per rig" has shot upward, according to the EIA. "New-well oil and gas production per rig" means the average amount of production one rig adds to the Utica region's overall output per month. Back before 2012, the amount of oil a new rig added to the Utica's overall output was practically nothing while the amount of natural gas added was very small, retrospectively speaking. As the industry deployed horizontal rigs to the area and leveraged the expertise upstream operators acquired from developing other shale plays, the Utica began to really heat up.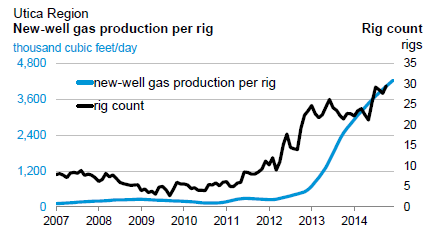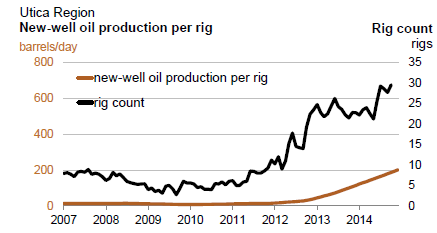 Source: EIA
Part of the reason for the efficiency improvements can be attributed to faster drilling times. The biggest player in the Utica is Chesapeake Energy (NYSE:CHK) with its ~925,000 net acre position in the play, even after factoring in its recent asset sale. As of the beginning of 2014, Chesapeake Energy had completed over half of all the wells drilled in the Utica.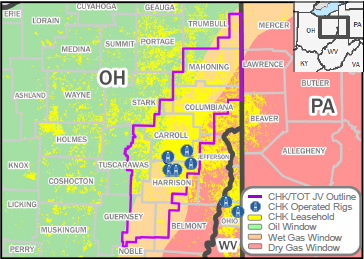 Source: Chesapeake Energy Presentation
Chesapeake Energy has been able to reduce its average drilling time (spud to total depth) per well from 18 days last year to 13 days currently. Faster drilling times have translated into better economics due to cost savings. In 2013, it cost Chesapeake Energy $6.7 million to complete a well that had a 5,150 foot lateral with 17 frac stages. Now it costs only $6.5 million to bring a well online that has a 6,300 foot lateral with 32 frac stages. Longer laterals (the horizontal reach) and more frac stages generally produce wells that are more productive.
Another big operator in the area, Gulfport Energy (NASDAQ:GPOR), has also been able to reduce its drilling time. Gulfport Energy owns 184,000 net acres in the Utica and is currently operating eight horizontal rigs in the play (versus seven for Chesapeake). Compared to 2013, Gulfport Energy has been able to cut its average drilling time per well in half to ~20 days. It should be noted that Gulfport Energy's wells have an average lateral length of 8,000 feet, longer than Chesapeake Energy's wells.
Better technique, better recovery
Gulfport Energy has been able to implement a new well design in the condensate producing part of the Utica that has so far been a success. Seventeen of its wells in its original program, which used hybrid gel fracture stimulation, had an average estimated ultimate recovery (EUR) rate that was trending just below 1 million BOE. By switching to slickwater fracture stimulation and by better managing its pressure control systems, Gulfport Energy was able to bring 15 wells online with EURs that were trending towards 1.5 million BOE.
Through its new program, Gulfport is bringing wells online that are yielding 50%-plus more hydrocarbons than the previous design. A higher EUR means a higher recovery rate, which could enable it to record more resource potential on its acreage than previously estimated. Regardless of what company implements the best design first, the entire industry benefits as other players can look at what's working and what isn't.
Gulfport's wells targeting the condensate window in the play yield a 66% liquids mix. That is very liquids heavy compared to the "average" for the Utica. For comparison, investors can use Chesapeake's average production mix (60% dry gas, 30% NGLs, and 10% oil), which includes wells across the entire play as a very rough benchmark. Depending on how oil and gas prices are trending, the upstream industry can focus on producing liquids (NGLs, oil) out of the condensate window or natural gas out of the dry gas window (which produces 100% dry gas) to maximize cash flow.
Final thoughts
The growth story that is the Utica shale play has just begun. Faster drilling times, better EUR and recovery rates, lower well completion costs, and a chance at liquids rich production will provide strong economics for E&P players over the long haul. As Chesapeake Energy and Gulfport Energy become more accustomed with the Utica, well costs will continue to trend lower while new completion designs, like the slickwater frac, will enable the industry to bring better wells online. To support this future growth midstream infrastructure like pipelines and gas processing facilities will need to be built, which I will get into in my next article.
Disclosure: The author has no positions in any stocks mentioned, and no plans to initiate any positions within the next 72 hours.
The author wrote this article themselves, and it expresses their own opinions. The author is not receiving compensation for it (other than from Seeking Alpha). The author has no business relationship with any company whose stock is mentioned in this article.