Tesla (NASDAQ: TSLA) surprised Wall Street when it revealed last month its intention to enter India in the coming years. The electric car manufacturer is currently conducting a feasibility study to examine the growth prospects of a geographical expansion in India, after which it may choose to set up an assembly plant in the Asian subcontinent.
Since India is a newly industrialized colony with moderate per capita income levels and lacking infrastructure, there are concerns that Tesla's Model 3 may not takeoff in the country. In this article, we'll attempt to gain a clearer picture of Tesla's prospective expansion in India by examining its associated risks and opportunities.
Target Market
Tesla intends to launch its Model 3 at a price ranging from $30,000-$40,000 in India. This price bracket may seem a bit high, but it's a fairly competitive price really. The table below highlights the price tags of entry-level luxury passenger vehicles in India.
Tesla's scheduled Model 3 launch price in India, after including a 30% import duty on Completely Knocked Down assembly kits (CKDs), comes in line with these leading luxury vehicles' prices - something that highlights a competitive pricing structure. In contrast, wholly imported vehicles attract a 100% import duty in India.
| | | | |
| --- | --- | --- | --- |
| Brand | Model | Starting Price | Upper Price |
| BMW (OTCPK:BAMXY) | X1 | $38,000 | $54,000 |
| Mercedes (OTCPK:DDAIF) | A-Class | $43,000 | $46,500 |
| Audi (OTCPK:AUDVF) | A3 | $38,000 | $55,000 |
| Tesla | Model 3 | $30,000 | $40,000 |
| Tesla w/ 30% CKD duty | Model 3 | $39,000 | $52,000 |
(Source: CarWale.com, Conversion rate $1 = ₹ 60)
Speaking of a target market, the global macroeconomic crisis doesn't seem to have impacted the spending habits of affluent Indian individuals. The luxury car segment of India has grown rapidly over the recent years even during financially troubled times - evident in the chart below. This kind of clientele should benefit all luxury car manufacturers operating in the country, including Tesla, going forward.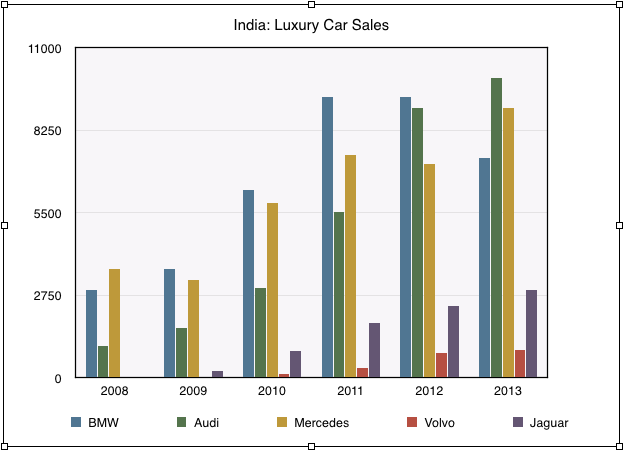 (Compiled in Pages for Mac, Source: Moneycontrol.com, Jaguar, Business Today, Economic Times, The Hindu, Business Standard)
This rapid and sustained growth can be attributed to the composition of India's automobile sector. India's luxury passenger vehicle penetration rate is just about 2%. In comparison, luxury passenger vehicle sales in China and the U.S represent about 7% and 11.5% of overall passenger vehicle sales, respectively. This discrepancy would suggest that the Indian luxury retail vehicle segment could continue to grow substantially over the coming years, at least until the penetration rate reaches levels near to those in China.
Prospective Partner
It's worth noting that Tesla can't simply set up a vehicle assembly plant in India and commence operations. Indian laws require Tesla to partner up with a local auto major, under which it permits up to 100% foreign direct investment. This arrangement would allow capital expenditure and profit sharing agreements to be structured in a flexible manner.
Mahindra & Mahindra is currently the only automobile major that's involved in the mass production of electric passenger vehicles in India. I believe both automobile entities could join hands to set up an assembly plant in India for the mass production and rapid ramp of Model 3 going forward. Leveraging Mahindra's expertise, experience and infrastructure could be a great way to propel Tesla's growth in the country.

Government Stimulus
To promote the growth of electric vehicle adoption in India, the National Electric Mobility Mission Plan was unveiled last year. It broadly highlights the government's plans to invest about $2-$2.3 billion over the next five years for the development of electric charging infrastructure throughout the country. It projects that these investments could lead to 6-7 million electric vehicle sales in India by 2020.
The Indian Government's proactive support could obviously propel the growth of electric vehicle manufacturers - such as Tesla - in the country.
Challenges
We have seen in the past that labor unions are quite strong in India. In separate instances, workers at Ford (NYSE:F), Honda (NYSE:HMC) (OTCPK:HNDAF), Hyundai and Maruti Suzuki manufacturing plants went on strike to seek higher wages, disrupting the factory output severely. Tesla could run into similar troubles if its factory workers aren't paid well.
| | | | | |
| --- | --- | --- | --- | --- |
| | Ford | Hyundai | Honda | Maruti Suzuki |
| Year | | | | |
(Source: Economic Times, DNA India, Business Today, Business Standard)
The second threat could be competitive in nature. If Tesla doesn't join forces with Indian automobile major Mahindra & Mahindra to assemble Model 3 vehicles locally in the country, the latter could expand its currently operational electric passenger vehicle program and intensify market competition.
Electricity shortage problems in India, which have been around for years, could be another problem. Tesla will have to strike exclusive deals with utility majors to power its charger stations at affordable prices with a reliable power supply - something that could take time and meticulous negotiations.
And lastly, investors should note that German car manufacturers collectively held about 95% of the overall Indian luxury vehicle segment last year. Cracking the established market could prove to be an expensive affair for Tesla - large advertising and promotional campaigning would be required.
Final thoughts
India's proposed spending of $2-$2.3 billion for the development of electric charging infrastructure throughout the country over the next five years could kick start the growth of electric vehicle manufacturers such as Tesla going forward. Due to this, along with all the aforementioned positive prospects, I believe that Tesla's expansion in India would be a challenging, but successful venture.
Disclosure: The author has no positions in any stocks mentioned, and no plans to initiate any positions within the next 72 hours.
The author wrote this article themselves, and it expresses their own opinions. The author is not receiving compensation for it (other than from Seeking Alpha). The author has no business relationship with any company whose stock is mentioned in this article.
Editor's Note: This article discusses one or more securities that do not trade on a major U.S. exchange. Please be aware of the risks associated with these stocks.