By Parke Shall
In an October Seeking Alpha article, we considered McDonald's (NYSE:MCD) and reasserted that the stock belongs priced between $72 and $84.
McDonald's is an interesting case. As we've noted a couple of times, we're not too bullish on retail as a sector right now, save a couple of small exceptions, such as Starbucks (NASDAQ:SBUX). We like Starbucks because it's expanding its offerings, expanding store counts overseas and is a destination just as much as it's a "store." We dislike McDonald's because it's basically the opposite of this formula.
McDonald's has a tired product line it's constantly trying to stop sales from further disintegration. Instead of expanding aggressively, the company is trying to stop its slow growth bleed - a trajectory it has been on for the past several quarters. Most of the company's ideas, including bringing back past menu items and pushing its McCafe brand, haven't been enough to generate excitement.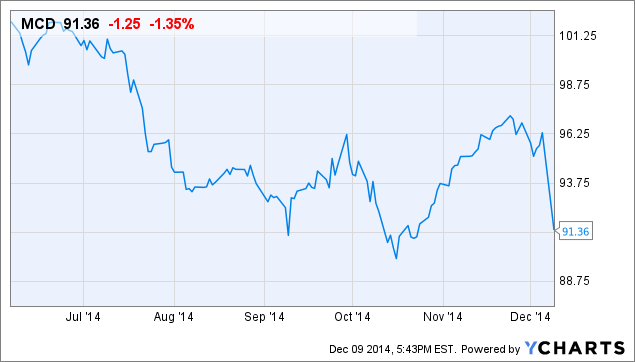 Since we've written months ago, McDonald's stock has continued to sputter and has recently cut short its Dow-echoed march back up toward $100. Beginning in December, we saw a host of news items from the McDonald's camp:
1. Minimum wage increases started to spread into areas like Chicago and Seattle.
2. The company showed weak global comp numbers in major segments - including Europe.
3. The company continues to struggle with the size of its menu.
4. The company issued a Q4 earnings warning after posting a weak November sales report and said it sees "significant pressure" on margins.
Tuesday, there was new news on McDonald's, which included the following:
McDonald's broaden the Create Your Taste initiative to 2K U.S. stores (14.3% of total) in an effort to recharge its brand.

Customers use a touchscreen kiosk to customize their orders and are delivered food at their table.

Conspiracy theory: The company has denied speculation that it aims to use kiosks and robots to lower labor costs.

Of course the company is using kiosks to lower labor costs. It's what everyone in the world is moving to as we speak. Grocery stores are now mostly hybrids of self checkout and "full service" checkout. It's just the way things are going. Moving to a "fast casual" model could be in the sights of the company. It's going to take a seismic shift in menu items, we believe, for McDonald's to return to a growth company.
As the menu changes, the brand image becomes tainted and capex increases as the company pays to implement changes. McDonald's has one chance to get this right, if they're going the way of changing the menu again. The retail eater is gearing more and more toward healthier food, something Starbucks' fast casual appeal and "warmth" can take advantage of.
On this news, we took the time to revisit our original piece on McDonald's and we continue to believe the multiple should begin to contract. As our feelings about retail are modest at best, we wouldn't be surprised to see MCD trade at a multiple in the 13-15x forward P/E range, which, at $5.60 EPS estimates, would still put its stock in the $72-$84 area.
Disclosure: The author has no positions in any stocks mentioned, and no plans to initiate any positions within the next 72 hours.
The author wrote this article themselves, and it expresses their own opinions. The author is not receiving compensation for it (other than from Seeking Alpha). The author has no business relationship with any company whose stock is mentioned in this article.