Overview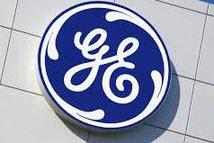 Those of you who follow me you know I am extremely bullish on General Electric (NYSE: GE) for the long haul. Nevertheless, the stock has not performed well this year. In fact, the stock has fallen over 6% since hitting a 52-week high in late November. Normally, this wouldn't bother me much, yet with the way the market is acting lately, I have begun to have my doubts. In this article I will lay out what I see as the potential negatives for the company going forward. I look forward to a healthy debate on the subject in the comments section. I will write a follow up article including the most prescient points made.
Current Chart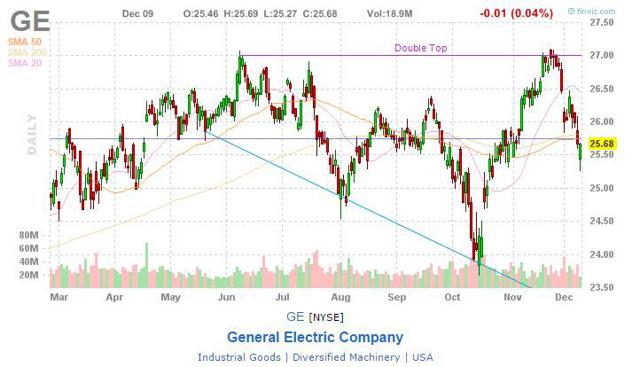 (Source: finviz.com)
Major Downside Risks
Low oil price exposure
In the third quarter of 2015 GE plans on opening a new $125 million Oil and Gas Technology Center in Oklahoma City. This will be General Electric's first research facility in the U.S. devoted specifically to the Oil and Gas industry. This seems like really bad timing with the price of oil taking a nosedive as of late.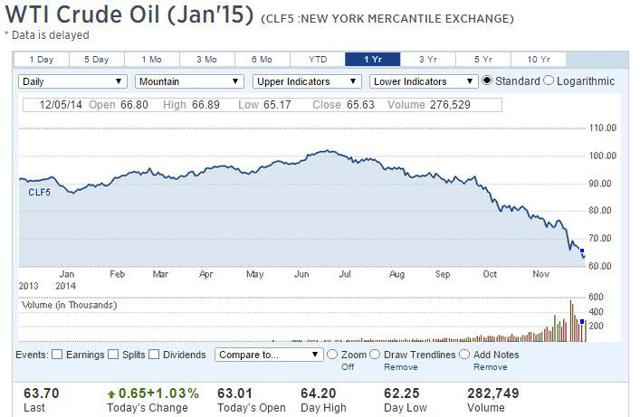 (Source: cnbc.com)
Just as one of General Electric's most intriguing and possibly most profitable endeavors is about to come to fruition in the oil and gas industry, the bottom seems to have fallen out of the opportunity. With news of oil and gas companies cutting capital expenditures for 2015 by the billions in recent days, one would think this has to be bad news for the company. General Electric's plan was to solve the world's toughest energy challenges for the global oil giants. You see, much of the global oil and gas reserves are stowed away in the most challenging environments on the planet. This is where General Electric was to come in.
General Electric Global Research scientists have spent the last year developing breakthrough technologies in four specific areas that may crack the profitability code for these expensive endeavors. There are four major areas of focus. The improvements come in the way of new technologies such as improved artificial lifts, subsea electric power, CO2 fracturing and a new 20KSI blowout preventer. See graphic below.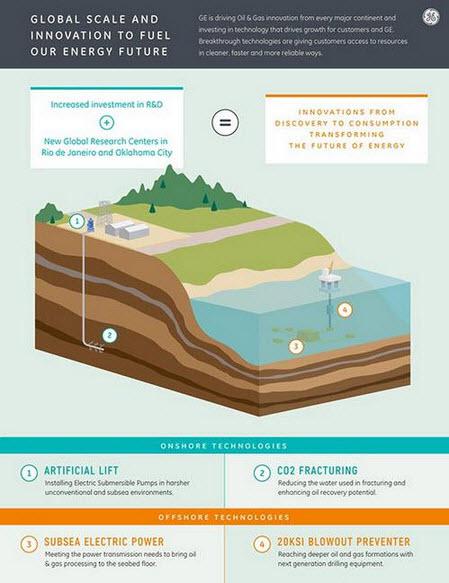 (Source: ge.com)
The issue is oil prices have dropped so low that many of these endeavors may be put on the shelf. It is simply not worth it for the oil companies to move forward on the projects with oil trading at these depressed levels. This may dampen General Electric's outlook for profitability next year. Even though the oil and gas segment does not account for a significant amount of revenues currently, General Electric was counting on this segment to spur growth in the coming years.
Fed's plan to regulate General Electric Capital as a SIFI bank
The Federal Reserve Board recently invited public comment on enhanced prudential standards for the regulation and supervision of General Electric's financial arm GE Capital Corporation (NASDAQ:GECC), a non-bank financial company that the Financial Stability Oversight Council has designated for supervision by the Board. The Financial Stability Oversight Council last year designated General Capital as a non-bank "systemically important financial institution." GE Capital will be subject to restrictions on inter-company transactions between it and General Electric. The Fed stated,
"In light of the substantial similarity of GE Capital's activities and risk profile to that of a similarly-sized bank holding company, the Board is proposing to apply enhanced prudential standards to GECC that are generally similar to those that apply to large bank holding companies," opening up a 60-day comment period on the idea."
The Fed's proposal would effectively regulate GE Capital as if it were a bank holding company. Furthermore, additional governance rules may be applied due to its function as the financial arm of General Electric. The Fed would impose higher capital ratios, perform annual stress tests, restrict GE Capital from performing certain transactions with General Electric, and change the make-up of GE Capital's board to ensure its independence from General Electric.
Now, let me be clear, none of this is news to General Electric. Even so, it doesn't sound like good news no matter how you slice it. I am not sure how much this development will affect the bottom line if at all, but am interested to hear your thoughts on the subject. Many have stated this is a potential disaster for the company.
The Alstom acquisition
General Electric's winning bid for Alstom has many facets. This can cause the acquiring company to overpay based on perceived cost savings that do not materialize. Alstom has a ton of debt and is currently a tangled web of jumbled joint ventures and partnerships. The current state of affairs allows for substantial risk. Once General Electric starts digging into the company, General Electric may find the Alstom acquisition wasn't such a great deal after all.
Fundamental negatives
I believe General Electric is a fundamentally sound company with well-established free cash flow of over $20 billion per year. Even so, the naysayer's point to a bloated price to trailing two month price to earnings ratio of 17.36. Furthermore, a debt-to-equity ratio of over 260% is not particularly favorable either. General Electric will need to post substantial growth numbers in 2015 to remedy the situation.
Global economic slowdown
The global recovery seems to have taken a turn for the worse. Chinese and European markets took a beating Tuesday based on deflation worries emanating from China. China's Shanghai Composite plummeted 5.3% on the day. Meanwhile, all the major European markets closed down over 2% as well. It appears the opportunity for global growth is currently in a precarious position. This does not bode well for multinational conglomerates such as General Electric. I would be interested to hear your thoughts on how global growth plays out in 2015.
Geopolitical risks
Geopolitical uncertainties remain. The Russia/Ukraine conflict and new flare ups in the Middle East are two of the major ones that come to mind for me. The problem is, I do not see these issues being resolved any time soon. Furthermore, even if no major negative geopolitical event occurs, the present hostilities will be a drag on global growth going forward.
The market is at all-time highs
The market is currently sitting at all-time highs just as several highly volatile events have begun to occur in other markets. This is an extremely precarious position to be in. You could even say the market is priced for perfection right now. Any hiccup in macroeconomic indicators could bring the markets tumbling down in an instant, not to mention the potential downside created by a negative geopolitical event. This could lead investors to consider the risk is not worth the reward at this point.
Some have suggested this is extremely bad news for General Electric. I am not so sure. You see, General Electric has been preparing for this day for quite some time. In the following article I will make the case this is really much to do about nothing. Consequently, I see any weakness in the stock as a buying opportunity.
Conclusion
General Electric is making all the right moves to continue growing dividends in the future. Furthermore, you get paid a 3.43% dividend yield to boot while you wait. Many of the downside risks are not going to be resolved anytime soon. Moreover, I submit a selloff in the stock would simply offer dividend growth investors an excellent buying opportunity. General Electric's Annual Outlook Investor Meeting is scheduled to occur on December 16th, 2015. I will be waiting on pins and needles to hear what Immelt and company have in store for 2015. Let me be clear, I remain bullish on General Electric. Nonetheless, if I was thinking of starting a position in the stock I would wait until after the annual meeting in order to reduce risk. I look forward to a healthy debate on the potential downside and upside catalysts in the comments section. I will write a follow up article including the most prescient insights in the next few days.
Disclosure: The author has no positions in any stocks mentioned, and no plans to initiate any positions within the next 72 hours.
The author wrote this article themselves, and it expresses their own opinions. The author is not receiving compensation for it (other than from Seeking Alpha). The author has no business relationship with any company whose stock is mentioned in this article.