In addition to my own scans and watch lists, I use two main sources to follow options-related news: Daily Seeking Alpha columns by Frederic Ruffy and Andrew Wilkinson. While I get great use out of these sources and have even made money thanks to them, you have to be careful not to chase the stocks or options they mention. Often, by the time you receive an alert or summary, contracts have already had too much volatility and upside priced into the premium. Nevertheless, occasionally, you can find examples to capitalize on. Below I detail options brought to my attention by these sources and how investors might consider playing them - or the underlying security - if at all, during the trading week.

This week's recap and analysis includes contributions from two other sources of options information: Frequent Seeking Alpha contributor optionMONSTER and Briefing.com's InPlay service. Both provide alerts on notable options activity throughout the day.

Because my coverage spans most of Friday's trading day, including early in the session, some information may change. As with all of my articles, use my suggestions and analysis as the impetus for future research.

Lululemon (NASDAQ:LULU): Briefing reported lower implied volatility following LULU's earnings report and guidance. Given Research in Motion's (RIMM) woes, LULU gives Canada something to be proud of beyond great cities, a polite populace, and the Vancouver Canucks. Lululemon beat the street for the quarter, upped guidance, and noted that it might not be able to keep up with demand - what's not to like?

Two groups of momentum stocks exist-- the ones that move on air and the ones that have long-term, sensible and sustainable businesses to back up their miraculous ascents. LULU falls into the latter category. That said, I would take a somewhat cautious approach if playing LULU via options.

Instead of buying an outright call, I would initiate a bull call spread. When you open a bull call spread, you offset the cost of a long call by simultaneously writing a call with the same expiration, but at a higher strike price. I anticipate LULU outperforming a choppy or even bearish market over the next 6 to 12 months, therefore I would be comfortable with something in the neighborhood of the LULU January 2012 $90/$120 bull call spread.

The Options Industry Council provides a sound explanation of what would happen in the three most likely scenarios - LULU drops below the lower strike, LULU ends up between the two strikes, LULU rises above the higher strike.

SPDR S&P Retail ETF (NYSEARCA:XRT): Wilkinson's mid-day Friday article highlighted bearish activity in XRT options:
A large ratio put spread initiated on the retail ETF suggests one big options strategist is positioning for substantial, albeit limited, bearish movement in the price of the underlying fund through July expiration. Shares in the XRT, an exchange-traded fund designed to mimic the performance of the S&P Retail Select Industry Index, dropped 2.4% to an intraday low of $49.15 today.
The actual structure of the play here does not concern me much. What's relevant is that the trader expects XRT to tank considerably between now and the July expiration. Given the recent weakness in the overall market and the looming economic uncertainty, this could make some sense. In any case, I would not want to make such a short-term bet on retail, in either direction.

Any time I see an ETF listed with options, I go to the source and see the fund's latest holdings. Have a look at a list of the fund's top 10 holdings in relation to the index it tracks:
Click to enlarge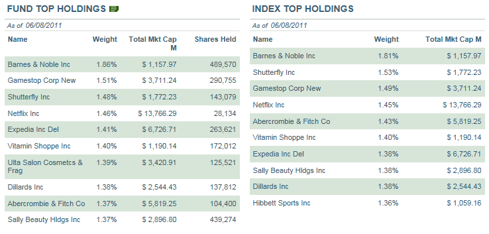 I reviewed the entire slate of holdings. It's more of the same. And, while I like some of the individual stocks it holds, it's not where I want to be. I think good reasons exist for economic uncertainty. In this type of environment I do not want to be invested in too many companies that require consumers to have and spend disposable income, unless the business is (a) a powerhouse and (b) targets an upper-end consumer (e.g., LULU). Instead, during times like these, I prefer to side with companies in, or closely related to, the consumer staples sector.

There's never anything wrong with using a long-term time horizon to buy the companies that produce the products people need to buy regardless of what happens in the economy. In fact, some people might use whatever cash they have to stock up on consumer staples. Throw in vices and splurges like beer and chocolate for good measure, and you're all set. Or as set as you can be in this world of investing.

Two other ETFs fit this bill - the Consumer Staples Select Sector SPDR ETF (NYSEARCA:XLP) and the SPDR S&P International Consumer Staples Sector ETF (NYSEARCA:IPS). When times get tough, or if the chance exists that they will (and that's always the case), these are the types of companies I want to be in. Only XLP trades options. I would feel fine going long each of these ETFs and, in the case of XLP, buying in-, at-, or out-of-the-money LEAPS call options.

Goodyear Tire & Rubber (NYSE:GT): Because I am bullish on Ford (NYSE:F), I guess it makes logical sense to be bullish on Goodyear. Even if Ford and other automakers push toward more fuel-efficient cars - and even electric vehicles (EVs) - they still need rubber. And if a true revolution woth EVs occurs, it might trigger some bandwagon jumpers to buy a car when they otherwise would not. If Ford and others have to ramp up production to meet demand, Goodyear likely receives more orders.

optionMONSTER pointed out bullish options activity in Goodyear on Friday: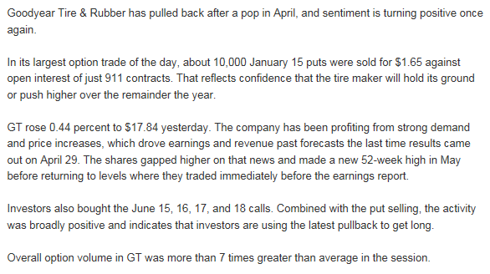 While I agree with the general sentiment of wanting to get long GT at these levels, I took this news as an opportunity to test my thesis that as Ford goes, so goes Goodyear. Instead of dusting off my grad school notes and firing up SPSS or Stata (two points if you get that one), I found a handy website that measures the correlation between two stocks. The following graphic displays the correlation between F and GT over the last several years.
Click to enlarge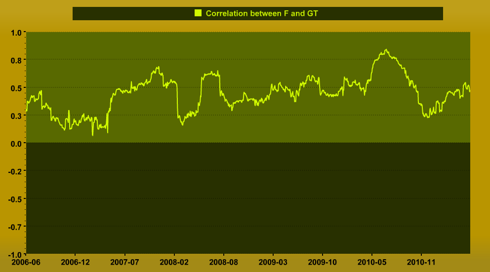 The moderate to strong positive correlation between the two stocks indicates that, indeed, they do tend to share similar fates. As one goes up, generally speaking, over time, the other one does as well. This just adds to my feeling that being long GT can logically follow being long F.

RadioShack (NYSE:RSH): Here's what Ruffy had to report about RSH options in his Friday report:
Radioshack loses 11 cents to $12.72 and a multi-exchange sweep of 5,000 July 15 calls at 9 cents is an opening customer buyer, according to ISEE data. The purchase comes after an impressive 9-day 19.3% losing streak in RSH. No news on the stock today. Radioshack shares touched a new 52-week low of $12.51 earlier today.
Back in March, I noted that I preferred to not take a flier on RSH. It's probably a good thing I did not. At the time, RSH traded at a then 52-week low of $13.90. It closed at $12.66. Other than Lance Armstrong, I am not sure what investors see in RadioShack. I think the trader Ruffy notes sees a bounce trade. If that trader gets a penny out of that option, that's a $5,000 gain, excluding overhead. Any type of dead cat bounce bodes well. Smart trade (I wish I had thought of it), but it represents another instance when it's wise to consider the distinction between trading and investing.

Disclosure: I have no positions in any stocks mentioned, but may initiate a long position in F over the next 72 hours.