The bullish thesis on the Walt Disney Company (NYSE:DIS) has been quite consistent for a long time and might be summed up as follows: The company owns "one-of-a-kind" content as well as media production and distribution assets with universal and timeless appeal. While the shares appear to be fairly valued at roughly a 5% trailing free cash flow yield, long-term investors stand to benefit from Disney's ability to invest incremental capital at high rates of return. Pricing power and low capital intensity are positives if inflation accelerates.

The entertainment giant operates in five segments:
Media Networks: Cable, broadcasting and radio, including ABC, 80% of ESPN, and 42% of A&E/Lifetime.
Parks and Resorts: Owns Disney-themed venues in Florida, California, Paris (51% stake), and Hong Kong (47%); and licenses a venue in Tokyo. Disney also owns a cruise line.
Studio Entertainment: Comprises motion picture, music and theatrical production and distribution. Owned banners include Walt Disney Pictures, Pixar, and Touchstone.
Consumer Products is the largest worldwide licensor of character-based merchandise measured by retail sales.
Interactive Media: Produces games and owns websites.

Walt Disney Co. -- Parks and Resorts Snapshot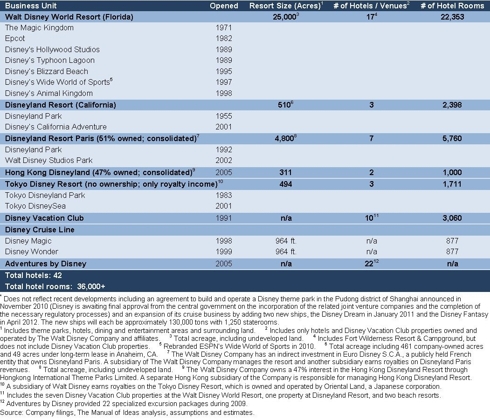 Disney owns unique content and media production/distribution assets with universal and timeless appeal. The company's ABC network is one of the four major U.S. TV networks, while ESPN and other cable channels are leading global providers of sports and children's programming. The vast film library and intellectual property portfolio are difficult to replicate.

Disney has seen fairly steady theme park attendance despite economic weakness, reflecting the company's enduring brand relevance. Despite a recent dip, annual attendance growth at Disney's U.S. parks has averaged 3% since 2005 (with average spending per guest up 2% annually).

Looking beyond the U.S. and developed economies, emerging markets account for less than 10% of revenue but present a growth opportunity, as Disney's children-oriented content holds near-universal global appeal. For example, in April Disney and Shanghai Shendi Group, its JV partner in China, broke ground on the Shanghai Resort, the company's first theme park in mainlaind China. The initial investment by the JV partners amounts to $3.7 billion, hinting at the large size of the opportunity Disney sees in the Shanghai area.

Among the key investment risks, we point to the fact that Disney's cable networks represent 60+% of total operating income. As a result, despite ownership of diversified assets, Disney's profitability appears vulnerable to programming cost increases (e.g., ESPN sports rights). So far, these have been more than offset by higher affiliate fees and advertising rates. An additional risk is the possibility that online distribution may be less profitable over time than traditional channels such as broadcast/cable TV, DVD, and theaters. Finally, the company has relied rather heavily on acquisitions for growth over the past decade. Even after spending a total $12+ billion on Pixar (2006), Marvel (2009) and Playdom (2010), revenue growth remains a challenge for Disney.

Walt Disney Co. -- Sum-of-the-Parts Valuation Summary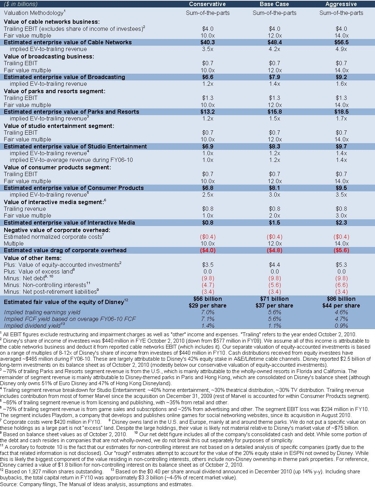 The sum-of-the-parts valuation shown in the above table suggests a fair value range of $29-$44 per share. The analysis indicates that Disney shares may be fairly valued at recent trading levels. However, if inflation picks up in earnest over the next few years, companies that have the ability to raise prices and that do not have a high need for capital reinvestment should deserve a premium valuation. We slot Disney in this category, based on the company's significant and durable intangible assets as well as the non capital-intensive nature of properties such as ESPN.

Disclosure: I have no positions in any stocks mentioned, and no plans to initiate any positions within the next 72 hours.