Introduction
I have struggled over the last year on how best to prepare my portfolio for retirement. I love the idea of DGI for retirees. It makes logical sense, which is often the best way to go. I agree with Seeking Alpha contributor Dale Roberts that total return is the only metric investors should worry about for measuring a successful portfolio (here). David Crosetti argues for dividend growth investing as the best way to achieve success (here). Others, like Warren Buffett, argue that index investing will do well for many investors. So what to do?
I am lucky in that I still have 30+ years to go with my portfolio. I am also lucky in that I have been aggressive in my contributions to my 401k; having these contributions helped in my decision to do a split between the two strategies. 33% of my portfolio will be dedicated to dividend growth and the remainder will be dedicated to index investing. Additionally, future contributions will be directed towards index investing. If I reach a point where additional opportunities are available within the dividend space, I can rebalance up to 33% of my portfolio to make additional purchases within the dividend space.
Based on my current portfolio value, this means I am starting a new dividend growth portfolio of $90,000. I will establish a full position as $5,000 with a goal of having a portfolio of 18-20 stocks.
Now What?
This exercise will be similar to what a new retiree would do at the end of the accumulation phase in transitioning to a harvesting phase. I feel fortunate and unfortunate to be starting this exercise now. With the majority of stocks at highs, some of the traditional names like McDonald's (NYSE:MCD), Johnson & Johnson (NYSE:JNJ), McCormick (NYSE:MKC) and Coca-Cola (NYSE:KO) are out of the question. I am still a value investor at heart. This has required me to do some digging into the first few names for the portfolio.
The First 3
Here is the portfolio that I have built so far -- Halliburton (NYSE:HAL), Tupperware (NYSE:TUP) and The Gap (NYSE:GPS). I have spent roughly 13% of my funds for this portfolio.

Halliburton
I will be first to admit this holding is not exactly a dividend growth play. It is in the portfolio so I wanted to account for it. They do pay a dividend, but until recently it has not grown. They have not grown it every year like many of you like to see (including me). They have not cut their dividend either. Instead, HAL grows the dividend every 5 years or so. 2013's bump was 46%. So while not linear, it still has a growing dividend that grows pretty aggressively over time.
This is also a long-term play with a reversion to mean element driving the potential. When oil dropped a few days ago, I figured we would see some opportunities come out of it. Halliburton is that play for me. I know many of you will like other, more conservative names like Exxon (NYSE:XOM). Since I have a long timeframe, I wanted to start out a bit more aggressively knowing I can have patience in my holdings. The drop seems very similar to that of the recession. The recovery was slow. I will need to have patience.
Below is a FAST Graph of the past 15 years for HAL. It currently trades at a 10.2 P/E. This is significantly below the normal P/E of 19.7. That is almost a 50% discount. Does it deserve a 19 P/E? I think so.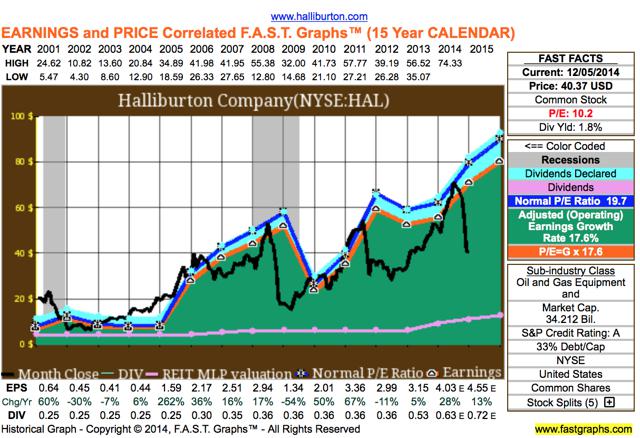 Its earnings are estimated to grow to 4.55 per share in 2015. This makes the forward P/E 8.9. That is crazy cheap; that is close to some of the GILD forward P/E estimates. Now the discount here may be warranted with the price of oil today. I, however, believe that sometime in the next 30 years that oil prices will recover and that HAL is in a good position to weather the storm. HAL also has the upcoming acquisition of Baker Hughes to add to its growth. The debt to equity ratio is growing, but with a S&P credit of A, they are prepared to handle it.
Tupperware
Look around your house -- you know you have some. We all do. If you are frugal like me, you probably have more than you need. With the stock, things could get worse before they get better. Earnings are set to drop this year after growing aggressively for the past 7 or 8 years. On the positive side, they are just finishing their fifth year of dividend growth. They have racked up an impressive 35% growth over that timeframe and now have a payout ratio close to 50%. The thing that I find the most impressive about TUP is their ROE over the past 10 years.
TUP ROE 2004 to Today

2004

33.48

2005

27.27

2006

25.6

2007

25.32

2008

32.39

2009

31.5

2010

31.61

2011

33.83

2012

39.39

2013

74.92

TTM

82.99
Looking at the FAST Graph, you can see the recent dip due to the slowing growth. With their significant exposure to overseas and emerging markets, this will not be a linear growth play. If you have the stomach for risk, they are near an all-time high in their dividend yield, which can be a great time to buy (see my analysis on historic yield and how to use it to find value here).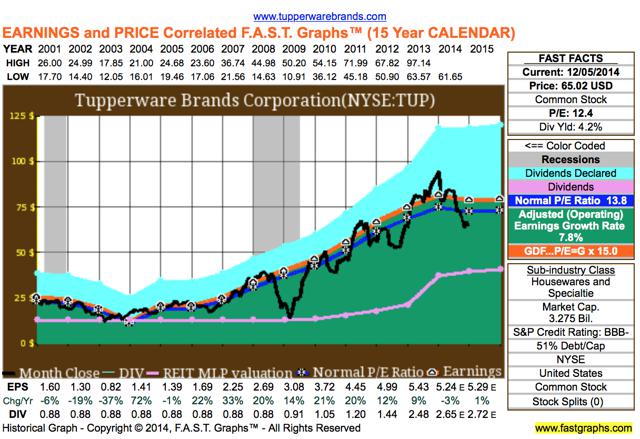 The Gap
To quote myself, "If you are frugal like me you probably have more than you need." This can apply to clothing from the gap as well. How can you not buy a $2 t-shirt at Old Navy? I do not care if you only use it to change the oil in your car. That is a deal.
Another deal great deal from GPS -- their stock. They have been on an impressive growth run over the last 10 years. They are also setup to grow earnings by 10% over the next few years according to FAST Graphs, which is fed by the 9 analysts reporting via the S&P. This is a play on more share price growth than dividend growth. With a starting yield at 2.2% and a payout ratio of 26%, there is room to grow.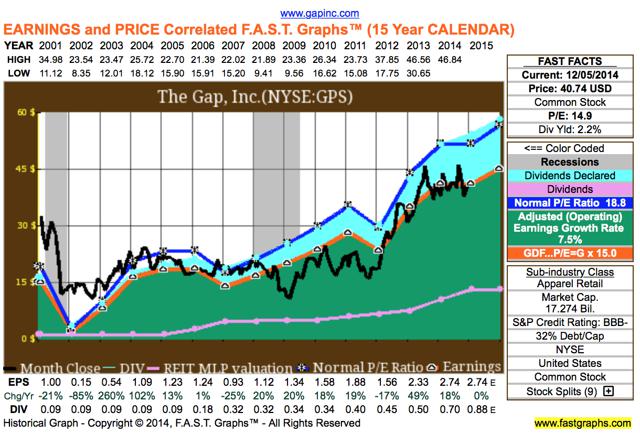 The Comparison
The rest of the portfolio is mixed between a couple different generic market positions, specifically VTI and SPY. Both will be used as a running comparison. As this position has been and will continue to be dollar cost averaged into, I will attempt to provide an ongoing metric as to my cost. For now, I will just present the current prices. It is important to note that the remaining value that I have not invested in the dividend growth portfolio will remain invested in the market index until I have a new opportunity.
| | |
| --- | --- |
| Ticker | Current Price |
| | $106.95 |
| | $208.00 |
Conclusion
The portfolio is just at the beginning and does not include any names that people would expect. More traditional names will come to the list as soon as prices realign with value. I look forward to your comments as the portfolio grows.
Disclosure: The author is long HAL, GPS, TUP, GILD, VTI, SPY.
The author wrote this article themselves, and it expresses their own opinions. The author is not receiving compensation for it (other than from Seeking Alpha). The author has no business relationship with any company whose stock is mentioned in this article.