Top Ten For the Money
This article refines and distinguishes an earlier report that revealed S&P 500 index bargain stocks to buy and hold from December to June, or perhaps as long as one year.
See Dow 30 article for explanation of the term "dogs" for stocks reported based on Michael B. O'Higgins book "Beating The Dow" (HarperCollins, 1991), now named Dogs of the Dow. O'Higgins system works to find bargains in any collection of dividend paying stocks. Utilizing analyst price upside estimates expanded the stock universe to include popular growth equities, as desired.
Dog Metrics Extracted Bargains
Ten S&P 500 index stocks were culled by yield from 500 choices from here. Yield (dividend / price) results verified by Yahoo Finance did the ranking.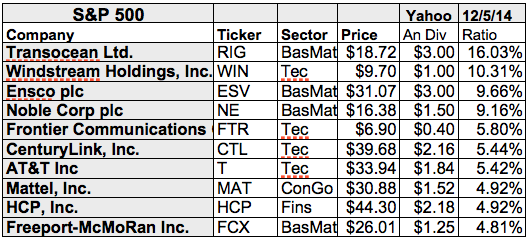 McGraw Hill Finance, publisher of the Dow Jones S&P 500 Index states:
"The S&P 500® is widely regarded as the best single gauge of large cap U.S. equities. There is over USD 5.58 trillion benchmarked to the index, with index assets comprising approximately USD 1.3 trillion of this total. The index includes 500 leading companies and captures approximately 80% coverage of available market capitalization."
Four of nine sectors placed dogs in the top ten by yield for November: basic materials, technology, consumer goods, financial. Top dog was one of four basic materials firms in the top ten - Transocean Ltd. (NYSE:RIG) [1]. The rest of the basic materials companies placed third, fourth, and tenth: Ensco plc (NYSE:ESV) [3], Noble Corp. plc (NYSE:NE) [4], Freeport-McMoRan Inc. (NYSE:FCX) [10].
Four technology firms, locked onto second, and fifth through seventh places: Windstream Corp (NASDAQ:WIN) [2], Frontier Communications (NYSE:FTR) [5], CenturyLink Inc. (NYSE:CTL) [6], AT&T Inc. (NYSE:T) [7].
A lone consumer goods representative took the eighth slot, Mattel Inc. (NASDAQ:MAT) [8]. Ninth place was taken by the lone financial firm, HCP Inc (NYSE:HCP) [9], and so completed these S&P 500 top ten dogs by yield.
Actionable Conclusions: (1) Analysts Assert 5 Lowest Priced of Top Ten Highest Yield S&P 500 Stocks Deliver 28.16% VS. (2) 18.2% Net Gains by All Ten by December 5, 2015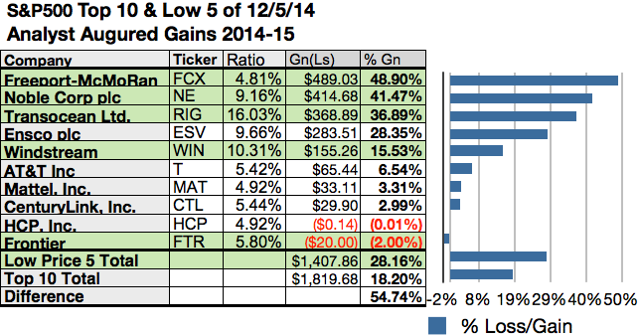 $5000 invested as $1k in each of the five lowest priced stocks in the top ten S&P 500 index dividend kennel by yield were predicted by analyst 1-year targets to deliver 54.74% more net gain than $5,000 invested as $.5k in each of all ten. The fifth lowest priced S&P 500 index dividend dog, Freeport-McMoRan Inc., was projected to deliver the best net gain of 48.9%.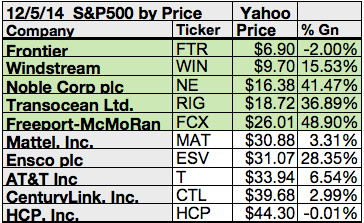 Lowest priced five S&P 500 index dividend dogs for December 5 were: Frontier Communications, Windstream Corp., Noble Corp. plc, Transocean Ltd., Freeport-McMoRan Inc. with prices ranging from $6.90 to $16.01.
Higher priced five S&P 500 index dividend dogs for December 5 were: Mattel Inc., Ensco plc, AT&T Inc., CenturyLink Inc., HCP Inc. whose prices ranged from $30.88 to $44.30.
This distinction between the five low priced dividend dogs and the general field of ten reflects Michael B. O'Higgins "basic method" for beating the Dow. The added scale of projected gains based on analyst targets adds a unique element of "market sentiment" gauging upside potential. It's a here and now equivalent of waiting a year to find out what will happen in the market. Analysts are historically 20% to 80% accurate on the direction of change and about 0% to 20% accurate on the degree of the change.
The stocks listed above were suggested only as decent starting points for a S&P 500 index equities dog dividend stock investment research process in December, 2014. These were not recommendations.
Gains/declines as reported do not factor-in any tax problems resulting from dividend, profit, or return of capital distributions. Consult your tax advisor regarding the source and consequences of "dividends" from any investment.
Disclaimer: This article is for informational and educational purposes only and should not be construed to constitute investment advice. Nothing contained herein shall constitute a solicitation, recommendation or endorsement to buy or sell any security. Prices and returns on equities in this article except as noted are listed without consideration of fees, commissions, taxes, penalties, or interest payable due to purchasing, holding, or selling same.
Graphs and charts were compiled by Rydlun & Co., LLC from data derived from www.indexarb.com; www.dividend.com; finance.yahoo.com; analyst mean target price by Thomson/First Call in Yahoo Finance.
Disclosure: The author is long T.
The author wrote this article themselves, and it expresses their own opinions. The author is not receiving compensation for it (other than from Seeking Alpha). The author has no business relationship with any company whose stock is mentioned in this article.