CEF Weekly Review: On average, the 13 closed-end fund (CEF) types registered a share price decrease of 1.6% for the week ending 6/10/11. The high-low spread registered this week was +3.7% versus +2.4% on an average price change of -1.6% versus -0.3%, respectively. On an aggregate unweighted basis, the weekly average price change for the 500 plus CEFs in the GrowthIncome database was down 1.5%.
The PowerShares CEF Income Composite (NYSE:PCEF), an ETF that invests in taxable income CEFs, was down 1.3% for the week. The S&P 500 declined 2.2% in a week that investors shunned equities as gloomy economic reports were issued; it is now up 1.1% YTD.
Trading Volume: The average daily volume for the S&P 500 (GSPC) for the week decreased 8.6% to 3.7 billion shares versus the previous week.
The Eqcome CEF Fear Index was elevated. The average CEF unweighted price decreased 1.5% and the related NAV decreased 0.5%. The VIX added to its previous week's advance and rose an additional 5.1% to 18.86. (The VIX typically trades inversely to the S&P 500 index)
CEF Weekly Fund Type Performance: Given the broad swath of asset classes the CEF market segment encompasses, it is unusual to see on average weekly price change for all sectors to be down. However, the dispersion between debt and equity was large enough to account for the distinction between equity and debt oriented CEFs.
Municipal oriented CEFs continued to provide an element of safe harbor and declined the least. In both cases the underlying NAV's didn't decline. Most of the other fixed income fund types performed better than their equity counterparts.
image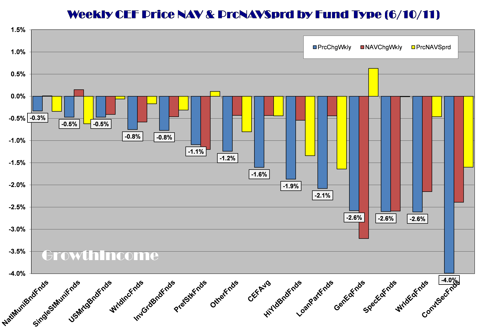 There were several exceptions to this week's fixed-income CEF performance. Any of the fixed-income fund types that smacked of equity was punished. This included ConvtSecFnds which took a header with a declined 4.0%. Also HiYldBndFnds and LoanPartFnds "took on water" and posted below the average price changes.
High yield bonds have been subject to a downward readjustment as their spreads over investment grade have narrowed. Additionally, LoanPartFnds which had been a CEF favorite fund type YTD has also suffered as prospects for economic growth have slowed.
Historically, the bond market has been a better predictor of economic sentiment than the stock market and it's not posting a cheerful economic outlook.
Economic & Earnings Outlook: (Click here for next week's economic calendar; click here for earnings' announcements and estimates.)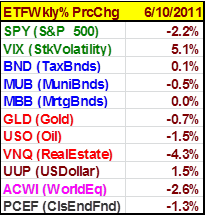 Insider Trading: The largest and most interesting trade occurred in Invesco Van Kampen Trust for Investment Grade Municipals (NYSE:VGM). Rodney F. Dammeyer, a director, sold 60,310 shares of VGM in three transactions both directly and indirectly for his family partnership.
The aggregate transaction netted Mr. Dammeyer and family $811,453 and left Mr. Dammeyer with an aggregate position in VGM at 92,946 shares. General American Investors' (NYSE:GAM) Craig Anthony Grassi, an officer of GAM, added 250 shares at $25.07 per share for a capital outlay of $6,268 bringing his total holdings to 1,900 shares.
CEF Distribution Announcements This Week: The following is a link to a table of CEF distribution announcements this week as well as the previous week's with yet expired ex-dividend dates. The list is not intended to be inclusive. Note that this week is when a majority of CEFs go ex-dividend. (Available at my website under "Research" menu "CEF Weekly Information" tab.)
Significant CEF Corporate Events: The Ibero-America Fund's (NYSE:SNF) Board announced a plan of liquidation and dissolution ("Plan") subject to stockholders' approval. A special shareholders' meeting is anticipated to be called for that purpose on Wednesday, August 31, 2011. The close of business on Thursday, July 7, 2011, has been fixed as the record date for the special meeting of stockholders.
The Thai Capital Fund (NYSEMKT:TF-OLD) announced today that the Fund's Board determined not to renew the investment advisory agreement between Fund and its current investment adviser, Daiwa SB Investments (Singapore) Ltd. As a result, the Advisory Agreement is terminated effective immediately. The termination of the Advisory Agreement will not affect the Fund's existing investment management agreement with SCB Asset Management Co., Ltd. Additionally, the Board appointed Martin J. Gruber as Chairman of the Board of Directors to replace Mr. Goto, who resigned. Mr. Gruber is Professor Emeritus and Scholar in Residence at the Leonard N. Stern School of Business at New York University. Mr. Gruber also serves as a director for the Japan Equity Fund, Inc. and the Singapore Fund, Inc.
Both Morgan Stanley Asia-Pacific Fund (NYSE:APF) and The Malaysia Fund (NYSE:MAY) reported the results of their partial tender offers. Of the 25% of the shares outstanding offered for tender by APF, 41.96% of shares tendered by shareholders were accepted. Of the 15% of outstanding shares of MAY that were subject to a tender offer, 25.54% were accepted.
---
[*] All things being equal, price and NAV should move in tandem. A price movement greater than the NAV generates a positive PrcNAVSprd and may be interpreted as negative on a near-term basis and indicate that the stock is overvalued relative to its NAV which in theory is the stock's intrinsic value. The opposite would be true for a negative PrcNAVSprd.
Disclosure: Author owns a diversified portfolio of CEFs and ETFs and is long stocks in the CEFBig10™, CEFMuni10™ and CEFDisc10™. The first is a balanced equity-income portfolio (CEFBig10™), the second a tax-exempt income portfolio (CEFMuni10™) and the third a portfolio whose objective is capital gains with a secondary objective of current income (CEFDisc10™).