The Russell 2000 Index has been in a large sideways trading pattern since March and a smaller one since the end of October. Since peaking on March 4, the iShares Russell 2000 ETF (NYSEARCA:IWM) is down 2.12 percent including dividends. The S&P 500 Index is up 11.68 percent over the same period, a gap of 13.8 percent. This is the largest under performance by the small-cap index since 2008. Since the preponderance of evidence points to a continued bull market in stocks, odds favor the small caps closing this gap in 2015.
Below is a price ratio chart of IWM and SPY. A rising line shows IWM outperforming the SPY. The current under performance by IWM is worse than the 2011 drop and in terms of relative prices, IWM is at its cheapest since the 2008-2009 financial crisis.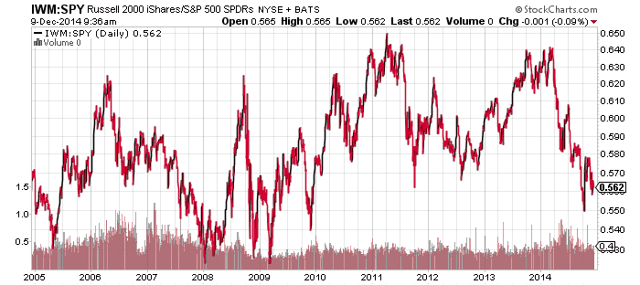 Small caps have historically outperformed in December during bull markets, and IWM has beaten SPY for seven years straight in December going back to 2007.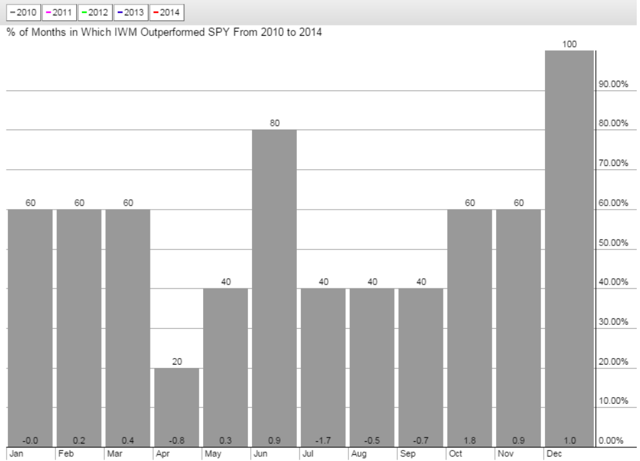 On fundamentals, the small caps look less attractive. IWM's price-to-earnings ratio as of December 5 is 19.60, is slightly below the iShares Core S&P 500 ETF's (NYSEARCA:IVV) P/E of 19.63. The bears will argue that the P/E is only low because it excludes negative earnings, but according to Birinyi Associates, the forward estimate (12 months) on the Russell 2000's P/E is 19.50, ahead of their S&P 500 forecast P/E of 17.23.
The economy grew 4.6 percent in the second quarter and 3.9 percent in the third quarter. Manufacturing is still in a robust expansion as measured by purchasing managers' indexes. Recessions are usually preceded by a slowdown in manufacturing, as was the case back in 2007, but manufacturing still points to expansion. Wage growth may finally be picking up, with hourly wages up 0.4 percent in November. The broadest measure of unemployment, U-6 unemployment, has fallen from 13.1 percent last year to 11.4 percent this year, and has declined every month since July.
Other factors are working in the economy's favor. Lower energy and commodity prices will help consumers. The U.S. economy will benefit from a stronger U.S. dollar. Imports decline in price, and many American exports, such as advanced technology, are not sensitive to currency fluctuations. Companies that need the latest technology will pay for it even if prices rise a few percentage points. A stronger U.S. dollar is also good for the financial economy. America's bond and stock markets will attract more foreign capital. This will help keep interest rates low and fund new investment.
Finally, stocks have typically climbed during the seventh year of a presidential term, as covered in Dollar And Presidential Cycles Lining Up For A Rally.
Picking A Small-Cap ETF
Investors have a lot of options when it comes to small-cap ETFs. IWM is the default choice. It pays a yield of 1.26 percent and is heavily invested in three of the stronger sectors in 2014: financials, technology and healthcare. Financials are benefiting from the strong economy and loan growth in 2014 is faster than any year since the recession.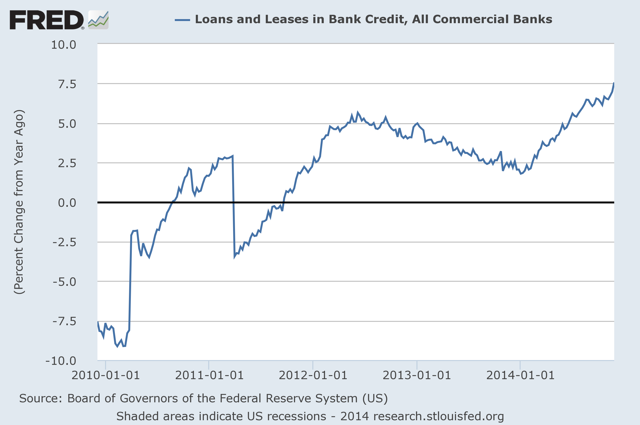 With 24 percent of assets in financials, IWM is a solid option should financials continue to outperform the broader market. An ETF with even more financial exposure is WisdomTree SmallCap Dividend ETF (NYSEARCA:DES), with 27 percent of assets in the sector. The yield on DES is much larger at 2.78 percent.
For investors who want to invest in growth or value, iShares Russell 2000 Growth ETF (NYSEARCA:IWO) or iShares Russell 2000 Value ETF (NYSEARCA:IWN) are two good options.
IWN is loaded with financials at 41 percent of assets. IWO is heavily invested in technology (26 percent) and healthcare (24 percent). Unless investors want a lot of financial exposure, the growth fund is the better option, especially since a rebound in the small-cap index will likely favor growth sectors.
Another option is Guggenheim Russell 2000 Equal Weight ETF (EWRS). The fund equally weights the sectors in the index, which adds a lot of telecommunications, consumer staples, energy, utilities and materials coverage relative to IWM. That energy exposure has cost the fund. Here's the performance of EWRS relative to IWM, with the price of crude oil in black.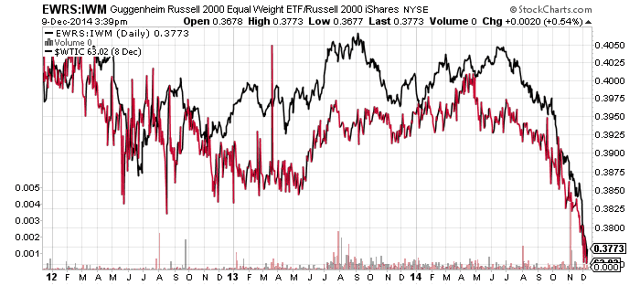 Investors looking to play a rally in small caps along with a rebound in energy can look to EWRS.
Disclosure: The author has no positions in any stocks mentioned, and no plans to initiate any positions within the next 72 hours.
The author wrote this article themselves, and it expresses their own opinions. The author is not receiving compensation for it (other than from Seeking Alpha). The author has no business relationship with any company whose stock is mentioned in this article.