In recent months, WTI has fallen from $90 per barrel to the present $63 per barrel.
As WTI has fallen, so have shares of Whiting USA Trust II (WHZ).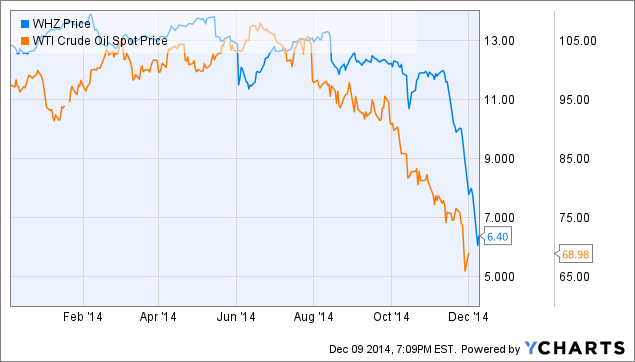 Because of the drop in crude, Whiting USA Trust II shares are off 42% year to date. With the steep fall in prices, is Whiting USA Trust II an opportunity or a dividend trap?
Why Whiting USA Trust II is a dividend trap
Whiting USA Trust II is a trust that is entitled to 90% of the net profits of 388.5 net oil and gas producing wells located in the Permian Basin, Rocky Mountain, Mid-Continent and Gulf Coast regions.
The trust will terminate on the later of a) December 31 2021 or b) when the trust's underlying wells produce a total of 11.79 MMBOE. After the trust's termination, Whiting USA Trust II will pay no additional distributions.
Because Whiting USA Trust II's wells have relatively low production costs, Whiting USA Trust II shareholders have received substantial dividends in recent years.
Due to the fall in WTI, however, Whiting USA Trust II is now a classic dividend trap where if it looks too good to be true, it is.
Assuming a $7 per barrel discount to the current WTI price of $63 per barrel, I calculate that Q1 distribution will be $0.30 to $0.35 per share, or roughly 50% below the current distribution. Assuming a 10% discount rate, I also get a net present value of ~$6.27 per share.
Moving forward, Whiting USA Trust II's dividend will likely be increasingly erratic because the trust is prohibited from hedging production after this year.
Because it will be hedgeless, if crude prices fall far enough, Whiting USA Trust II's dividend will likely be drastically reduced. (While natural gas production comprised 24% of total production for 2014, a significant percentage of that natural gas production likely came from dual production wells, meaning that if crude falls far enough, production from the dual production wells will be suspended, no matter how economic the natural gas part may be. Natural gas also comprised less than 10% of 2014 revenues.) If the dividend is dramatically reduced, there will likely be a mass exodus to the door, no matter what the NPV or option value may be.
While I personally believe that WTI will recover by 2017 as the Chinese economy recovers and OPEC cuts production, I would not buy Whiting USA Trust II unless it trades at a discount to fair market value. Currently this not the case and there is no margin of safety. Personally, buying a strong integrated like Exxon Mobil or Chevron, or buying a strong independent like EOG Resources is a better bet.
Disclosure: The author has no positions in any stocks mentioned, and no plans to initiate any positions within the next 72 hours.
The author wrote this article themselves, and it expresses their own opinions. The author is not receiving compensation for it (other than from Seeking Alpha). The author has no business relationship with any company whose stock is mentioned in this article.