Shares of chipmaker RF Micro Devices (RFMD) have appreciated almost 210% since I recommended it at the start of the year. After such massive appreciation, some investors might be wondering if it's time to take their profits off their table, however I think the company still has more upside and investors should continue holding the stock. Let's take a look at the reasons that can drive RF Micro Devices' stock higher in the foreseeable future.
Merger With TriQuint
RF Micro Devices' and TriQuint's (TQNT) much awaited merger is set to close by the end of this year. The combined company will be called Qorvo. While there's no guarantee that the merger will be successful, analysts are expecting it to benefit both the companies. RF Micro's cost cutting initiatives contributed largely to the company's growth this year and the merger with TriQuint will further save the company almost $150 million through consolidating facilities, optimizing R&D spending and abolishing duplicate costs over the next 2 years.
Moreover, the companies' management claimed that Qorvo is uniquely positioned to win the company would offer a comprehensive product portfolio. Robert Bruggeworth, who is set to become the CEO of Qorvo, said:
"We will also offer some of the most advanced and cost-effective packaging, assembly and test capabilities in the industry. Combined, these strengths will help position us as a valuable and trusted supplier to our customers serving the mobile, infrastructure and defense markets."
Given the positives of the merger, I expect the company's share price to rise when the merger is completed, so I think selling now is a bad idea.
Benefiting From 4G
Over the last conference call, RF Micro's management highlighted the fact that nearly 50% of the world's handsets are still 2G and contain less than $1 of RF content. The LTE market is expected to boom, and RF Micro is well positioned to benefit from it. The worldwide LTE market is expected to grow at a CAGR of nearly 79% from 2013 to 2019, reaching a value of $610.7 billion.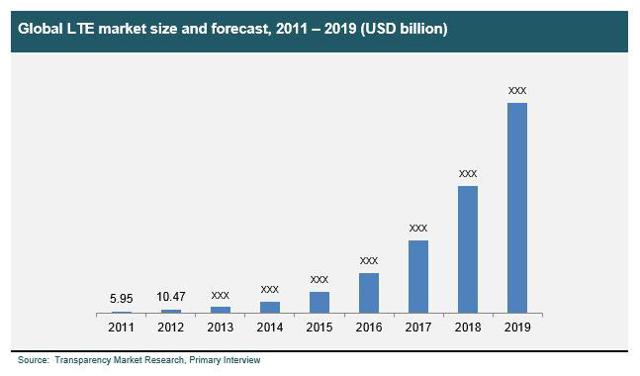 The transition from 2G to 4G will see an increase in demand for RF chips, and this will considerably boost RF Micro's top and bottom line.
Apple Will Remain A Growth Driver
The recent teardown of Apple's (NASDAQ:AAPL) new iPhone 6 showed that the device possessed components from both RF Micro Devices and TriQuint. The company will continue to benefit from Apple as JP Morgan forecasts that the sales of the iPhone 6 may surpass 225 million mark in 2015. Moreover, analysts' at Canaccord believe that Qorvo can further increase its $-content in the upcoming Apple devices and raised their price target for RF Micro from $18 to $20. The firm claim noted:
"We came away from the analyst day with increased conviction Qorvo can achieve stronger F'16/F'17 sales growth versus our prior expectations. In Mobile Devices division for the high-tier market, we believe Qorvo could benefit from further potential RF $-content increases in Apple's next-gen iPhone products. Qorvo could also grow $-content at Samsung as this OEM reduces the number of handset models/SKUs supported and focuses more on super-regional or global smartphone designs with greater RF cellular content. Further, we believe the increasing mix of affordable LTE and 3G smartphones versus feature phones from Chinese OEMs should result in Qorvo growing RF $-content and improving margins as it ships higher-margin integrated products into this base."
Conclusion
With a trailing P/E of over 43, RF Micro Devices may seem expensive, but the merger will increase the company's market cap and earnings, and has opened up many opportunities for the company. Hence, RF Micro Devices is still a worth buy. After the merger, the company's revenue stream will be a lot more diversified, and it will be well positioned to profit from global mobile device, networks, and defense markets. Moreover, the cost savings and increasing gross margin will further increase the company's earnings and reward the investors. Thus, I think investors should consider adding RF Micro Devices to their portfolios.
Disclosure: The author has no positions in any stocks mentioned, and no plans to initiate any positions within the next 72 hours.
The author wrote this article themselves, and it expresses their own opinions. The author is not receiving compensation for it (other than from Seeking Alpha). The author has no business relationship with any company whose stock is mentioned in this article.