When I look across the broad spectrum of REIT opportunities today I often ponder the concept of starting a REIT. No, don't worry. I wouldn't pack up my computer today - I love writing more than that. However, I'm always thinking about ways to build the best mousetrap and what it would take to orchestrate and construct a durable dividend machine.
To start with, I would look for the best overall real estate sector - one based on powerful supply and demand characteristics. That means I would likely not start up a REIT with stores leased to Dillard's (NYSE:DDS) (see my article HERE) or restaurants leased to Bob Evans (NASDAQ:BOBE) (see my article HERE) or even a billboard REIT (see my article HERE). All concepts appear profitable but the business models don't appeal to my long-term view of value creation.
Instead, I would build a REIT that offered the most powerful sources of differentiation - a revenue stream that delivers the most predictable source of rent with limited supply.
Here's an idea: What about demand driven by the aging population where that sector (75 and older) is expected to increase by 89% by 2030 (compared to 2012) and is expected to increase 6% of the total US population to approximately 10%. In addition, over the projected period of 2010 to 2020, average annual healthcare spending growth of 5.8% is anticipated to outpace average annual growth in the overall economy of 4.7% by 1.1% pts.

Building a Mouse Trap: The Balance Sheet
With limited additional new supply for senior living, I believe that healthcare offers one of the best opportunities in the REIT sector. Of course to capitalize on the concept, a REIT must have adequate capital to fund the venture. Let's take a look at the spectrum of healthcare REITs and their percentage of secured debt:

As you can see (above), LTC Properties, Inc. (NYSE:LTC) has the lowest percentage of secured debt and while that's an important metric, it doesn't necessarily mean the company can survive any downturn. However, now let's examine the universe of healthcare REITs and compare the total debt to total capitalization:

Again, LTC scores well. The company has considerably modest debt (17.9% total debt to total cap) and the leverage ratios are extremely sound:

LTC's overall capital stack is in excellent shape, the small-cap REIT's debt to normal EBITDA is 2.9x (Note: LTC has a 2% allocation preferred securities).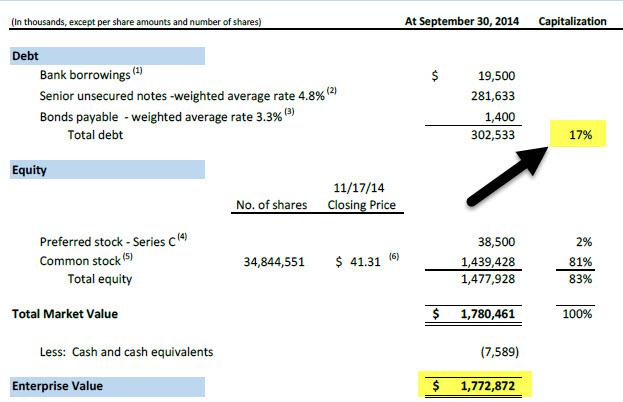 These leverage ratios and pie chart below illustrate an ideal capital model with a remarkably conservative balance sheet.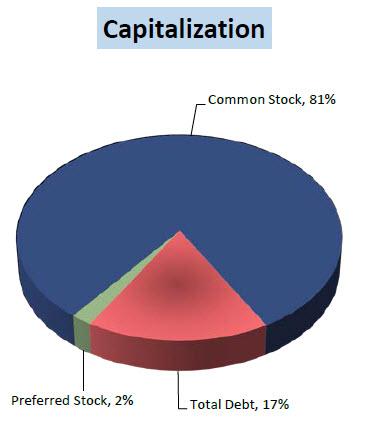 Building a Mouse Trap: Diversification
LTC has a market cap of $1.47 billion and the Westlake Village-based (California) REIT invests primarily in the long-term care sector of health care through the origination of first mortgage loans and acquisition of properties that are leased to numerous long-term care providers. While LTC needs size (closer to $2 billion) to receive investment grade agency rating, the company is big enough to provide sound diversification.

LTC was incorporated on May 12, 1992 in the State of Maryland, and commenced operations on August 25, 1992. The company invests primarily in senior housing and long-term healthcare property types, including skilled nursing properties (or SNF), assisted living properties (or ALF), independent living properties (or ILF), and combinations thereof. As of the latest quarter (Q2-14), LTC owned 217 properties - with a majority of skilled nursing (54.1%) and assisted living (37.7%).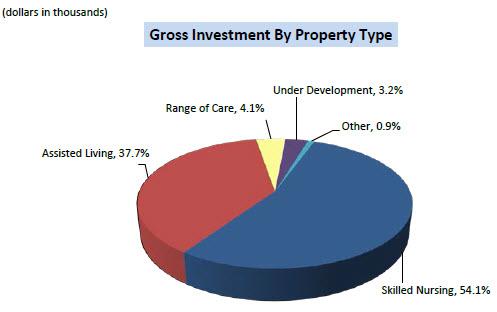 As of the latest quarter (Q2-14), LTC owned assets of approximately $1.139 billion, comprising of 84.8% in property and 15.2% in loans.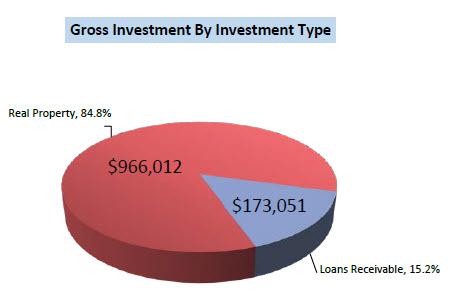 LTC has a diverse portfolio of assets scattered across 29 States. Texas has the highest concentration (21%), followed by Michigan (11%), Ohio (8.7%), and Colorado (8.3%).

Here's a geographical representation of LTC's portfolio:
Unlike Omega Healthcare Investors (NYSE:OHI), an assisted living REIT dependent on a majority of government reimbursement exposure, LTC is better prepared for reimbursement risks as the company has aggregate government reimbursement exposure of around 41%. Here is a snapshot of the portfolio payor source mix:

Here's a snapshot of LTC's top tenant operators. As you can see, Prestige Healthcare (11.1%) and Brookdale (NYSE:BKD) (10.2%) are the largest operators:

Here's a snapshot of some of LTC's top Skilled Nursing operators: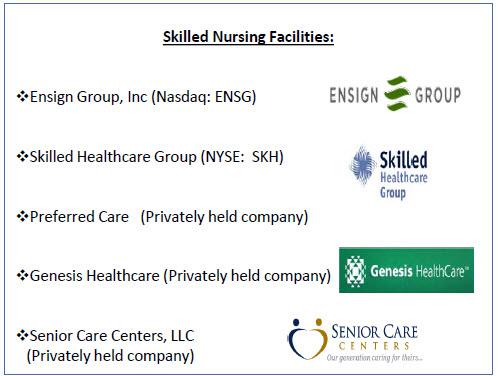 Here's a snapshot of some of LTC's top Assisted Living operators: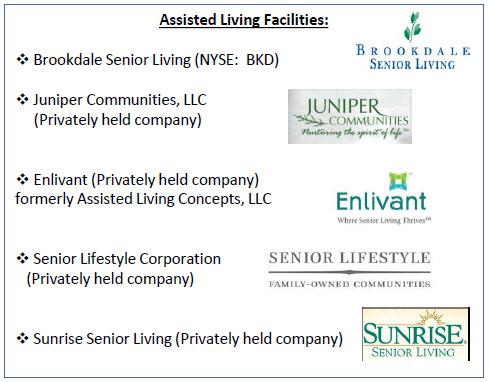 Recently LTC reached a resolution on its portfolio 37 assisted-living properties co-leased to Enlivant an affiliate of Extendicare (OTCPK:EXETF). The REIT said it plans to release 20 of the properties and sell 16 (LTC is exploring options for the other facility that is subject to a ground lease).
Relating to the releasing of the 20 properties LTC plans to lease 13 to an existing relationship, Senior Lifestyle, and lease the other 7 properties to Veritas. The initial cash yield on the 20 properties re-leased to Senior Lifestyle and Veritas is comparable to the cash yield in 2014 under the expiring master leases with Extendicare and Enlivant.
LTC has entered into an agreement with an affiliate of Enlivant to sell 16 properties, consisting of 615 units, which includes two properties in Arizona for a sales price of $26,465,000 equating to $43,000 per unit. LTC expects to record a gain on the sale of approximately $3.9 million with closing expected to occur in December of this year.
Building a Mouse Trap: Steady Growth
LTC has maintained a consistent supply of development projects. During the third quarter Anthem Memory Care opened its second development project with them in the Denver Metro area. Highline Place, LTC's initial development project with Anthem also in the Denver Metro area remains at 100% occupancy.
LTC continues to expand its relationship with Anthem and as a result has entered the Chicago market with them via land acquisition in Burr Ridge, Illinois. Anthem anticipates opening a third project located in Aurora, Colorado in mid-December, followed by the opening of the fourth project in Q1-2015. LTC's development project in Wichita, Kansas with Oxford Senior Living, enjoys 95% occupancy.
LTC's pipeline is strong at approximately $800 million, which includes sale leaseback and development opportunities as well as expansion and replacement projects in our portfolio.

The steady growth has resulted in consistent earnings. In the third quarter Normalized FFO increased 13% to $22.5 million from $20 million in the second quarter of last year. Normalized fully diluted FFO per share was $0.64 in Q3-14 compared to $0.57 a year ago.
LTC's occupancy has remained consistent across all property types. Occupancy for the trailing 12-month period ended first quarter 2014 as follows: Assisted living (excluding the Extendicare and Enlivants portfolio) is 89.5%. Skilled nursing is 79.9% and memory care is 83.4%.

LTC has not modified its 2014 guidance and the company expects the year-end numbers to pencil in at the low end of the range or around $2.56 of normalized FFO. Here's a snapshot of historical AFFO - indicative of a durable income-producing mousetrap: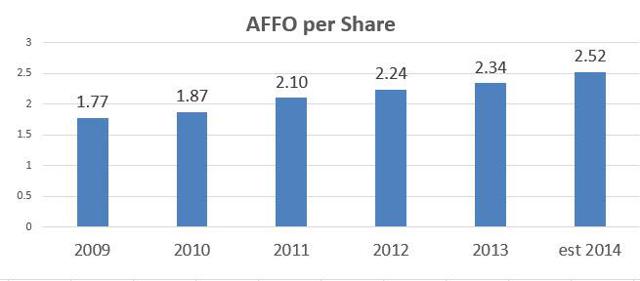 Of course, the ideal blueprint for a durable REIT would also include dividends. Here's a snapshot of LTC's dividend record since 2003: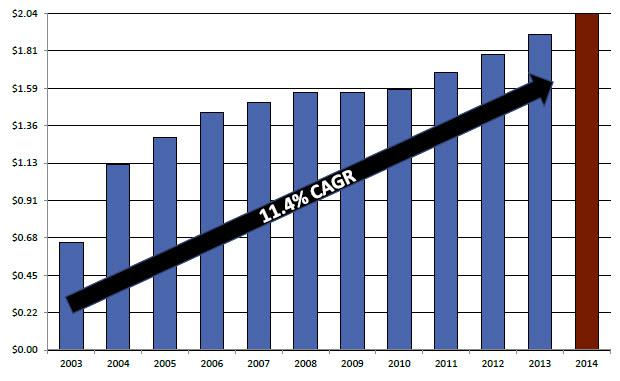 The dividend appears safe as evidenced by the historic payout ratio below: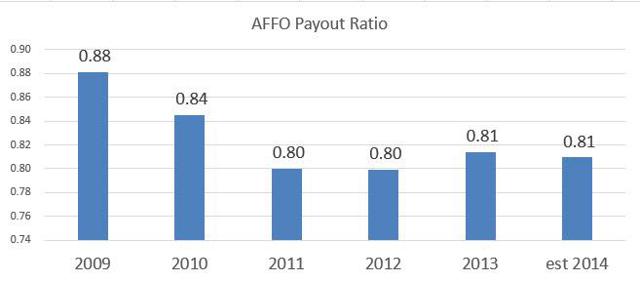 It's important to recognize that LTC did cut its dividend in 2000: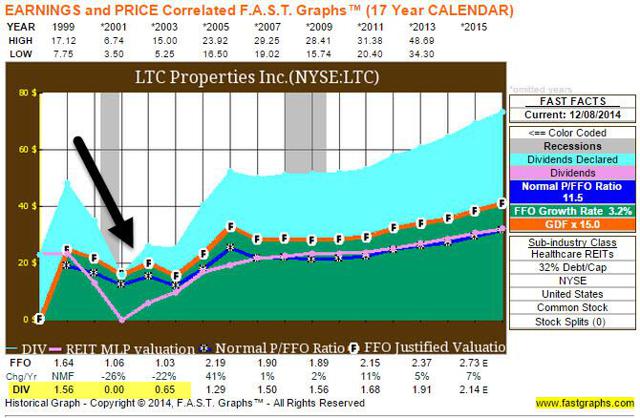 Also, note that LTC would be included in David Fish's "CCC" list had the company not stalled on an increase in 2009 (the company maintained its $1.56 per share payout in 2008 and 2009).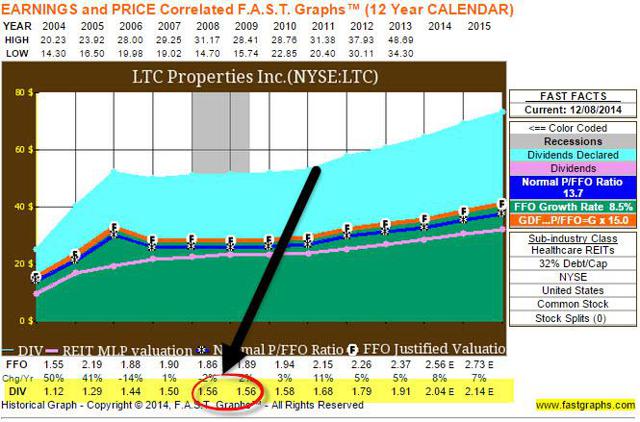 What Does Mr. Market Think About My REIT From Scratch Idea?
As noted above, LTC has all of the ingredients of a terrific REIT: strong fundamentals, durable income drivers, diversification, conservative balance sheet, and steady dividend history.
So instead of building my own REIT, can I buy this one?
First let's examine the dividend yield:

Given the strong fundamentals described, I would expect to see a REIT like LTC generating a yield of around 5%. I would compare the balance sheet and overall quality rating comparable to National Retail Properties (NYSE:NNN) - another fine REIT with less than 1% of secured debt.
However, Mr. Market has priced LTC's dividend yield sub 5% and the current price of $42.36 makes the valuation appear fairly valued at 16.6x Price-to- Funds-from-Operations.

One thing missing from the LTC blueprint is dividend growth. Don't get me wrong. I like the consistent earnings and the more recent pattern of predictability; however, when I compare LTC's dividend growth to the stalwart's - Omega Healthcare and Ventas, Inc. (NYSE:VTR) - we see a "super-sized" plan unfolding.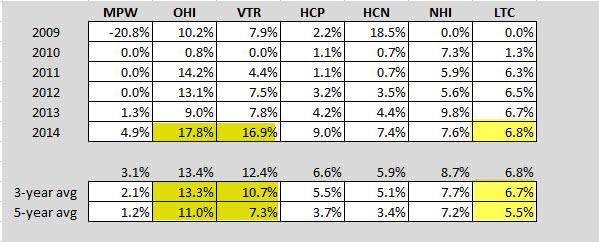 So if I built this REIT from scratch, I would like Omega's dividend growth rate, Ventas' management team, and LTC's balance sheet. To me, that's the perfect blueprint. Meanwhile, I'll wait on a pullback for LTC. Mr. Market has priced in the opportunity and I can't buy anything without a discount. I'll include an entry price in my newsletter this month.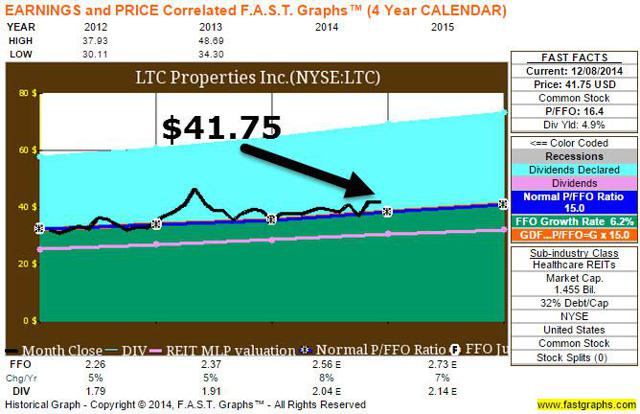 In my REIT newsletter, I provide high-level analysis so that investors can attempt to find an adequate margin of safety. Remember the number one rule of investing: Protect Your Principal at ALL Costs. Subscribe here.
Sources: SNL Financial, FAST Graphs, and LTC Investor Presentation.
REITs mentioned: (NYSE:NHI), (NASDAQ:SBRA), (NYSE:HR), (NYSE:HTA), (NYSE:HCP), (HCN), (NYSE:UHT), (NYSE:AVIV), (NYSE:MPW), (NYSE:DOC), and (NYSE:SNH).
Disclaimer: This article is intended to provide information to interested parties. As I have no knowledge of individual investor circumstances, goals, and/or portfolio concentration or diversification, readers are expected to complete their own due diligence before purchasing any stocks mentioned or recommended.
Disclosure: The author is long O, DLR, VTR, HTA, STAG, CSG, GPT, ROIC, HCN, OHI, LXP, KIM, WPC, DOC, UDF, EXR, MYCC, BX, TCO.
The author wrote this article themselves, and it expresses their own opinions. The author is not receiving compensation for it (other than from Seeking Alpha). The author has no business relationship with any company whose stock is mentioned in this article.