Introduction
A technical apparel maker and retailer, Lululemon Athletica (NASDAQ:LULU) is most well-known for its line of premium Yoga Wear. Following the quality control debacle last year, the company's stock has faced several downturns and hit its 52-week low during the Q1'15 earnings release.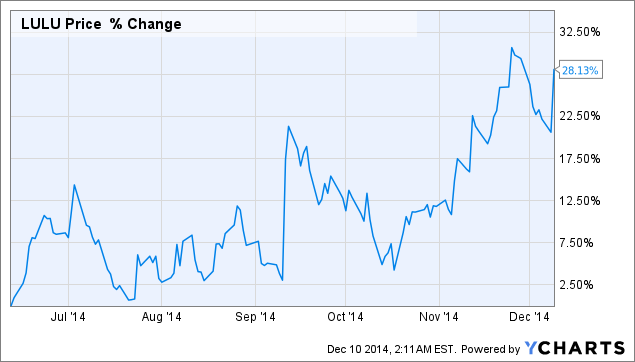 Since then, Lululemon has gained nicely (though remains volatile), up roughly 28% from its apparent bottom. A majority of that momentum can be contributed to the stellar earnings the company reported in the recent second quarter, which beat Wall Street estimates. Investors were relieved as the growth slowdown was not as severe as many were expecting it to be. Let us review that information.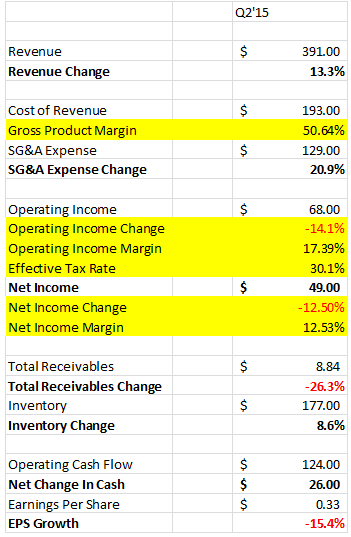 (Numbers in USD Millions)
Source: Lululemon 10-Q Filings
Revenue for Q2'15 grew over 13% to $391 million, beating estimates by $14 million. Earnings per share came in at $0.33, down YoY from $0.39 but beat consensus by $0.04. Inventory levels were well managed and grew moderately to $177 million, or 8.6% increase from Q2'14. Gross margins and operating margins were down from a year ago due to higher costs of seasonal products and expenses related to newly opened stores/showrooms. Breaking down the revenue by segment, we see that corporate store revenues grew 7.4% and generated 75% of total revenue. Meanwhile, the direct-to-consumer channel continued its rapid expansion and grew its revenue by nearly 29%; it generated about 16% of the total revenue for the quarter. Revenue for others, which includes international showrooms and wholesale, rose 55% and made up 8.5% of the quarterly revenue. Despite stronger traffic, comparable same store sales fell 5% as a result of lower conversion rates caused by a suboptimal product assortment.
What can we expect in Q3?
Analysts covering Lululemon have a revenue consensus of $425 million, or an increase of about 12% YoY. Earnings per share are estimated at $0.38, a decline of 16% from the $0.45 management reported in the same quarter of the previous year. While some are skeptical about Lulu's comps turning positive during the quarter, others believe the company has put its woes behind and will focus on growth driving initiatives instead of solving quality control and PR issues.
Like previous quarters, the expectation seems low, which gives Lulu a chance to surprise investors. The estimated revenue growth of 12% is lower than the increase of 13% Lulu witnessed last quarter. In addition, this is the first quarter in which the new product assortments hit the shelves. The new chief product officer, Tara Poseley, emphasized the suboptimal product mix at the stores as the main reason for negative comps and slower sales. She stated back in Q4'14 that the product lines she and her team worked on would not be available until the beginning of Q3'15. Given the influx of fresher designs into the retail chains, traffic and conversion rate should both jump significantly from Q2. With holiday sales and Black Friday performance being part of Q4, I anticipate company guidance for the year end to be relatively strong as merchandise assortment continues to improve over time.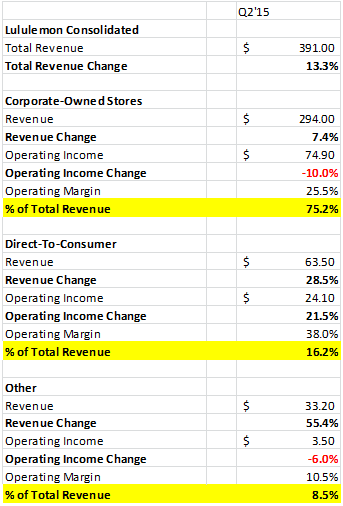 (Numbers in USD Millions, Segment Operating Incomes Do Not Take Into Account "General Corporate Expense", Which Is Included To Calculate Consolidated Operating Income)
Source: Lululemon 10-Q Filings
The growth in Lululemon's E-Commerce channel bodes well for margins. Compared to the corporate stores, the D2C segment has much higher operating margins, nearly 40%. E-Commerce is expected to continue growing at a rapid pace and recent data reported by UBS and Comscore supports that. The much higher margins combined with outpacing sales growth should accommodate the new product launches, negating any weaknesses in the overall retail environment. Another positive sign comes from Lululemon's sister brand, Ivivva Athletica. The Ivivva brand focuses on activewear for girls and performance at its retail stores has been exceptional. In the previous two quarters of FY15, comps have increased by 39% and 36%, respectively. The number of Ivivva stores in Q2'15 doubled from a year ago to 18, accounting for approximately 6% of the total corporate store count. Considering the small revenue stream, Lulu's sister brand won't likely have much of an impact on the financials. More importantly, however, the Ivivva brand is excelling at its role of molding young girls into the next generation of Lululemon shoppers.

Source: Lululemon 10-Q Filings
Besides Ivivva, the company has opened up 5 more stores outside of North America since Q2'14. The store count in non North America regions is 31, or 11% of total corporate stores; Australia accounts for 25 of the 31 stores. International expansion thus far has been slow as most new openings are in the United States. While showrooms exist in a handful of regions, the company plans on taking it slowly in converting them to retail chains. The good news is, demand outside N.A. seems to be strong. The newly opened Lululemon in London is expected to reach $3 million in sales in its first year, with a second store opening at Chelsea in Q4. Nonetheless, it should be taken with caution since this is only one store. The limited data does not give us adequate judgment on how Lululemon will fare in other regions. Lastly, the men's business is also doing a solid job with comps up 5% this past quarter. The first men's only store opened in Soho, New York this month.
Final Takeaway
For those of us who were fortunate enough to have bought the dip back in June, we have profited nicely. I believe there is still upside left through the remaining two quarters of FY15. The low expectation of 12% revenue growth gives Lululemon a great chance of exceeding it. The D2C channel is continuing its fast growth while maintaining high margins. Factor in the new product launches and improved inventory control, the near-term situation looks favorable for Lulu. However, the long-term picture is still ambiguous. International expansion has been slow and management does not intend on speeding up the process of opening more stores outside North America. The responses from the London store was encouraging but does not give adequate sample size. Gross margins remain a challenge. The higher cost of newer, more elaborate designs and seasonal products deters the company from its mid 50s margin goal. Moving forward, expenses associated with opening new stores will contribute to a lower bottom-line. Ultimately, Lululemon remains a "show me" story. Investors need to take notice of what management says in the following quarters' transcripts and decide for themselves whether Lululemon is a good long-term hold.
Disclosure: The author has no positions in any stocks mentioned, and no plans to initiate any positions within the next 72 hours.
The author wrote this article themselves, and it expresses their own opinions. The author is not receiving compensation for it (other than from Seeking Alpha). The author has no business relationship with any company whose stock is mentioned in this article.