When it comes to investing, there is nothing more exciting and gut wrenching than the speculation side of the house. Nowhere is the volatility more entrenched than the healthcare sector. Small little biotech and medical companies all working on breakthrough technologies to treat such ailments as cancer, cardiovascular disease, weight loss, and a host of other conditions that plague the human race. If successful, these companies' market caps can run wild and turn small investments into outsized gains. A failure to deliver and the company's entire market value can be wiped out overnight, along with any investor unlucky enough to still be holding the shares.
What is most interesting is that you will see lots of investors play in this arena and spend billions of dollars on the gamble, but you will not see them enact any downside protection. Sure they will try and put stops in place but these are of limited value in this space. Often being news or event driven, the stocks will react at a very rapid pace making the use of stops almost worthless and even detrimental in some instances. For example, consider this stock in the graph below: (Click to enlarge)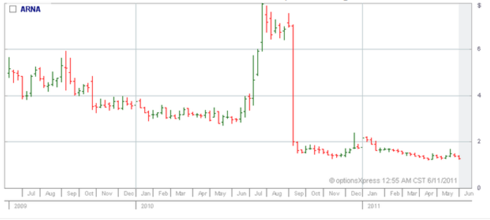 This is a chart for Arena Pharmaceuticals (NASDAQ:ARNA). Notice the date 9/13/2010. The high for the stock was $7.07 with the low of $1.85. It was at this time that the FDA made mention of diagnostic uncertainly pertaining to mammary tumors in rats. That was all that investors needed to hear before they headed for the exits en masse.
Another great chart to study on how fast investments can go bad is the company VIVUS Inc. (NASDAQ:VVUS). See below: (Click to enlarge)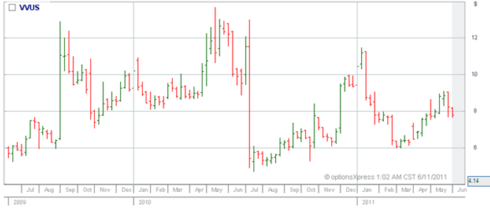 It was in early July of 2010 that a panel of experts advised the FDA with a 9-7 vote that Vivus' experimental weight loss drug shouldn't be cleared for sale in the U.S. The FDA panel essentially said that the negative effects on concentration and memory outweigh the weight loss benefit offered by the drug.
Lastly, consider the chart for Orexigen Therapeutics, Inc. (NASDAQ:OREX). (Click to enlarge)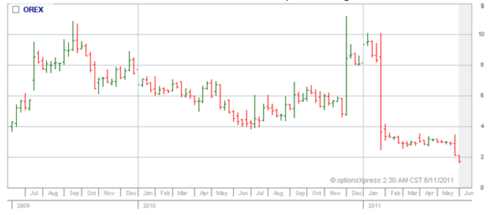 In later January of this year (2011) the FDA communicated a concern or issue with Orexigen's drug (Contrave) and how there might be problems with cardiovascular risk. The stock took a crushing blow and then it was all over for anyone left holding the shares.

Any one of these stocks would have been heartbreaking to own. The question is how to minimize the risk and loss when one is investing or speculating in stocks like these. In the above situations, the use of stops would probably not have helped as the price drops were so fast that by the time the stop was executed all the value was gone.
The obvious choice here would be the use of the put options. Having puts on your investments is one way to mitigate the risk. Investors should have at least a working knowledge of and access to puts. Of course the devil is in the details, so let's look at Arena again and see how the puts might have helped. See the letter descriptions below for details.
A – Here is where an initial investment might have been made around the $3 per share mark.
B- The stock has appreciated to $8 at this point in anticipation of an FDA ruling. One has over a $5 profit built into their shares now. Buying a $5 put would have been ideal at this point. Volatility is high at this point so the puts would be expensive but still worth it. Let's say the $5 put could be purchased for $1.50.
C – Shares plummet to around $1.60 a share, but let's see how well our puts worked out. You have invested $3 (your initial purchase) and $1.50 for the puts, so your total investment was $4.50 a share. After the collapse, your shares are now worth $1.60 but the puts are worth $3.40 ($5 strike – ending price $1.60). So your total value is $5.00 ($1.60 + $3.40) a share; a small gain was made on a bad situation.
Of course this is a simplified example but it is based upon a real trade. Even if the puts would have been more expensive to purchase, the trade would have still been in your favor as the puts are going to limit your losses much better than a stop ever could. If the situation had been reversed and the stock appreciated, then the $1.50 puts would have expired worthless. But the overall gain in the share price would have more than made up for the loss on the put purchase.
Lastly, let's consider a stock that is more mainstream and less speculative in nature. That stock is Nokia Corporation (NYSE:NOK). (Click to enlarge)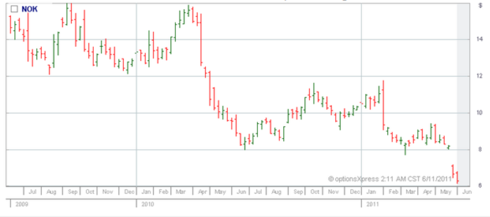 As bad news and competition from the likes of Apple (NASDAQ:AAPL) started to have dire effects on the stock price, shareholders should have considered the puts to minimize the risks. In this instance the purchase of puts would have protected one's investment from the carnage that was to come. As Nokia's price per share started to trend ever downward, a put purchase placed out over several months would have been the best course of action and might have been a very profitable affair.

In conclusion, it is easy to see that puts should play a vital role for any investor who is involved in equities. Whether speculation or investing for the long term hold, puts can keep one's risk at bay and protect an investor's capital.
Disclosure: I have no positions in any stocks mentioned, and no plans to initiate any positions within the next 72 hours.
Chart Disclaimers: Data and information are provided "as-is" for informational purposes only, and are not intended as investment advice, tax advice or legal advice. All data and information are provided by optionsXpress Holdings, Inc., and optionsXpress, Holdings Inc. does not endorse or warrant the validity or accuracy of such data and information. Nor is optionsXpress Holdings, Inc. liable for any errors or delays in the data and information, or for any actions taken in reliance thereon.
optionsXpress makes no investment recommendations and does not provide financial, tax or legal advice. Information accessed through this website and any link contained therein does not constitute a recommendation to buy or sell a particular investment from optionsXpress. You are solely responsible for your investment decisions, and you should carefully evaluate the information to determine whether it is right for you and use of such information is suitable for your objectives.