More than four months ago, I predicted that First Internet Bancorp (NASDAQ:INBK) was on track to return to growth in the second half of the year. The company did not disappoint and reported a very strong third quarter in late October.
Blowout Quarter
Q3 was indeed a blowout quarter for the company. Even though net interest income of $5.67 million missed consensus estimate of $5.85 million slightly by 3%, pretax net income of $1.94 million exceeded consensus ($1.23 million) by 58% while net income beat by 50% ($1.28 million actual versus $0.85 million projected). And EPS diluted of $0.28 was 47% above consensus estimate of $0.19.
The 3% miss in net interest income was largely due to the timing of certain commercial loans, as the company explained below.
A significant portion of the production did not close until late in the quarter, so the impact on average loan balances for the quarter was minimal but does leave us well positioned to continue our trend of strong net interest income growth entering the fourth quarter. Furthermore, the pipeline of commercial originations at the end of the third quarter was up substantially over levels as of June 30, 2014.
A credit recovery of $0.459 million (pretax) and gain on sale of securities of $0.054 million (pretax) helped boost net income, more than offsetting a $0.14 million (pretax, calculated) or so salaries and benefits charge during the quarter. Excluding these special items, however, pretax income ($1.57 million) would still have beat consensus by 28%, net income ($1.036 million) by 22% and EPS diluted ($0.23) by 21%.
Year-over-year, net interest income grew 30%, noninterest income 18%, revenue 27%, net income 76%, and EPS diluted 12%. The much subdued growth on EPS compared to net income was due to the dilutive impact of a secondary public offering conducted in 4Q13. Excluding special items, net income would still have grown 42%. However, EPS diluted would have declined 8%, again due to the dilutive impact just mentioned.
Charted below are the key income metrics (EPS scale on right axis, the rest on left) from 1Q11 through 3Q14. A few observations can be made from the chart: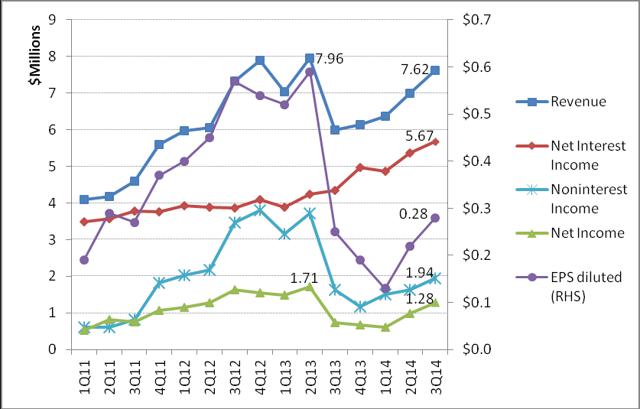 Net interest income continues to make new highs.
Noninterest income is picking up. In fact it has quietly grown QoQ for three quarters now.
Revenue ($7.62 million) is now within striking distance of historic high ($7.96). If QoQ revenue growth in current quarter (Q4) can reach just a bit more than half of the incremental growth ($0.621 million) in Q3, a new high in revenue would be attained.
EPS bottomed in Q1.
It should be quite clear from the right hand side of the chart that all the metrics are now back to a solid uptrend.
Below I have charted efficiency ratio (left axis), ROAE (right axis) and ROAA (right axis) from 1Q11 through 3Q14. Again, it should be quite clear from the right hand side of the chart that all the metrics, efficiency ratio and ROAE in particular, are now back on an improving trend. The efficiency ratio would have been about 74% had it not been for the one-time, staffing-related salaries and benefits charge.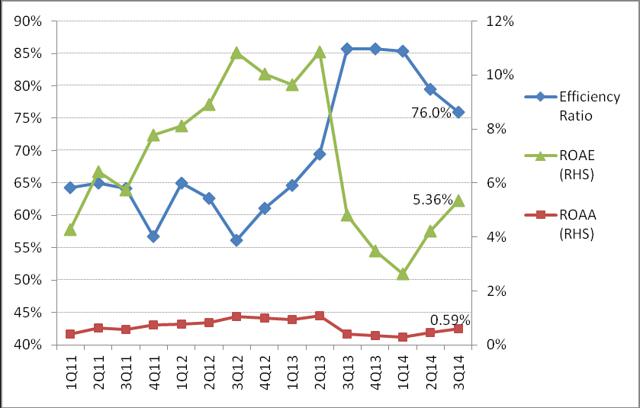 The fact that efficiency ratio effectively dropped 500+ bps from Q2's 79.5% to 74.1% (ex. charge) in Q3 indicates that operating leverage is well going. This is because a declining efficiency ratio implies that operating expenses are growing at a slower pace than revenue growth. This is particularly remarkable for Q3 because, contrary to my previous prediction that hiring has come to a stop, the company actually added 8 employees in Q3 on a full-time equivalent (FTE) basis. The number of FTE employees was 138 at the end of the quarter and salaries and benefits grew almost 11% compared to Q2. This is shown in the following chart (FTE employees are on right axis, the rest on left). Contributing to the 11% sequential increase in salaries and benefits expense was also the aforementioned one-time, staffing-related charge of roughly $0.14 million.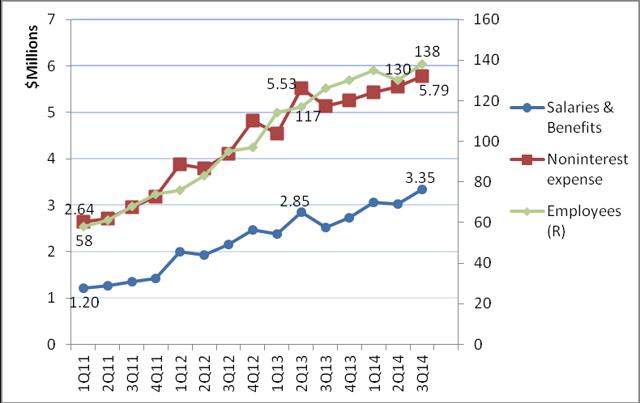 The company did not fully disclose what area those 8 additional FTE employees were in. But it did mention that it added sales personnel for purchase mortgage banking business since Q2. Besides, it recently launched an Indianapolis-based origination effort to complement its nationwide, award-winning online origination platform.
There Was A Mortgage Boom At INBK
OK, that's an exaggeration. But here are a few numbers that you could look at to draw your own conclusion.
According to MBA (Mortgage Bankers Association), total 1-4 family mortgage origination volume was $300 billion nationwide in Q3, compared to $297 billion in Q2 and $469 billion in 3Q13. This translates into 1.01% QoQ growth and -36.1% YoY, respectively.
At INBK, loans (mainly residential mortgage) originated for sale came in at $123.7 million in Q3, compared to $85.0 million in Q2 and $94.2 million in 3Q13. This translates into 45.5% QoQ growth and 31.3% YoY growth, respectively.
Accordingly, mortgage banking income in Q3 came in at $1.638 million, compared to $1.229 million in Q2 and $1.299 million in 3Q13. This translates into 33.3% QoQ growth and 26.1% YoY growth, respectively.
So, by either measure it appears that INBK's mortgage banking business fared much better than the nation as a whole. In other words, INBK was gaining market share in mortgage banking. Should this trend continue it would bode very well for the stock. This is because that mortgage banking income is a type of noninterest income and a more efficient way of growth than interest income. Noninterest income growth demands less balance sheet expansion than interest income does. Over time it tends to enable higher return on equity. Investors consistently reward higher valuation to financial institutions that have extensive noninterest income, typically fee income (though mortgage banking income is technically gain on sale of mortgage loans).
The reason the stock shot up to mid 30s in the summer of 2013 was due to the mortgage-banking-driven growth that pulled in a higher premium on the stock. The stock crashed subsequently owing to the evaporation of the vast majority of this noninterest income source. So, if the company succeeds in regaining its mojo on mortgage banking business, investors will probably return in droves and bless it with a much higher valuation than it currently receives.
Therefore, recapturing its glory in mortgage banking certainly appears to be the best capitalization on the company's existing infrastructure and resources. The challenge of course is the stubbornly tepid recovery of the housing and mortgage market nationwide. As can be seen from the following bar chart, MBA is projecting only modest mortgage origination growth in the next two years, 2015 and 2016, with modestly strengthening purchase mortgage origination partially offset by declining refinancing origination volume.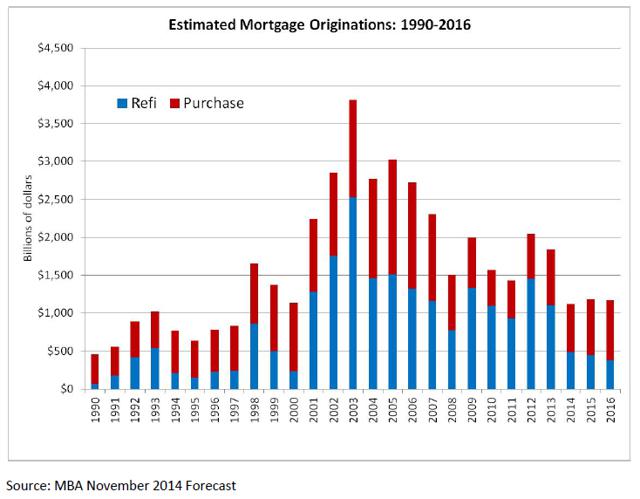 And that's exactly why the company must continue to outperform the mortgage industry and gain market share as it did in Q3. Given the expected declining refinancing volume in the future as economy gains strength and mortgage rates climb higher, the focus should clearly be on home purchase mortgages. And that's exactly what management has done so far.
Management has clearly demonstrated its ability to execute, when you look at both the exceptional mortgage banking revenue growth in Q3 and the strategies it has put in place in recent quarters. The following was what it had to say in the Q3 earnings release:
Over the last 12 months, the Company has increased its sales and marketing efforts related to purchase mortgage business and has added sales personnel since the second quarter following a restructuring of its mortgage operations earlier in the year. Furthermore, it recently launched an Indianapolis-based origination effort to complement its nationwide online origination platform. As a result, origination activity has increased throughout the year with third quarter originations increasing 23.2% compared to the second quarter.
So the outperformance of mortgage banking business in Q3 did not come by accident. Management's refocus strategy on mortgage banking should have lasting impact into the future, as is evident in management's low-tone characterization:
Our strategies to diversify sources of mortgage banking revenue should provide stability, with upside potential, in noninterest income to complement our balance sheet and spread income growth.
The improving market share of INBK's mortgage banking business, as approximated by loans originated for sale as thousandths of the nation's mortgage origination volume (per MBA), can be seen (right axis) in the following chart. The market share (as defined herein) was back up to 0.4 thousandths level in Q3. The highest mark was reached in 1Q13 when it approached almost 0.5 thousandths. (In the chart below, "Orig. FS" was short for "loans originated for sale").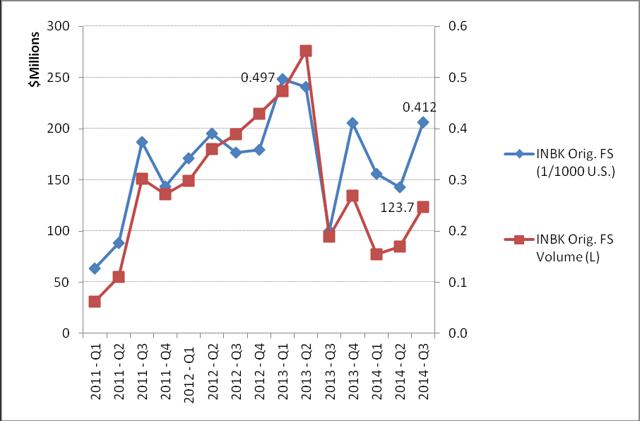 It should be noted that loans originated for sale might not be a perfect measure of INBK's residential mortgage origination volume, as was evident from the discrepancy in QoQ mortgage origination growth rate cited above. Loans originated for sale grew 45.5% QoQ whilst the company explicitly stated that "third quarter originations increased 23.2% compared to the second quarter." Another source of weakness of the market share measure defined above is the inaccuracy of the MBA national origination data which are subject to revision from time to time.
But its imperfection noted here should not prevent us from using this market share measure as a way to look into the trend of mortgage banking business at the company, as long as we use it alongside the company's actual mortgage banking income itself. And as you can see from the chart below, loans originated for sale (left axis) has quite good correlation with mortgage banking income (right axis).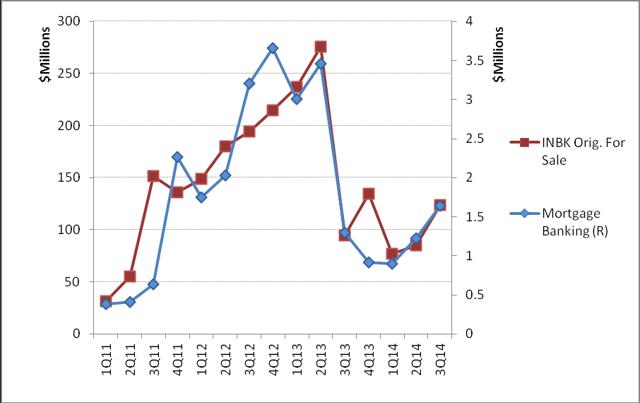 When we look at the overall trend from the charts above, it appears that INBK is gaining and consolidating mortgage banking market share. Combining this with the steadily improving mortgage banking income in the past two quarters after bottoming out in 4Q13 and 1Q14 as well as the refocusing strategy implemented by the company, it appears reasonable to expect the mortgage banking market share to climb gradually and break above 0.5 thousandths level in coming quarters.
Cost Of Funds, Earning Yield, And Net Interest Margin
Competing online for customer deposits is rather costly. Big players like Synchrony Financial (NYSE:SYF) and Discover Bank (NYSE:DFS) often offer ridiculously high rate to lure consumers simply because they make much more on their high-yield loan products. You also have to compete with other types of banks with scale, e.g., Bank of America (NYSE:BAC), JPMorgan Chase (NYSE:JPM), Ally Financial (NYSE:ALLY), CIT Bank (NYSE:CIT), and big regional banks like PNC (NYSE:PNC). And then there are other online banks and everybody else.
As a branchless bank, INBK has no way to totally avoid the fierce competition online. But that does not mean that there is no way to mitigate its negative impact on cost of funds. One way to do this is to take advantage of the lower-cost funding source like FHLB (Federal Home Loan Bank) advances. And that's what management is undertaking to do currently.
At the end of Q2, INBK only had FHLB advances of $21.845 million and had the ability to borrow an additional $96 million in FHLB advances and correspondent bank fed funds line of credit draws.
In late Q3, it added FHLB advances of about $65 million, mostly maturities of one year or less. This brought the total balance of FHLB advances to $86.871 million at the end of quarter. In addition, the company had the ability to borrow an additional $231 million in FHLB advances and correspondent bank fed funds line of credit draws.
In Q3, the WAIR (weighted average interest rate) on advances from FHLBI (Federal Home Loan Bank of Indianapolis) of contractual maturity of a year or less stood at 0.64%, which compared favorably to the average cost INBK paid in the same quarter on CDs and brokered deposits of 1.48% and the 1% rate INBK is paying currently on 1 year CD to lure new customers online. Besides, rates on FHLB advances are determined on a case-by-case basis. So there's definitely a chance that INBK was getting a deal better than the WAIR (of 0.64%) suggested.
FHLBI does not seem to publish up-to-date rate info (other than the WAIR mentioned) on its website. But I suspect that its current rate schedule looks quite like this, this, or this.
In addition to taking advantage of the more affordable rate offered by FHLB, INBK also made effort in the quarter to optimize its deposit base. It reduced the expensive time deposits by $14 million while expanded non-maturity deposits by $8 million. In particular, non-interest-bearing deposits grew $1.3 million, bringing it to 2.8% of total deposits from 2.5% as of the end of 2Q14.
For the first three quarters of 2014, INBK's cost of funds has remained largely flat, i.e., at 1.25% in Q1 and 1.21% for both Q2 and Q3. The measures taken in Q3 have not come into full play yet. As pointed out earlier, the $65 million FHLB advances were made late in the quarter so they impacted only part of the quarter. The same might be true for the incremental optimization of deposit base.
The optimization made on deposit base was still quite limited in scope. But this is a baby step in the right direction. If management succeeds in making similar adjustment quarter after quarter the cumulative result will be significant one day.
On the yield on interest-earning assets, it has improved for the past two quarters. The earning yield was 3.63%, 3.70%, and 3.76% for first three quarters of the year, in time order. Net interest margin has improved accordingly given the flat cost of funds mentioned above. It was 2.51%, 2.61%, and 2.68% for Q1, Q2, and Q3, respectively. Net interest margin of 2.68% in Q3 was also an improvement from 2.59% in 3Q13.
Contributing to the sequential earning-yield improvement in the past two quarters was the continuing downsized securities holding that helped partly fund the loan growth. Compared to Q1, the average balance on the securities holding in Q3 was down about $109 million. In Q3, the securities holding was reduced $31.3 million though its impact on average balance was only partial in the quarter. In the past four quarters, the securities holding was cut down by $88.5 million.
The following chart displays the cost of funds, earning yield, and net interest margin trend in the last four years or so.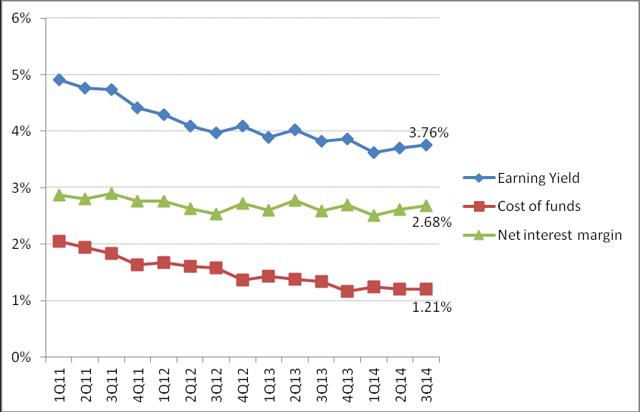 Rapid Growth Without Sacrificing Core Capital Ratio
In the quarter, total assets grew 25.5% YoY and 6.8% QoQ while net loans grew 59% YoY and 10.2% QoQ. Deposits grew 15.9% YoY but fell slightly QoQ by 0.8%. The slight sequential decline in deposits was a result of management's effort to replace some high-cost CDs with cheaper source of funding, as discussed in the last section. The changes in total assets, net loans, and deposits in each quarter since 1Q11 were shown in the following chart. They were in million dollars and the scale was on the left axis.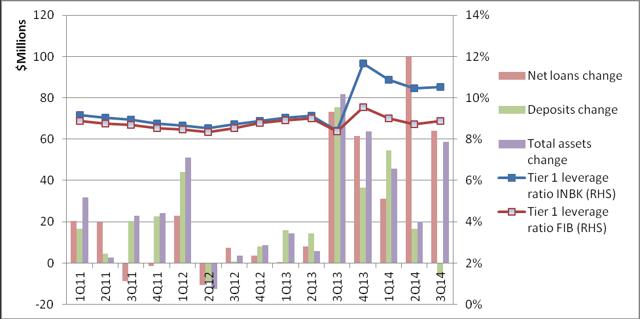 Also shown in the chart above were tier 1 leverage ratio (scale on right axis) at both the bank (FIB, or First Internet Bank of Indiana) and the bank holding company (BHC, i.e., First Internet Bancorp or INBK).
As you can see, Q3 stood out in growing assets briskly while also improving tier 1 leverage ratio at both the bank and the BHC level. The ratio at the bank level improved 15 bps from 8.72% in Q2 to 8.87% in Q3. The same ratio improved 7 bps from 10.45% in Q2 to 10.52% in Q3.
What made this possible was the unusually strong net income (and hence retained earnings) and the late timing of asset growth in the quarter. The former boosted core capital (tier 1 capital), while the latter kept average total assets low in the quarter. In tier 1 leverage ratio, core capital goes to the numerator while average assets go to the denominator.
The special items discussed earlier also helped boost net income and core capital during the quarter. But my simple math indicated that their impact was only 2 or 3 bps on the BHC level core capital ratio. Excluding their contribution, the tier 1 leverage ratio would still have been close to 10.50% in Q3 (which would still have been above the Q2 level).
In Q4 as average assets climb and net income unlikely to be much higher than Q3 the core capital ratio might decline. But investors should not panic about this (and actual capital ratio also depends on timing and size of asset growth in Q4). Rapid growth often does come at a cost. So you are recommended to focus on the longer-term value being created by the sustained growth. Also, as net interest margin improves and mortgage banking income plays an increasing role down the road, the core capital ratio decline should moderate or even improve again alongside growth. So, take Q3 as a preview of good things to come in the long run.
Book Value Improvement Muted
In Q3 shareholders' equity, book value per share, and tangible book value per share only grew slightly from Q2. They were $94.774 million, $21.35, and $20.29, respectively. This compared to Q2's $94.534 million, $21.25, and $20.19, respectively.
Given Q3's strong net income growth, this was a disappointment to some. The culprit was largely due to an unrealized holding loss from the available-for-sale securities. This led to a roughly $0.22 per share of haircut in equity on the book. Excluding the unrealized loss, book value would have been $21.57 a share and tangible book value $20.51.
Improving Shareholder Communication
The company made an effort to better shareholder communication by using a new format for its earnings release in Q3. The new format did a better job of explaining key events, accounts and metrics. It also provided a host of quantitative information available only in 10-Q filings in the past. This included summary financial info, average balances and rates, composition of loans and deposits, and certain non-GAAP financial measures. This brings its earnings release one step closer to the practice of larger banking institutions.
The enhanced shareholder communication coincided with the arrival of a new CFO in Q3. Also, the company has provided more timely and useful helps to investors lately. New CFO Ken Lovik responded to email inquiries promptly and patiently.
That's all great news. But I'm hoping this only marks the beginning of improved shareholder communication at the company. As such, I strongly urge the company to improve further in two more areas.
Firstly, publish a longer term target on ROAE, efficiency ratio, and growth target. This is actually a quite common practice among financial institutions. For example, INBK's competitors BofI Holding (NASDAQ:BOFI) and Ally Financial both have adopted this practice. BofI publishes its financial targets on efficiency ratio, ROAE, total assets or average earning assets right in its 10-Ks. And this practice dates all the way back to 2005, when the stock began trading on Nasdaq. Ally publicly stated targets on ROTCE run rate and Adjusted Efficiency Ratio in its earnings presentation.
Secondly, incorporate interest rate sensitivity analysis into quarterly and annual SEC filings. In particular, how instantaneous parallel shift (of varying magnitude) in treasury yield curve would impact net interest income and economic value of equity.
I believe such communication techniques are particularly important for a small banking institution like INBK. They should serve to help investors price the stock to the full valuation it deserves based on its present growth path and future expectations.
Looking Into The Future
First off, Q4 should turn out to be another robust quarter. Just recall that the back-end-loaded CTL loans in Q3, and indeed all the $64 million loans added to the portfolio in Q3, will contribute to a full quarter of interest income in Q4. The company also highlighted that the pipeline of commercial origination at the end of Q3 was up substantially from the end of Q2. Mortgage rate has been lower in Q4 than Q3, which bodes well for refinancing business. This, combined with the company's intensive effort in home purchase mortgage, should help to offset the seasonal weakness (20.5% QoQ decline projected by MBA) in purchase mortgages in the quarter.
Subsequent to the Q3 earnings release, analysts have boosted Q4 EPS expectation from $0.23 to $0.27. Recall that Q3's EPS of $0.28 was boosted by one-time items which had a total impact of $0.05. So, a $0.27 in Q4 in effect would be a de facto growth of 17% over Q3.
Looking into 2015, the new C&I lending operation in Tampe, Arizona and ABL business in Portland, Oregon should start contributing meaningful revenue. The strengthening macro economy improves the prospects of rising rate starting in mid year. INBK has a huge base of adjustable rate residential mortgage and commercial loans which are indexed to prime rate. Rising short-term rate should boost net interest margin. The company's huge base of non-maturity deposit base and ongoing optimization effort on cost of funds should help too. Mortgage banking business is gaining market share and should help enhancing earnings while enabling more subdued balance sheet footprint prospects. Also, mortgage industry as a whole might even surprise to the upside in 2015 or 2016, compared to MBA's current projection. All in, investors should look forward to continued robust growth on gradually more subdued cost on core capital.
The branchless banking model does have a disadvantage in terms of cost of funds, when compared to the branching model. But management's effort mentioned earlier and a more favorable rate environment will combine to narrow the gap. Moreover, the branchless model has competitive advantages in terms of operating efficiency although that has not shown up yet due to historical reasons (in particular the refinance fiasco more than one year ago). But the company is gradually catching up with the operational advantages inherent in its business model. As its efficiency ratio normalizes and the operation scales up, those advantages will become more evident. Mr. David Becker (CEO and Chairman) sees efficiency ratio eventually in the low 40s when his operation gains enough scale down the road.
Final Remarks
To sum up, INBK delivered a blowout Q3 with phenomenal growth while also enhancing the core capital ratio (tier 1 leverage ratio). There is a confluence of tailwinds on the back of this company in the coming quarters and years. These include (1) ongoing effort to reduce cost of funds, (2) a rising-rate macro environment that should help improve net interest margin, (3) refocused mortgage banking business that's gaining market share, (4) new C&I and ABL businesses that will contribute revenue starting in 2015, and (5) management's commitment to grow this company into a multi-billion-dollar financial institution. Given these favorable factors, EPS, efficiency ratio, and return on equity are all going to improve significantly down the road.
This turnaround banking story is now firmly taking shape, which bodes well for a robust 2015 and beyond. However, at the recent closing price of $16.97 (as of 12/9/2014), the stock was only trading at 0.79x book value and 0.84x tangible book value. For those investors who are not myopic and can look beyond the past and the present, this stock represents a true bargain.
Disclosure: The author is long INBK, ALLY, DFS.
The author wrote this article themselves, and it expresses their own opinions. The author is not receiving compensation for it (other than from Seeking Alpha). The author has no business relationship with any company whose stock is mentioned in this article.
Editor's Note: This article covers one or more stocks trading at less than $1 per share and/or with less than a $100 million market cap. Please be aware of the risks associated with these stocks.