By Dean Popplewell
Just when you thought it was safe to go back into the water, along comes another wave of negativity that is hurting the less nimble of investor as capital markets prepare to close out an extraordinary year.
Disappointing data from the newly crowned world's largest economy, China, coupled with other global geopolitical (Greece formally requested a bailout extension) and economically challenged hot spots (Russia, Europe, Japan and commodity sensitive countries), is inciting another round of negative momentum trading that is sure to ruin this month's festivities for many investors. The market's biggest challenge over the remaining few weeks is not the data itself, but it is liquidity, or rather, the acute lack of it. Expect low trading volumes, akin to this time of year, to exaggerate market moves across the varying asset classes.
Is there a Big Year-End Squeeze in the Making?
This week's mighty dollar moves will have heightened the risk of an even bigger year-end squeeze. The dollar losses have been minimal, when compared to the "buck's" astonishing gains in the last few months, and given the excess of speculative risk. The market still has the potential to whip up all the ingredients for a much larger move. But, will the market get it? Due to the success of the long dollar strategy, many continue to buy USDs on dips. Some "longs" will have been pared, but the event risk indicates that the market remains "very" long dollars and is happy to add. This week's fallout will have some wade to the sidelines and wait for the New-Year "turn" – this could lead to fast declining liquidity. Follow US Treasury yields to gauge market risk aversion. Since last Friday's surprisingly strong NFP headline and details, US 10-year yields have declined -14bp. No matter what, fast, furious and volatile should be capable of covering market expectations for the remaining few weeks.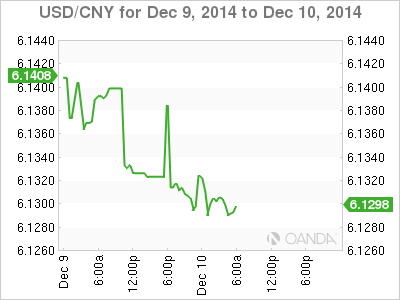 China CPI falls to 5-year lows
Disappointing overnight Australasia data has again managed to keep the down-under and the Asian markets very much on their toes. Despite some of the regional bourses printing some of the largest intraday losses in a number of years earlier this week, the overnight activity does not come without its own headaches; nevertheless the session is notably more benign.
China CPI has slowed to a new five-year low of +1.4%, while PPI has fallen by its biggest year-over-year rate in 18 months. Not a surprise to see that slowing consumer inflation was/is attributed in part to the continued fall in oil prices (crude has fallen -18% this month, and Iran predicting $40bd with OPEC discord). Also weighing on the headlines is the non-food component slowing to +1.0% from +1.2%. With the "disinflation" theme remaining intact, China's inflation lower than expected, renewing the markets in the possibility that PBoC will act (cut rates or RRR) as soon as possible, even as early as this month. The daily deluge of weak data is creating a central bank/investor foreign exchange rift. A battle in China's currency markets that has emerged over the past few days, with traders attempting to push the yuan weaker, while the PBoC is attempting to guide the tightly controlled FX rate stronger. Currently, expect this story to have stronger legs.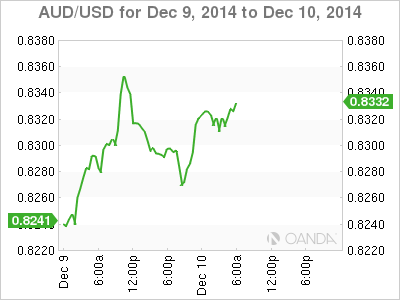 Aussie temp cools, Kiwi's will know later
China, not surprisingly, is Australia's largest trading partner and if the world's largest economy happens to sneeze, the regional economies' temperatures are taken. Data released overnight indicated that Australia's Westpac consumer confidence has slumped to its lowest level in over three years. Analyst remarks indicated consumers concerns over job security. A fear over a bout of future job losses will always pose a meaningful risk to consumer spending patterns. The commodity and interest rate sensitive country and currency will, like most other currencies, be greatly influenced by happens with China (AUD$0.8327). This is what makes it exciting for traders.
The Kiwi's RBNZ will take center stage later this afternoon. As the market heads into the rate announcement the fixed income market is forecasting +67% chance of a hold on rates by Governor Wheeler, up from +62% before the last decision. A more neutral RBNZ statement would likely put further pressure on the Kiwi (NZD$0.7704), with market expectations previously anticipating renewed tightening in the first-half of 2015. Already today, the world's most powerful dairy co-op., New Zealand's Fonterra (owned by +13k farmers) has cut its FY14/15 payout forecast for farm gate milk prices, citing geopolitical uncertainty and subdued demand from China amid elevated inventory levels.
The RBNZ and the SNB are the two central banks that the market is trying to get a handle on this week. While this is ongoing, dealers globally are still debating whether the Fed might use next week's two-day meeting to soften its guidance language given the continued strength seen in US economic data. Like a jigsaw puzzle, investors are attempting to put the pieces together. Currently, it feels like all attempts are been done in the dark, especially with what China has been able to come up with of late. Even the renewed political concerns in Greece, and associated worries over its commitment to economic reform, will continue to have a mighty impact on the EUR (€1.2378) and USD final destination. No matter what, investors will be kept interested.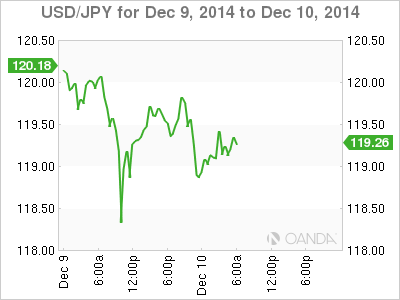 Is it Easy Street for Abe?
Even the Yen is not immune to the ongoing global events. Japan's political indecisions have voters worried about their own exchange rate. The USD/JPY pair outright (¥119.33) is under some pressure, but is attempting to consolidate the sharp USD fall to the ¥118 handle (¥118.37) overnight. General elections are this Sunday and reports indicate that voters are showing concerns over the excessive decline in their own exchange rate. Perhaps PM Abe need's to acquire more votes – there have been suggestions that the Japanese government should include measures dealing with the adverse effects of weak yen in the economic stimulus. Nevertheless, perception is everything, current report indicate that the ruling LDP/Komeito coalition could actually come away with a "super-majority" on election-day Sunday, with more than 2/3 of seats in lower-house of Parliament.