As of today, Intel (NASDAQ:INTC) stands at roughly $22 per share, almost the same level that it crossed in July 1997. The stock has been dead money for 14 years and counting. However, is this the time to consider purchasing Intel for what may be another move up not seen since the end of 1990s?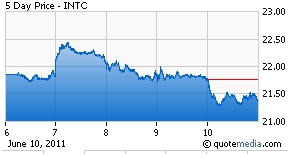 Looking at the fundamentals of Intel, we know that Intel's management is able to return well over 15% on its investments, with a profit margin of 26%. The market cap of Intel is three times larger than its nearest competitor Texas Instruments (NYSE:TXN), and 20 times larger than Advanced Micro Devices (NASDAQ:AMD). When we compare its operating margin of 35% to that of the industry average of 10%, it is hard to argue that Intel is not top dog.
From the growth perspective, Intel certainly has a history as a class leader and as a solid steward of shareholder profitability. Since 2006, Intel has provided investors with only one unprofitable quarter that was in Q2 of 2009, during what many consider to be the "generational market bottom." Intel stands to reap the benefits of its capital investments spent over the past several years. The expenditures have laid the groundwork for newer and more innovative products. Due to this, they are hands down the leader in the core chip business with very little competition. Intel's willingness to venture outside the core chip business and to compete in faster growing niche chip segments once dominated by other companies should drive growth further. Therefore, it's wise not to bet against Intel, and we believe revenues will rise at a rate higher than Intel's historical growth rate.
But this is only one part of the story. Intel is even more compelling from the value side as it trades at 10x forward earnings. This is clearly lower than many other technology companies, but then again, many now classify Intel as a mature company. The stock is yielding 3.3% with a debt rating of A+, which many argue is higher and perhaps more "sound" than the US Treasury's debt at this point. If one has a long-term time horizon, then it would make sense to hold Intel stock as if it were a bond.
At the current price, and taking into consideration the end of the Federal Reserve's QE-2 campaign, we could see the stock trade down to below $20 per share. This would represent a bargain, as the yield would then trade at roughly 3.8%. Intel could also be seen as a flight to safety during the next "Black Swan" event always lurking around the corner. If the recent boom in the commodites markets continues, coupled with the falling dollar, Intel could act as an inflation hedge. So is it fair to compare Intel's 10x forward P/E and a 3.8% yield to that of the safety of a 10-year US Treasury Bond? You be the judge.
Disclosure: I have no positions in any stocks mentioned, and no plans to initiate any positions within the next 72 hours.