We review short interest trends in the S&P500 to reveal which sectors have fallen out of favour among investors over 2014.
A record breaking year
The S&P is currently reaching all-time highs on an almost daily basis, recently touching above 2050 points. We analyse short interest changes throughout the year across sectors and individual companies to see where market participants have placed their bets for the close of 2014. Overall, the S&P500 index has delivered returns of 13.6% year to date and 16% over the last twelve months.
Average short interest across the S&P has remained relatively flat over the year at 2.1%, peaking at 2.4% in October. This was followed by an overall decline, before enjoying a recovery towards the end of the year.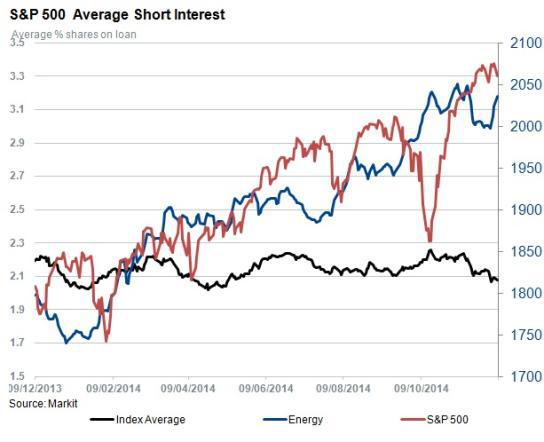 Oil stocks see surging short interest
The most compelling story of the year is undoubtedly the decline in oil price from a mid-year high of $115 for Brent crude in June to a current $65 price level.
Unsurprisingly, securities lending data reveals that the energy sector's average shares on loan has grown significantly throughout the year. Short interest in energy stocks on average has grown by 81% to hit 3.2% since the beginning of the year. This contrasts to the beginning of the year where energy stocks saw less short interest than the index average.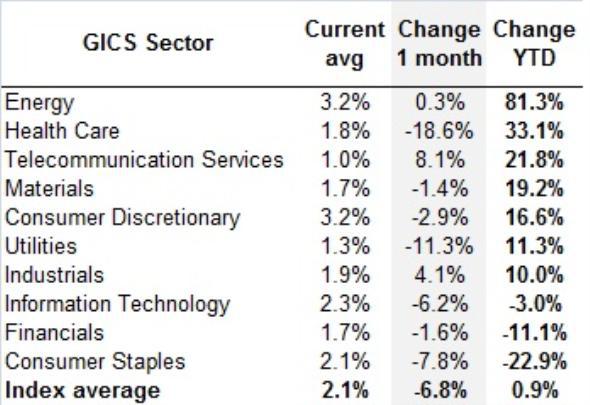 Aside from the energy stocks, industrials and telecoms stock sectors have seen shorts begin to cover their positions.
S&P top shorted stocks
Transocean (NYSE:RIG) is a perfect example of the havoc that the rapidly declining oil price has caused to companies operating in the energy sector. The firm is currently the sixth most shorted stock in the S&P500 with 15.6% of shares outstanding on loan. The stock is down 62% over the last year and is among the many energy counters that continue to fall. A recent report indicates that the energy sector is trading at an approximate 40% discount to the rest of the S&P, the largest margin since 2000.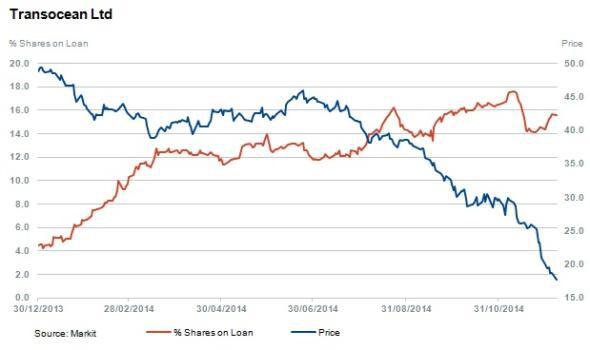 Among the most shorted stocks in the S&P500 universe is Western Union (NYSE:WU), the global money transfer company. Western Union has 14.5% of shares outstanding out on loan, amid reports of activist M&A activity. The money transfer sector in general faces consolidation and the looming prospect of cheaper alternatives in the form of providers such as Transferwise and Snapcash.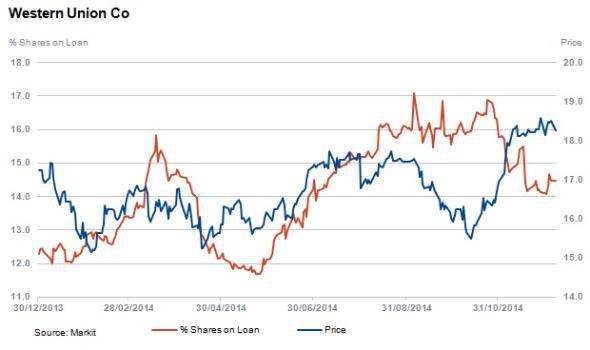 The most shorted stock Gamestop Corp (NYSE:GME) is no stranger to short sellers and has been featured previously. The company was also a constituent of the top ten top shorted stocks in 2013, when it held fourth position.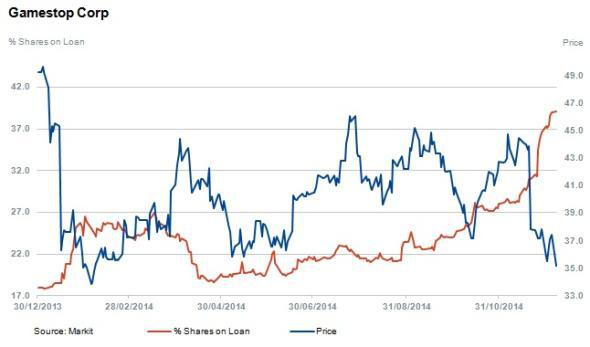 Over the last year the stock is down 23% as short interest has increased from 13% to 39%. Shorts seemed to have positioned themselves for a disappointing holiday trading period for Gamestop.