Investing in clinical stage biotechs trading below $10 always includes a healthy dose of risk. Only one thing completely mitigates that risk, approval of the company's drug(s) by the Food and Drug Administration (FDA). Every regulatory step successfully accomplished toward that ultimate goal improves the chances for the approval of the company's New Drug Application(s) (NDA). Multiple disease indications, each demonstrating safety and efficacy, all from the same platform, also dramatically improve the chances that a single drug from within this program will succeed all the way to FDA approval.
Although each clinical program must be evaluated on its own merits, when each one emanates from the same technology or development platform, you are building a foundation that engenders a level of trust from the FDA. A dramatic validation of these statements can be found in the recent "Fast Track Authorization" granted Novavax (NASDAQ:NVAX) for its Respiratory Syncytial Virus (RSV) vaccine development in which pregnant mothers are inoculated to provide protection from RSV to the newborn babies. U.S. FDA Grants Fast Track Designation to Novavax' RSV F-Protein Nanoparticle Vaccine for Protection of Infants Via Maternal Immunization.
While we are examining risk, there is another hurdle that all drugs crossing the threshold from Phase I and II into Phase III clinical studies must face. The small number of participants exposed to the experimental compounds in Phase I and II studies, do not completely represent the general population. As the number of participants, the "N" of a study, exceeds 3,000 this much larger number more closely corresponds to a representative cross section of the entire general population. In this general population you sometime find sensitivities to drug or in this case, vaccine components that only become evident when your data set contains a truly representative cross sections of the entire general population. Given the absence of any severe adverse reactions, in any of Novavax's clinical trials to date, this risk seems remote, but it's a question only the larger clinical trials can answer
Novavax's slogan is "Creating tomorrow's vaccines today," and it very accurately reflects what the company is actually accomplishing. Novavax has developed a unique, game changing, platform-technology that enables them to rapidly address common seasonal threats as well as emerging diseases, like pandemic influenza, Middle Eastern Respiratory Syndrome and Ebola. I assure you that large governmental agencies and large pharma have taken note of this success. An in-depth examination of Novavax's platform can be found here: Novavax: A Unique Opportunity. If you are new to Novavax, it will quickly bring you up to speed on the company's capabilities and products.
Development programs in early stages, pre-clinical to Phase I clinical trials have a failure rate approaching 90%. Programs that have proven safety and efficacy at the conclusion of Phase II have moved well beyond the risk benefit analysis of, likely to fail, to likely to succeed. It is after this successful stage II threshold that biotechs get partnered with, or are acquired, by large pharmaceuticals looking to add to their pipelines or replace outdated technologies with more advanced and more effective products. Novavax's unique vaccine development process represents the best in class of both of these opportunities for large pharma in the vaccine arena.
First, let's examine the advantages that the Novavax platform will bring to the company acquiring or partnering with it.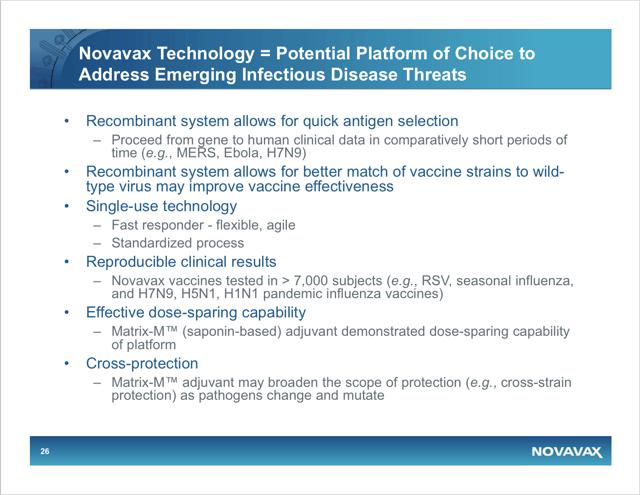 The slide above has a large amount of information contained within it, but it's all-important regarding the competitive advantages of any participant in the vaccine arena. Foremost among these advantages is the capability of rapidly responding to emerging threats. Initiating and executing clinical programs in historically short periods of time, compared to all older technologies that Novavax's competitors are currently utilizing for vaccine development and production. Of course, shorter development times mean less expense is incurred to get to the market. The vaccine and the vaccine profits are both additionally enhanced by utilizing an agent that causes the immune system to mount a more vigorous response (see adjuvant slide below). This, now more effective vaccine, can use less product in each administered dose, further increasing the profitability, safety and effectiveness of the final product.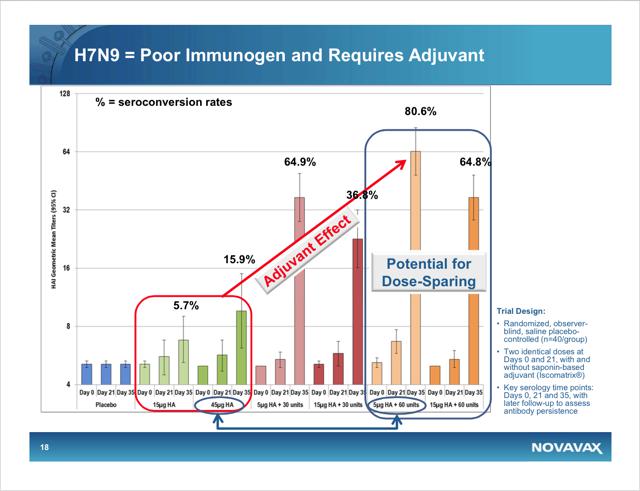 Novavax can make a vaccine for a completely new, unique and emerging disease faster than any other technology.
In February of 2013 a new strain of flu virus, H7N9, started circulating in China with a 50% mortality rate. Below is a timeline of the events and the rapid response achieved by Novavax.
March 31 - Emerging potential Influenza pandemic threat recognized by Chinese health authorities.
April 8 - The gene sequence was published.
Day 8 - Produced clone within 8 days.
Day 27 - Produced sufficient vaccine material to initiate animal studies at 27 days.
Day 81 - Vaccine released in commercial scale and released through QC and QA.
Day 91 - Vaccinated 220 healthy adults.
Day 126 - Demonstrated seroprotection in more than 90% of those inoculated.
Novavax developed an H7N9 vaccine, conducted multiple animal studies and initiated the world's first Phase I human clinical trial of a vaccine against an H7N9 influenza strain within just 116 days of the announcement of the H7N9 outbreak. This ability, to very rapidly respond to an emerging threat was so dramatic that the results were published a mere 5 days later in The New England Journal of Medicine.
Differences between the Novavax H7N9 vaccine and an H7N9 vaccine produced utilizing egg-based manufacturing techniques were significant. Levels of protection were substantially below Novavax's; at triple the dose for the egg-derived vaccines. This data was presented by Novavax's CEO and his confidence and excitement are evident, not only from him, but also the other analysts in the room. This short audio presentation contains a great deal of compelling information from a potential investor's perspective and is well worth the few minutes it takes to review. Novavax's Presentation at: Piper Jaffray 26th Annual Healthcare Conference.
How important is the ability to rapidly respond to the combination of multiple emerging transmittable disease threats and easy global transportation? It's an important question that Ebola seems to be answering.
Again Novavax initiated a dramatically fast response to the emerging Ebola threat. In September 2014, the Ebola gene sequence was published in the Journal Science. All other vaccines currently in development are utilizing antigen targets derived from older strains of the virus and are not accurate representations of the current strain Southern and Western Africa nations are currently fighting.
To date, Novavax has successfully tested this vaccine in rodent and rabbit pre-clinical models, initiated non-human primate studies and manufactured initial clinical material. Novavax expects to initiate human Ebola clinical studies during December of 2014. The Ebola sequence was identified in September and it's now only December and human clinical trials are beginning! Again this information can be heard first hand by listening to the Novavax's Presentation at: Piper Jaffray 26th Annual Healthcare Conference.
An Emerging Seasonal Flu Catastrophe?
Drug manufacturers make seasonal Influenza vaccines, four to six months in advance of the actual flu season. In order to accommodate the long lead times required to produce these vaccines in traditional egg-based production facilities; four strains of flu (quadrivalent flu vaccines) are included in these vaccines and are selected based largely on educated guesses of which strains of flu will be circulating during the next flu season. Novavax's ability to dramatically speed up this process enables final production to be delayed by several months helping to insure that the correct strains are included. This produces a much safer and more effective flu vaccine. Because more than 82% of the flu strains analyzed this fall by the CDC are of the H3N2 variety and because that strain was not included in this year's vaccine, there is a dramatically increased risk of becoming sick with the flu virus this year, even if you have received this year's influenza vaccine. The CDC has indicated that the H3N2 strains are more pathogenic than the other seasonal strains. This is not just inconvenient for those who become infected, but can be tragic, as many more individuals will die this year from the flu, than in previous years when the vaccines accurately contained the prevalent circulating strains. Depending on the severity of this year's flu season and the number of resulting deaths, that outcome could leverage significant pressure on the US healthcare infrastructure to make sure that our future seasonal flu vaccines are actually protective. This could potentially drive the FDA to look for ways to expedite Novavax's Influenza regulatory approval. No other vaccine company currently has the requisite capabilities to dramatically expedite the necessary vaccine development and production processes that can afford US citizens the flu protection we thought we were already obtaining.
Vaccines Profitability are Soaring
The Affordable Care Act now mandates coverage of preventive vaccines prior to school age children being admitted to school. When the cost of immunization was entirely borne by the health care provider or the individual, vaccine cost had to be carefully controlled so as to be affordable to those individuals making this preventative health care decision. With this new mandate, vaccines now represent a very profitable strategy for those in this market and expectedly, Vaccine Costs are Soaring. As the World Health Organization slide below details, the global vaccine market was $24 billion in 2013. It is expected to rise to $100 billion in the next 10 years.
Global Vaccine Market: World Health Organization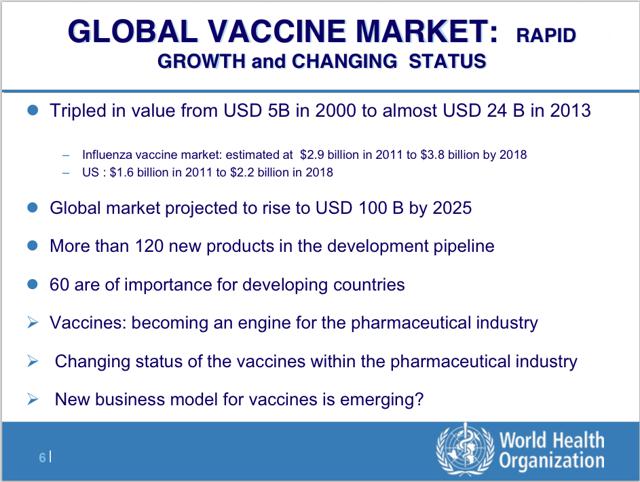 A history of major vaccine-related acquisitions are included in the slide below. By far the most important and valuable acquisition was MedImmune by AstraZeneca. This becomes important and highly relevant to the Novavax story for several reasons.
Overview of Major Vaccine Related Acquisitions thru 2012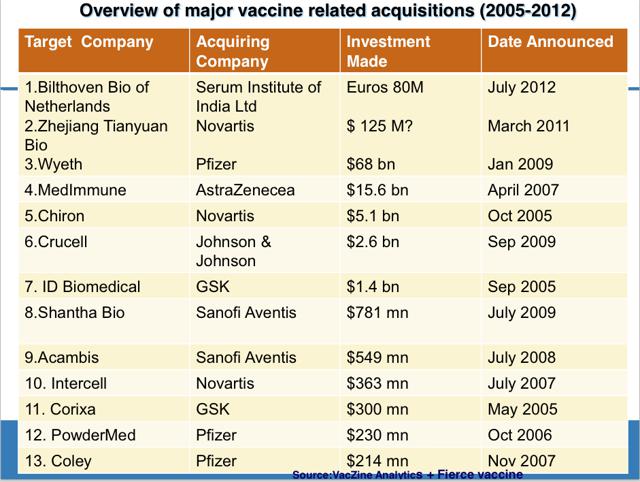 MedImmune developed two products that target diseases in the Novavax arsenal, palivizumab (Synagis®), a monoclonal antibody that targets a key protein inhibiting the Respiratory Syncytial Virus (RSV) and Influenza with a novel product called "FluMist." Over 170 of the key development personnel from MedImmune now work for Novavax.
One of the most important investment tenants is betting on smart, proven and successful people. These same two drugs are both disease targets included in programs now being undertaken at Novavax by, obsessively the same group of talented scientist who have the most experience in the industry and a track record of success; former MedImmune employees. This includes James F. Young Ph.D., Chairman of the Board of Directors of Novavax. Dr. Young was MedImmune's President of Research and Development, where he had responsibility for regulatory affairs and was instrumental in the development of FluMist® and Synagis® two primary development programs that were the key to the high acquisition cost ($15.6 billion) to AstraZeneca in acquiring MedImmune. Dr. James Young was also key to achievements at Smith Kline, which led to the Glaxo merger, along with his experience and guidance at MedImmune, that was purchased by AstraZeneca. These accomplishments are remarkable and in all likelihood, about to be repeated for a third time. Dr. Young is very impressive and clearly a driving force within Novavax.
AstraZeneca agreed to acquire MedImmune .... for approximately $15.6 billion. Jon Symonds, the company's chief financial officer, noted that the bidding for MedImmune was "ferociously competitive" ... the deal "significantly accelerates [the company's] biologics strategy" and adds two late-stage candidates to its pipeline: Numax, a follow-on to respiratory drug Synagis

The deal will also move AstraZeneca into vaccines, a former pharmaceutical industry backwater that is now being viewed as attractive because of rising vaccine prices. New York Times
There are of course several others programs in development at Novavax and as previously detailed, Novavax has the unique capability of very rapidly targeting a wide variety of infectious diseases.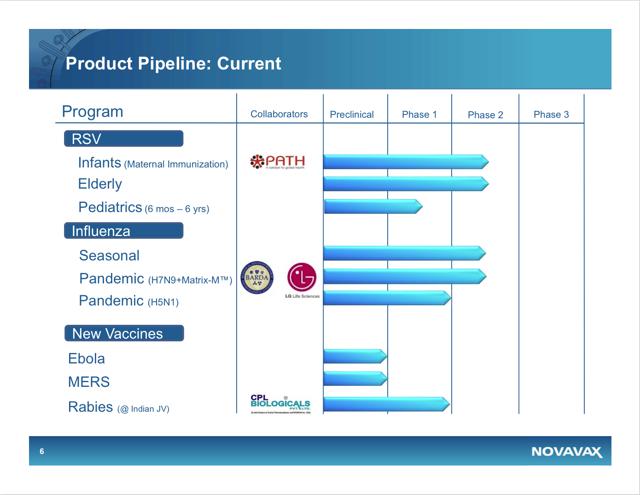 Stanley C. Erck, President and Chief Executive Officer also adds a great deal of experience as he was the Vice President of Genzyme to cite only one of his many postings. Mr. Erck recently stated that the company has "the required funding to reach well into 2016." Novavax has $100 million available funding from BARDA on top of the $75 million from a prior program. In addition, the Company has $175 million in cash.
Investors have put $250 million into the company in the last 15 months. Novavax is now well funded and can wait for its regulatory advancements and scientific successes to drive shareholder value without need to raise any additional funds, thus no stock dilution is anticipated in the near future. This is an enviable position for any small biotech development company and yet another positive for NVAX.
Given everything laid out in this article, it is obvious that Novavax will, at the very least become a strategic partner and/or acquisition target by large pharma. However, Novavax has stated publicly that they do not want to partner at this time. As with all such similar situations, this is of course, subject to change without notice depending on the value of future offers. This goal by management does expose a secondary risk to shareholder equity. If they receive a bid for the company in the near future that management does not believe reflects the value that the company would realize in the next 18 months, they may choose to implement a poison pill to fend off unwanted advances. One option could be another secondary offering. Indeed in the complete absence of any concrete explanation for the most recent secondary, this strategy may have already been implemented once.
Novavax's current market cap is 1.3 billion. (238,478,000 X $5.50 = $1,311,629,000). If Novavax received a reasonable offer representing only half the value of the AstraZeneca / MedImmune deal (15.6 billion /2 = 7.8 billion) the resulting share price of Novavax would become $32.71? From the last closing price prior to this article's publication on 12/5/2014 of $5.47 to a deal of this size would represent an increase in share price of 500%. This is exactly what I am expecting from this company within the next 18 months.
This does not seem like an unreasonable offer for the value represented in Novavax's current clinical programs and platform and again it included the two primary reasons for the AstraZeneca purchase of MedImmune. I am sure that gaining access to a world class, vaccine development team, also added to this deal's value. That same team, developing the world's most advanced technology in the vaccine field, now resides at Novavax. This proven team is currently engaged in numerous clinical trials, including RSV- Respiratory Syncytial Virus in pregnant women, children and the elderly. Seasonal and pandemic influenza studies. MERS - Middle Eastern Repertory Syndrome, SARS - Severe Acute Respiratory Syndrome, rabies and ebola. All of these programs are demonstrating excellent clinical responses and the required safety across the board.
Wall Street's analysts have short term share price targets ranging from $7 dollars to $11.00 before the new BARDA funding and the Ebola launch this month. MarketInsider noted that 20.13% of the floated shares are currently held short. Thus, there is a clear potential for a short squeeze on any positive news coming from the company, analysts or the FDA. Novavax will be releasing Phase I and II clinical results and announcing the initiation of Phase III trials throughout 2015.
Conclusion
There are virtually no other clinical stage biotechnology stocks offering this high probability of a successful outcome on so many programs. Once any of Novavax's initial Phase II Clinical Trials results are published meeting or exceeding efficacy end point targets, NVAX will likely trade to double digit prices. Thereafter, the company will pursue commercialization of its numerous game changing vaccine technologies, partnering with major pharma for worldwide distribution, and develop its unique intellectual property for the benefit of the world and its shareholders.
Disclosure: The author is long NVAX.
The author wrote this article themselves, and it expresses their own opinions. The author is not receiving compensation for it (other than from Seeking Alpha). The author has no business relationship with any company whose stock is mentioned in this article.