By Ivan Y.
How much longer can silver's bear market last? Unfortunately, I think it could be longer than most silver bulls expect. Any hopes of a "V-shaped" recovery are gone. Even a "U-shaped" recovery seems to be slipping by as each week passes. According to a recent report produced by The Silver Institute and GFMS, mine supply won't peak until two to three years from now. That's a long wait for anyone who is invested in silver or iShares Silver (NYSEARCA:SLV) and waiting for supply and demand fundamentals to start impacting the price of silver positively. There are some, like Goldcorp's (NYSE:GG) CEO Chuck Jeannes, who believe that peak production in gold will be reached sooner in 2014-15. Perhaps the anticipation of that may be a contributing factor as to why gold has outperformed silver this year.
Despite the bear market in silver since 2011, the reason mine supply of silver has not fallen yet is because new mining developments and expansion plans on existing mines are planned a few or several years before they actually start producing or increasing output. While new investments in development and expansionary capex have slowed down considerably in the past two years, those decisions won't start impacting mine supply until a couple or a few more years down the road. The increasing mine supply that we see today is due to investment decisions that were made three to five years ago by mining companies during silver's bull market. The mining executives got too optimistic and perhaps came to the conclusion that silver prices would stay above $30 for the long term, and perhaps even reach the $100-plus level that many pundits had predicted.
Consider several examples that demonstrate this point. The first example is First Majestic Silver (NYSE:AG). For 2014, they are expected to produce a little over 10 million ounces, but as of today they are still targeting to grow production to roughly 22 million ounces per year at some undetermined year in the future.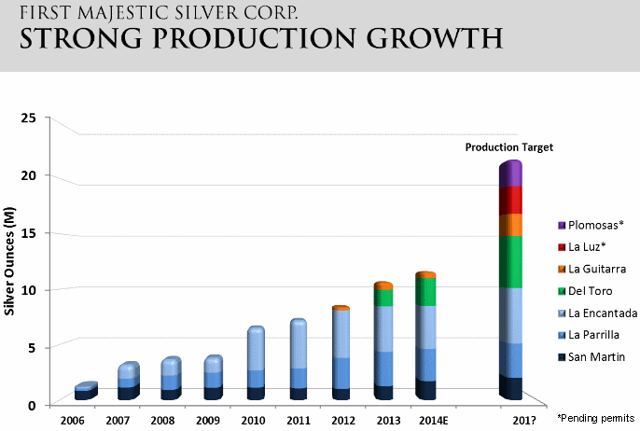 Source: Corporate Presentation.
Fortuna Silver (NYSE:FSM) is another example where production is expected to grow. For 2014, they are expected to produce 6 million ounces, but production is expected to grow to 6.5 million in 2016. That's only a small increase, but it still means more supply to the market.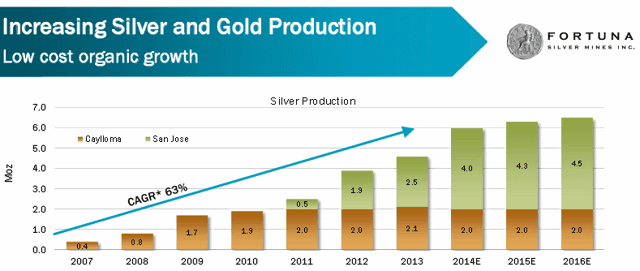 Source: Corporate Presentation.
The best example probably comes from Fresnillo (OTCPK:FNLPF), the world's largest producer of silver. They are on track to increase production from 42.7 million ounces in 2013 to 65 million ounces in 2018. A 50%-plus increase in production by the world's largest silver producer is not what SLV investors need. (Please note that Fresnillo's production total includes a silver streaming agreement.)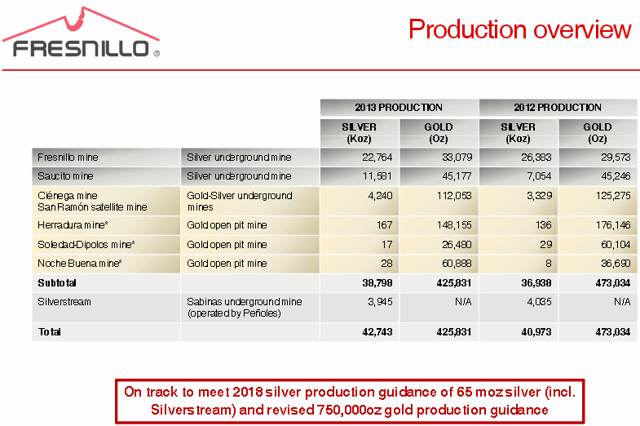 Source: Corporate Presentation.
Conclusion
The fact that most mining companies remain hopeful and still try to grow production is a big problem for silver investors who favor SLV or silver bullion instead of mining stocks. The examples I showed above confirm the view that silver mine production will continue to grow for at least a couple more years. More supply when the price is already depressed could mean even lower prices for SLV. Lower prices are not a guarantee, though, because supply and demand fundamentals don't contribute to determining the price of silver as much as it should. It's just one factor that has some influence. Ultimately, as I have learned in my 10-plus years of following the precious metals, it comes down to the whims of COMEX traders. Most of them probably don't care if silver production peaks in 2014, 2016, or 2050. In addition, a reduction in scrap recycling supply is likely if low silver prices persist. That would counter the expected increase in mine supply.
Disclosure: The author is long SLV.
The author wrote this article themselves, and it expresses their own opinions. The author is not receiving compensation for it (other than from Seeking Alpha). The author has no business relationship with any company whose stock is mentioned in this article.
Editor's Note: This article discusses one or more securities that do not trade on a major U.S. exchange. Please be aware of the risks associated with these stocks.