Since World War II, the United States has been the dominant military power in the world. Beginning with Lend Lease 70 years ago, the U.S. has been the largest exporter of military hardware in the world. These two factors have made Defense and Aerospace good long-term investments for many years.
U.S. spending on defense systems is not now, nor has it ever been, a one-way trajectory upward. This is a very cyclical industry with the cycles dependent not so much on economic conditions as on perceived threats to U.S. interests around the world. The body politic in the U.S. is historically isolationist. This tradition is traced back at least to George Washington's farewell address when he warned against foreign entanglements. U.S. entry into both world wars occurred only after public opinion turned in favor of intervention. During the between war years, the country was very isolationist and spending on the military was almost nil. The result was a country and a military, unprepared for World War II.
The Cold War may have been a bit different as it lasted so long. However, once the old Soviet Union collapsed, cries were heard to drastically cut military spending. This so-called "Peace Dividend" was to be redistributed to entitlement programs. Today, defense spending faces a new round of cuts. We are fighting costly, asymmetric wars in several countries and these wars strain a system that was intended to fight a global war on two fronts. In these asymmetric wars, large-scale weapons systems such as the F-35 fighter would have no place.
We are ending an extended period of budget increases for defense spending. Going forward, defense budgets will likely decline due to pressure resulting from high U.S. budget deficits and increased entitlement spending. Given the current economic climate and security posture, the baseline defense budget is expected to increase just over 1% per year to $743 billion by 2015, placing pressure on procurement spending.
Already in evidence is a shift in spending focus. Out-o-f favor programs include large conventional equipment such as large ships, high-tech fighter aircraft and heavy motorized vehicles. The new focus is on equipment that supports high-demand low-density assets used in intelligence, surveillance and reconnaissance missions. These include aerial drones, helicopters and special operations transport.
Below, we profile two leaders in the defense industry; Lockheed Martin Corporation (NYSE:
LMT
) and General Dynamics Corporation (NYSE:
GD
). Lockheed Martin is the world's largest military weapons maker, deriving 84% of its net sales from the U.S. government. General Dynamics is the world's fifth largest defense contractor also deriving about 84% of its sales from military spending. Notwithstanding the headwinds all defense industry players face in the coming years, we believe these two companies are undervalued at current prices and sell at a discount to this sub-sector.
"General Dynamics Corporation offers a portfolio of products and services in business aviation; combat vehicles, weapons systems and munitions; military and commercial shipbuilding, and communications and information technology. The Company operates through four groups: Aerospace, Combat Systems, Marine Systems, and Information Systems and Technology. Aerospace designs, manufactures and outfits a family of mid- and large-cabin business-jet aircraft. Combat Systems designs, develops, produces, supports and enhances tracked and wheeled military vehicles, weapons systems and munitions for the United States and its allies. Marine Systems designs, builds and supports submarines and surface ships for the United States Navy and commercial ships. Information Systems and Technology includes tactical communication systems, information technology services, and intelligence, surveillance and reconnaissance systems. In May 2010, it acquired EBV Explosives Environmental Company."
"Lockheed Martin Corporation is a global security company engaged in the research, design, development, manufacture, integration, and sustainment of advanced technology systems and products. The Company also provides a range of management, engineering, technical, scientific, logistic, and information services. It serves both domestic and international customers with products and services that have defense, civil, and commercial applications, with its principal customers being agencies of the United States Government. The Company operates in four business segments: Aeronautics, Electronic Systems, Information Systems & Global Services (IS&GS), and Space Systems. On November 22, 2010, it completed the divestiture of Enterprise Integration Group (EIG). In April 2011, the Company completed the divestiture of its Pacific Architects and Engineers Incorporated (PAE) business to Lindsay Goldberg, LLC."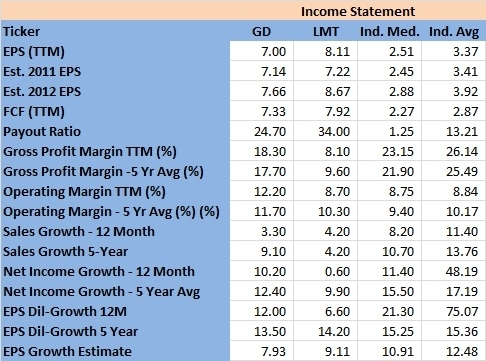 GD is expected to see modest growth in EPS for the current FY and into FY12. The 3-5 year EPS growth rate is 7.93%. Gross margins at 18.3%, are expanding and above the five-year average of 17.7%. We see a similar expansion in operating margins. The operating margin (TTM) is 12.2% compared with the five-year average of 11.7%. Sales growth is clearly declining with the TTM growth rate down to 3.3% and the five-year rate at 9.1%. Not surprisingly, net income growth rates are in decline.
Short-term, analysts see LMT EPS declining in FY11 to $7.22 from the TTM level of $8.11. However, they see a pick-up to $8.67 in FY12. Gross profit margins have contracted to 8.1%, below the five-year average of 9.6%. Operating margins are also contracting and are now at 8.7% whereas the five-year average is 10.3%. Sales growth has stalled at the five-year average of 4.2%. Net income growth is substantially below the five-year average, 0.60% vs. 9.9%. Long-term, growth in EPS is expected at the 9.11% level.
Gross margins are below the industry median and industry average. Our database, places 38 companies in this industry sub-sector. In contrast, operating margins for both companies are currently, and historically, above industry median and average metrics.

The balance sheets reflect the strong position each company is in today. Both are very profitable when using Cash Return on Invested Capital and ROE as metrics. GD carries a low level of debt to total capital; one which is also lower than the industry median and average levels. LMT carries a much higher level of long-term debt compared with total capital. However, with a Times Interest Earned ratio of 11.8X, the debt is well covered. Another measure, long-Term Debt to Free cash flow, 1.82X, confirms this conclusion.
GD carries on the books, $2,484.0 million in cash and short-term investments compared with $2,411.0 million in long-term debt. LMT has $3,861.0 in cash and ST investments and $5,023.0 million in long-term debt.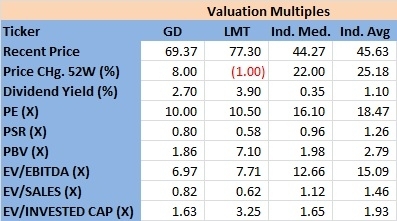 We see from the above, both companies are trading at low PE multiples relative to the market and the industry median and average. These low multiples reflect the market's expectation for slow growth for sales and earnings. Is the market undervaluing these companies? LMT has a PEG ratio of 0.9X and GD, 0.7X. Both companies also pay a dividend that provides for an above market average yield. The payout ratios would suggest the dividends are safe.
Standard & Poor's assigns a 12-month price target of $80 for General Dynamics and $84 for Lockheed Martin. In both cases, S&P assigns an EV/EBITDA ratio of 6X based on their estimates of 2012 EBITDA for the respective companies. According to S&P, the 6X EV/EBITDA ratios, is below the twenty year average of 8X.
I think Standard & Poor's forecast for Lockheed Martin is consistent with our own estimates. LMT's revenues are highly dependent on production and/or continued R&D spending for the F-35, F-22 and the C-130J transport. General Dynamics has similar challenges but also has the Gulfstream jet selling to the corporate market. Gulfstream is the world's second largest corporate jet maker. We are more optimistic about GD and estimate an appropriate long-term EV/EBITDA ratio of 10X.
Disclosure: I have no positions in any stocks mentioned, and no plans to initiate any positions within the next 72 hours.