I am drawing the line on the two portfolios put forward around midyear. The final results are noted below.
Any lessons to take away from this exercise? Basically, too many of the stocks selected bombed out. I spent a significant amount of time cross checking company research and looking for features which, together, might avoid poor stock selection. My main motivation was to get it right first time and so avoid excessive trading. But in the end, a simple policy of limiting losses to 10% would have been good enough.
With that policy in place, the 18 June portfolio was a reasonable success. The aim of 70% beating either index was met, and if stop loss was put in at -10%, then the portfolio easily generated alpha in excess of 10%.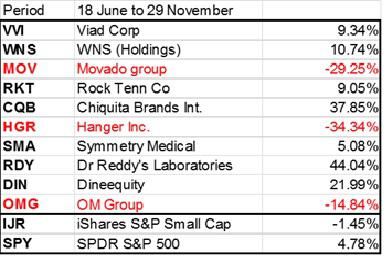 The 9 July portfolio has not been as successful, but reasonable nevertheless, with the potential to kick on. The success rate was closer to 60% and alpha assuming stop loss was around 5%.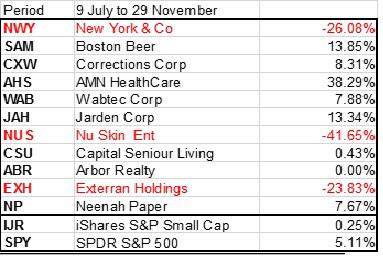 If the reader is interested, I also note the best performing portfolio below, based on my "constant alpha" system, and as identified in total hindsight. It may provide an interesting case study into identifying the features of a high performance portfolio. One thing that becomes very obvious is that this portfolio includes stocks which have very diverse features. A couple of takeovers, a few unexpected earnings beats from a low base and a few good businesses. Some are extensively mentioned in Seeking Alpha and elsewhere, some mentioned only sporadically over several years. What it suggests to me, is that trading on the basis of narrowly defined features is not an optimal strategy.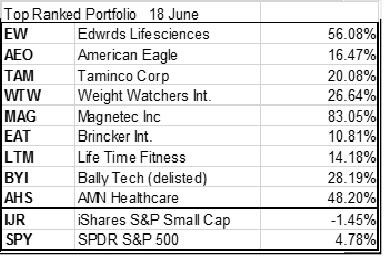 For the next portfolio suggestions, my analysis throws up a significant number of real estate and utility companies. I generally ignore these sectors because they are tilted towards income and perhaps defensive which is not of interest…but it is worth noting that they are in the mix. I have also expanded the selection past 10 stocks to provide a more diversified portfolio.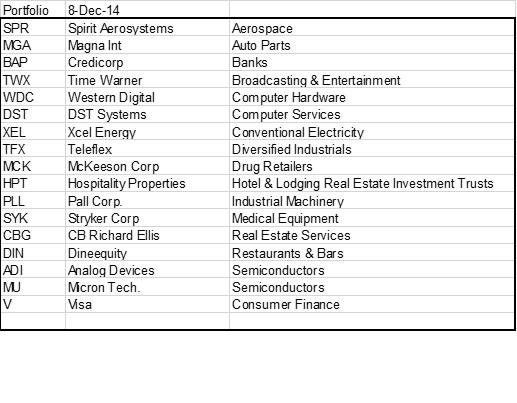 While I am sure that adherence to a narrow investing style (value, momentum for two) results in lower performance, I do think it is too difficult to keep track of all investing styles and then try to pick the best stocks. Most of the stocks suggested above are in an earnings upgrade cycle (on my data). This is where I am most comfortable, especially if the economy is improving (albeit slowly). Should individual stock earnings not meet expectations in Q1 2015, I would expect those stocks to fare poorly, as is commonly the case in momentum based strategies…but until then!
Disclosure: The author has no positions in any stocks mentioned, and no plans to initiate any positions within the next 72 hours.
The author wrote this article themselves, and it expresses their own opinions. The author is not receiving compensation for it (other than from Seeking Alpha). The author has no business relationship with any company whose stock is mentioned in this article.