Seven years ago Vanguard only had four U.S. non-derivative (simple) bond funds to choose from. Two years later Vanguard more than doubled that amount to include more specific bond funds that gave investors more options to choose from. Does ten Vanguard bond ETFs provide comprehensive variety for bond investors? That is what this article will answer.
First, let's have a little refresher course on bonds. There are only a few things that can move a bond's price. These are default risk, the time to maturity, the coupon, and interest rates. The returns of these Vanguard funds should take all of that into consideration. If Vanguard did it right the safest ETF would be its short term government bond fund and the riskiest should be its long-term corporate bond fund. The list below shows where I think these Vanguard's ETFs should be ranked in terms of risk before knowing any specifics of each ETF.
The table below compares the specifics of each fund. The information was taken from Morningstar and Yahoo Finance. The end date for the returns is 11/23/14 as that marks the 5 year anniversary of VGSH, VCSH, VGIT, VCIT, VGLT, and VCLT.
% of Gov/Corp bonds

Ave Maturity of holdings

% of BBB bonds in portfolio

Yield

Last 5 Year Annualized Return

5 year week price-Range

Short Term Bond Funds

VGSH

98%/0

2 years

0%

0.34%

.87%

59.67-61.44 (1.77)

BSV

71%/24%

2.8 years

10%

1.16%

1.69%

79.54-81.98 (2.44)

VCSH

2%/96%

3.10 years

35%

1.93%

3.38%

75.33-80.82 (5.49)

Intermediate Funds

VGIT

99%/0%

5.5 years

0%

1.40%

3.57%

58.69-66.76 (8.06)

BIV

58%/40%

7.3 years

23%

2.92%

5.02%

79.07-90.63 (11.56)

BND

48%/22%

7.7 years

13%

2.58%

3.58%

78.59-85.69 (7.10)

VCIT

1%/96%

7.6 years

50%

3.50%

6.67%

74.89-88.97 (14.08)

Long Term Funds

VGLT

98%/0

24.4 years

0%

1.31%

8.76%

57.13-80.24 (23.11)

BLV

55%/39%

24.2 years

30%

3.81%

8.81%

75.37-98.87(23.50)

VCLT

28%/70%

24.1 years

47%

4.01%

8.62%

73.13-95.07 (21.94)
I think that my rankings are fairly close. The short term ETFs had small price ranges and small annualized returns. The long term funds had the greatest price ranges and the highest annualized returns. The performance of these funds is related to their risk. BND was the only outlier. BND has holdings in every type of investment grade bond. Therefore it has the characteristics of short term government bonds and also long term corporate bonds. The variables that affect the price of bonds may affect short terms and long terms holdings differently. For BND, these different effects are countering each other. This has hurt the performance of it. Below is a visual of these Vanguard funds over the past five years from Yahoo Finance. This also shows that the longer term funds have performed better on average.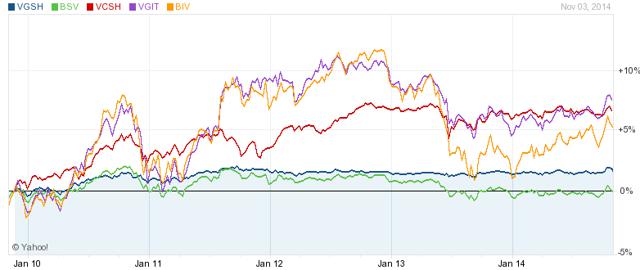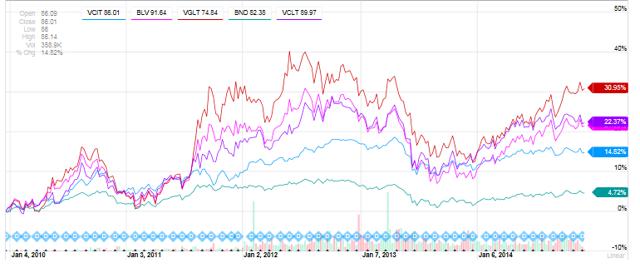 Correlations
Since the prices of bonds can be driven by interest rates I will first test to make sure that these funds are negatively correlated to government rates. The math confirms this. The daily price of all the government ETFs are negatively correlated to interest rates by at least 90%. The corporate ETFs are also negatively correlated but not as much as the government bonds. VCSH and VCIT are 80% negatively correlated to their corresponding interest rate. VCLT is 92% correlated to the 20 year rate, and BND is 97% correlated to the 20 year rate as well.
High correlations between funds should also be expected. There are really only a few variables that affect bonds and a change in one variable should affect all funds. Having high correlations would help investors compare and predict the returns of each fund. The table below shows some of these correlations over the past five years on a monthly basis.
| | | | | | | | |
| --- | --- | --- | --- | --- | --- | --- | --- |
| Short Term ETFs | Corr. | Intermediate ETFs | Correlation | Long term ETFs | Corr. | Mixed ETFs | Corr. |
| | | VCIT to VGIT | 82.97% | | | VCSH to VCIT | 94.98% |
| BSV to VGSH | 37.37% | BIV to BND | 98.83% | | | BSV to BIV | 75.41% |
| BSV to VCSH | -0.03% | VGIT to BND | 92.58% | VCLT to VGLT | 92.88% | VCLT to VCSH | 84.40% |
| VGSH to VSCH | 71.74% | BIV to VCIT | 67.83% | BLV to VCLT | 93.60% | VGLT to VGSH | 71.00% |
| | | VGIT to BIV | 91.55% | BLV to VGLT | 98.76 | VGIT to VGLT | 94.65% |
| | | VCIT to BND | 70.00% | | | VCLT to VCIT | 95.71% |
| | | | | | | BLV to BIV | 87.97% |
| | | | | | | BLV to BND | 92.31% |
Some correlations are higher than others. The three long term funds are highly correlated as the only difference between them is credit quality. Most of the intermediate ETFs are highly correlated too. The lowest correlations in the intermediate funds are ones that involve VCIT. This is due to VCIT holdings that are more different than the other funds. It has the largest percent of corporate bonds and BBB holdings in its portfolio. The other three are more alike and at least have 40% in government bonds. The short term funds are less correlated. I speculate that this is because rates have been very low for some time. Maybe that is throwing off any correlation that the short terms funds may have. Since short term rates don't move VGSH's price has very low volatility. The other two short terms funds have higher volatility and also have some exposure to corporate bonds. I also ran correlations on all funds against each other. It looks like all the government funds are correlated and all the corporate funds are correlated.
Benchmarks
The performances of these funds against their own benchmark have been good. They are only being out performed by an average of seven basis points. This is pretty minimal. Seven of them would be beating their benchmark if there was no expense ratio. VCSH and VGSH did the worst and lost -.25% and -.13% respectively. VCLT, BIV, and BLV are the only funds to beat their benchmark outright at .1%, .03% and .02% respectively.
Competitors
Vanguard has the most selection of simple bond ETFs of any brokerage firm. Charles Schwab only has three. PIMCO, the leader in bonds, only has about five comparable bond funds. Powershares has only two and iShares has three. All the competitors have a lot of derivative and high yield bond ETFs, but that is not what I am presenting in this research. The table below shows some of these other bond funds that are comparable to Vanguard's.
| | |
| --- | --- |
| ETF | Annualized Return (other/Vanguard) |
| Schwab Short-Term U.S. Treasury ETF (NYSEARCA:SCHO): VGSH | .65% (.52%) |
| Schwab U.S. Aggregate Bon (NYSEARCA:SCHZ): BND | 3.17% (2.84%) |
| Schwab Intermediate-Term U.S. Treasury ETF (NYSEARCA:SCHR): VGIT | 2.86% (2.87%) |
| iShares Core Total U.S. Bond Market ETF (NYSEARCA:AGG): BND | 3.89% (4.67%) |
| iShares 1-3 Year Treasury Bond ETF (NYSEARCA:SHY): VGSH | 0.84% (.86%) |
| iShares 3-7 Year Treasury Bond ETF (NYSEARCA:IEI): VGIT | 3.13% (3.58%) |
| PIMCO 1-3 Year U.S. Treasury Index ETF (NYSEARCA:TUZ): VGSH | 0.75% (.86%) |
| PIMCO 7-15 Year U.S. Treasury Index ETF (NYSEARCA:TENZ): VGIT | 4.36% (3.58%) |
| PIMCO Investment Grade Corporate Bond Index ETF (NYSEARCA:CORP): VCIT | 4.74% (5.43%) |
Most of these other funds have performed pretty close to their matching Vanguard fund. Three of the other funds beat their Vanguard counterpart, but not by much. Three of the funds weren't close to their Vanguard counterpart. The reason for the larger discrepancies on CORP, TENZ, and SCHZ come from a different mixture of bond holdings. The differences didn't come from anything unusual, just from the difference in how the funds were set up. Since most of the funds' returns were similar one may compare the expense ratios to decide which to invest in. Schwab has the lowest expense ratios at .08%. Vanguard's fees are about .10%, iShares fees average .13%, and PIMCOs' fees run about .16%. Comparing these funds against their benchmark produces similar results. The funds use the same benchmarks as the Vanguard funds. All but one was in the -.05 to -.21% range. CORP was the outlier and it did -.28% worse than its benchmark.
Action
I believe that Vanguard has done well at giving investors options when they decide to invest in non-derivative bond funds. All of the bond funds are negatively correlated to interest rates and most are correlated to each other. Most are predictable in return, yield, and price movement given their holdings. Given each funds history I believe the past should predict the future. Investors should feel safe that for most of these funds, they will get what they expect. I believe that BND may be the only exception. It seems like it has an identity crisis and its return has suffered. The other companies' bond funds have had similar performances to the Vanguard funds. Most of Vanguards' funds have outperformed the competitors' funds but the difference seems negligible. This doesn't discredit Vanguard, it just helps show that the Vanguard bond funds are performing as they should. To pick one company's ETFs over another company's is just personal preference.
This advice may be useful for risk adverse investors, investors who are scared of stocks, and people near or at retirement. These investors may be more worried about capital preservation. As you can see from the tables most of the bond funds don't have high annual returns.. Only the long term bond funds have a return higher than 8%. The S&P returned about 15% over the same period. However, the yields are still better than savings accounts. There are investors out there that say investing in bonds would be the worst thing to do right now. Once rates start increasing these bonds prices will go down. However, half of these bond prices aren't affected that much by interest rate changes. Half of Vanguard's funds have a price range of less than $10. I think these are pretty safe investments for people who want capital preservation and if prices go down then that is a better entry point and the dividends get reinvested at a lower price. Bonds are an alternative to just putting money in a savings account and they shouldn't be ignored.
Disclosure: The author has no positions in any stocks mentioned, and no plans to initiate any positions within the next 72 hours. The author wrote this article themselves, and it expresses their own opinions. The author is not receiving compensation for it (other than from Seeking Alpha). The author has no business relationship with any company whose stock is mentioned in this article.